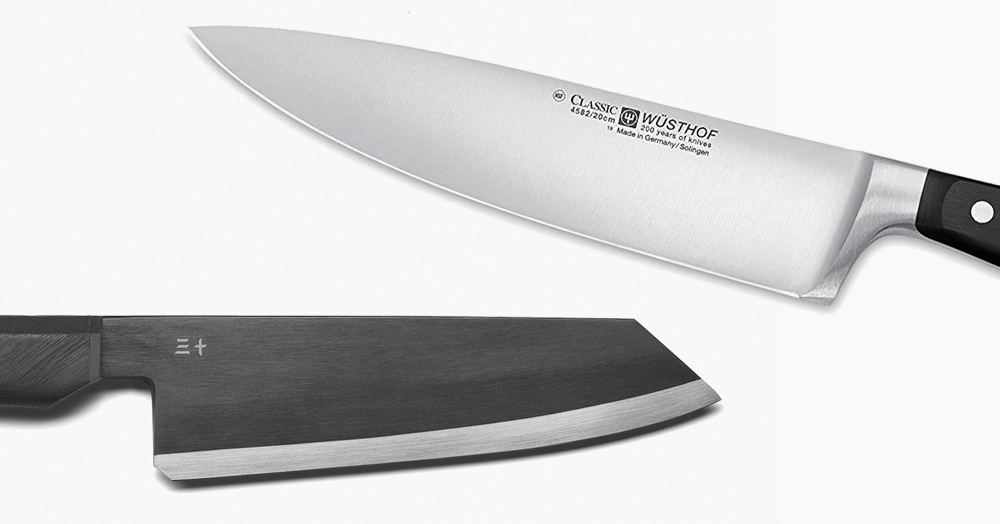 Why are German Made Knives So Good?
Alison Lurie, 3 years ago
3 min

read
1526
German-made knives are an industry-standard in the world of knives. The attention to detail and high quality of these knives is appreciated all over the world. Brands like Wusthof knives are crafted by the finest steelmakers of Germany in the city of Solingen. Solingen is widely known as the city of blades and is renowned for creating swords, knives and razors since antiquity. Here are some reasons why German made knives are the best in the world. 
Brand history and trust
German brands are respected brands when it comes to knives. They used to dominate knife sales in Europe before the arrival of cheaper low-quality knives. Brands like Wusthof and Henckel started knife manufacturing in the 1800s and have kept on providing top quality for over seven generations. They are all made in Germany and are exported to other countries. Production is kept in-house to prevent any kind of degradation in quality. 
Made with premium materials
Top German knives come from the city of Solingen, Germany. They are known for their high-quality iron and steel work since prehistoric times. These companies use their own patented methods in crafting knives. They are known for using special formulas like X50 Cr Mo V15 in the manufacturing of their knives. X50 Cr Mo V15 is a type of martensitic stainless steel. It has high amounts of chromium in it that makes it resistant to corrosion. It also contains minerals like Carbon, Molybdenum and Vanadium that increases its tensile strength and hardness. 
Superior craftsmanship
Genuine German knives are only made in Solingen. They have a long, proud history and these brand names have never been outsourced. The craftsmen involved in creating these knives are highly experienced and very precise in their work. They also use state of the art technologies like PETEC in the making of their knives. PETEC stands for Precision Edge technology which can increase edge sharpness by 20 percent while also making them last longer. These knives are also precision forged and laser-cut thereby eliminating any chance of human error. 
Reliable and effortless
German made knives are highly reliable. They are also effortless to use and have low maintenance. The high concentration of chromium in these knives makes them corrosion resistant. They also don't require any special cleaning process. These can be easily hand-washed with soap and warm water. These knives are also good in sustaining edge sharpness. It however depends on the frequency of use and is usually rated for two years without any maintenance. It is ideal to professionally sharpen them after this period. Experienced individuals can also use a whetstone and honing steel to do it manually. 
Warranted for life
Brands like Wusthof and Henckel come with a lifetime warranty. It covers all material and craftsmanship defects. These companies will repair or replace any genuine product that the customer felt didn't live up to the standard of their brand. If a newly bought product doesn't seem good enough, the customer can send it back for assessment. The brand is keen on investing in customer satisfaction and would never backtrack on quality. 
Endorsed by Celebrity chefs and cooks
German made knives are used by everyone. It is used by homemakers, chefs and van lifers alike. The reliability and quality of German-made knives also make them popular among celebrity chefs. They are endorsed and used by top chefs like Gordon Ramsay, Martha Stewart, Jamie Oliver, Emeril Lagasse and James Martin. 
Conclusion
German knives are coveted by the most casual of cooks to advanced practitioners. Their reliability and quality are unmatched in the industry. The classic and ikon series of Wusthof knives are a good starting point for anyone looking to get a pair of them.
Related posts