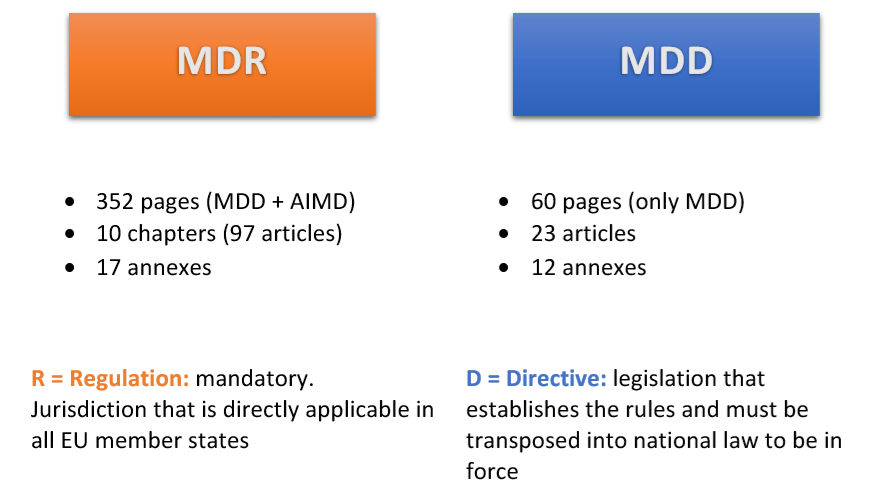 Transitioning from MDD to MDR: 6 Changes to Be Aware of
Jack Sylvester, 1 month ago
3 min

read
110
In the wake of the new EU regulation on medical devices published in 2017 (MDR) that will replace the Medical Device Directive (MDD) effective May 26th, 2020, companies face the burden of readying their medical devices to meet the added compliance requirements. As a result, companies may new to reevaluate their goals and It may prompt you to reassess your goals and adjust their strategies to the European regulatory affairs.
One important difference between the two is that MDR is a regulation, contrary to MDD which is a directive. Regulations apply to all EU countries from the date they are published. Directives must be passed into laws by each EU member. As such, members do not have the ability to amend requirements or milestones at the domestic level.
MDR Transition Timelines
Here is a brief timeline of the events of the MDR release:
May 5th, 2017:
The new EU regulation on medical devices (MDR) is published.
May 26th, 2017:
MDR enters into force.
November 26th, 2017:
Notified bodies start applying for designation.
March 26th, 2020:
Database EUDAMED goes live.
May 26th, 2020:
EU MDR definitively replaces MDD and becomes fully applicable.
May 26th, 2024:
Active certificates issued under MDD become void.
May 26th, 2025:
Date after which devices must be fully compliant under MDR
Major Changes Set Forth by MDR
One may think several years is ample time to get ready for the deadline, but the EU's new regulation covers a lot more ground. Requirements existing in MDD have been extensively revised and amended for clarity, and new requirements have been added in an effort to better ensure patients' safety and increase transparency.
Scope and classification
Cosmetic fillers, equipment cleaning and sterilizing products and other non-medical products (e.g. epilation lasers) make it to the list of concerned devices. Medical devices that were listed under MDD may belong to a different class under MDR, in some cases a higher-risk class that comes with more stringent requirements.
Labeling and packaging
Descriptions, user instructions, adverse effects, safety recommendations and all other material displayed on labels and packages must be in national language, whereas MDD left the requirement to the discretion of member states.
Traceability
Manufacturers will be required to assign a Unique Production Identifier (UPI) and Unique Device Identifier (UDI) to each medical device. This data will eventually be accessible to the public through EUDAMED.
EUDAMED
Along with identifiers, EU database EUDAMED will collect, store and organize data on manufacturers, notified bodies, clinical investigations, and post-market surveillance reports.
Vigilance and Post-market Surveillance
Vigilance requirements remain unchanged for serious public health threats (2 days), death or serious health deterioration (10 days). All other serious incidents need to be reported within 15 days, vs. 30 days in MDD.
The EU's new Medical Device Regulation imposes much stricter requirements across a wider range of safety issues. MDD has been extensively revised and is now more detailed to avoid ambiguity and loopholes. Manufacturers must now review their portfolio and set up action plans so as not to miss the compliance train, especially devices whose certificate of conformity is due to expire soon. Upon certification renewal, medical devices become new devices and will not carry on with previous conformity assessment results.
If you need any guidance on how to adjust your business strategy to the new regulations, regulatory consulting services can help your company develop a plan.
Jack Sylvester
Jack Sylvester is a freelance writer, He is extremely fond of anything that is related to ghostwriting, copy writing and blogging services. He works closely with B2B businesses providing digital marketing content that gains social media attention. His aim to reach his goals one step at a time and He believes in doing everything with a smile.
Related posts