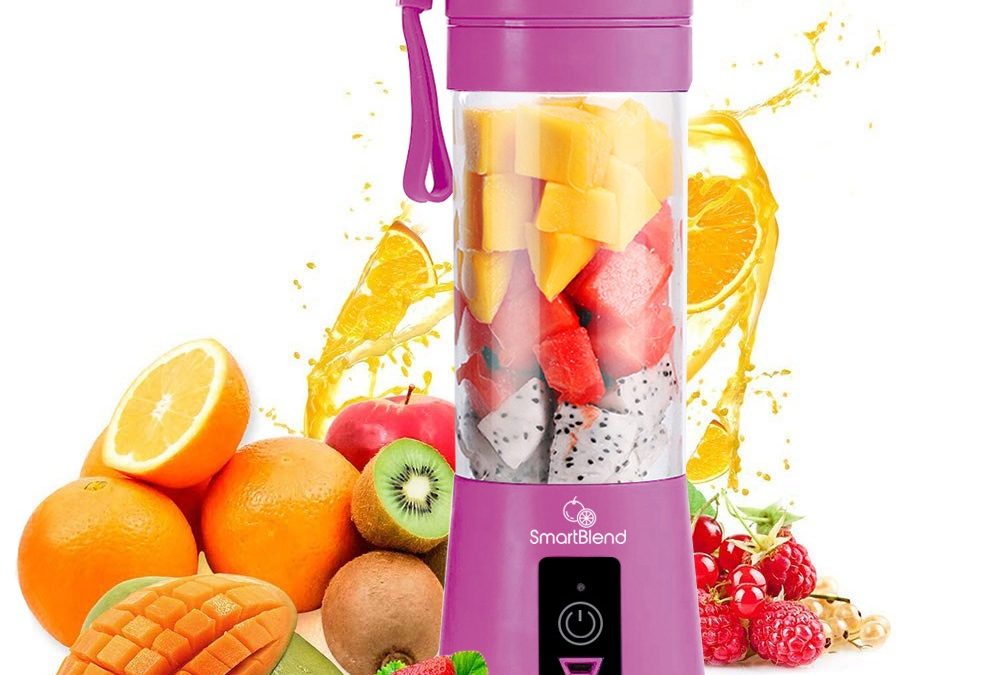 Smart Blend
Herman Walker, 2 years ago
5 min

read
1151
Having an active lifestyle sometimes means sacrificing your eating habits. Especially if you are constantly on the road, having healthy eating habits can prove to be quite difficult. In these cases, having a portable blender on you in person comes very handy. With a portable blender, you would be able to prepare smoothies, salads, soups, protein shakes, and even baby foods wherever and whenever you want. There are many portable blenders on the market nowadays, however, with a choice like SmartBlend your search is over. 
SmartBlend is an Australian based company. It specializes in stylish portable blenders. SmartBlend blender is a small portable blender that you can take anywhere with you. However, do not make the words "small" and "portable" deceive you, SmartBlend has a capacity of 380mL, which is more than enough to have your daily protein shake dosage. SmartBlend also weighs only 0.65 Kg, which makes it very portable and easy to carry everywhere. 
Moreover, SmartBlend does not require a plug socket to recharge. It comes with a handy USB port that enables you to charge it however, you see fit. You can charge it from your computer, using a power bank, your car, literally, however, you see fit. 
SmartBlend portable blender comes in five different colors, "black, blue, green, purple, and pink". No matter what your taste is, you will find something that suits your personality. Along with the 30-day money back guarantee policy, you can purchase your SmartBlend with peace of mind.
SmartBlend comes with a strong battery that allows for 10 to 12 usages for each charge. Charging time is approximately three hours from zero to full charge. However, it is recommended that you charge your SmartBlend after each usage.
SmartBlend Portable Blender Specifications
SmartBlend portable blender comes in a capacity of 380 mL, which is more than enough for all your on-road blending needs. Whether you want to make smoothies or blend some baby foods, it will be enough. SmartBlend comes in a compact design (23.5 cm height x 8 cm diameter) which makes it a very portable device that you can carry everywhere. Its motor has 150W Power with a speed of 15000 RPM when loaded, and 22000 when unloaded. The motor is a DC7.4V standard. All that makes SmartBlend portable blender the perfect choice for anyone who is looking to buy a portable blender.
SmartBlend is compatible with any 2A or below adapters, which means you can charge your device using anything, whether it is your computer, carport, power bank, or even the conventional power socket. SmartBlend also contains rubber cushion inside which makes the device leak proof. Moreover, it has a magnetic induction switch, which prevents the device from starting when the blades are exposed. That makes SmartBlend the safest option for you and your family.
Using SmartBlend
Using SmartBlend portable blender is quite easy. Make sure that you cut up fruit and vegetables into small 1.5cm x 1.5cm pieces, place these pieces into the blender and add some liquid to it. Turn SmartBlend upside down and start it. Once you see the motor reaching full swing, place SmartBlend upright to enable blending. SmartBlend is considered a quiet blender. Indeed, it depends on how hard you make the blender work and what is put inside, however, SmartBlend is very quiet, especially when compared to other kitchen blenders. 
Moreover, you can use SmartBlend to blend ice cubes as well. However, you need to make sure that the ice cubes are not too big for the machine, and if you find the blender slowing, all you need to do it tilt the blender to regain its motor speed once more. Never try to blend ice cubes without adding water or liquid, doing so might cause harm to your device.
Cleaning SmartBlend
Cleaning SmartBlend is not a difficult task. First, ensure that the switch of the device is turned off. Use the sponge cleaner that comes with the blender. Rinse SmartBlend carefully of any remaining liquid in it, and then remove any residual liquids using the sponge. 
When cleaning please make sure that the base of your SmartBlend is not exposed to water, it is an electrical device after all. 
Another thing to know is that SmartBlend is NOT dishwasher compatible, which means you cannot put it inside any dishwasher to clean.
Where can I use SmartBlend?
What makes SmartBlend a spectacular choice for portable blenders is that it can be used anywhere and anytime. It weighs only 0.65 Kg and has the dimensions 8 × 8 × 24 cm. It can be used at the Office, the Gym, or even on the road when traveling. However, if you are traveling by air, it is recommended to check your airline policy for traveling with SmartBlend. 
What makes SmartBlend a perfect portable device is not only the simplicity of it but also the cleanness of it. SmartBlend does not cause any mess around it when used, which makes it perfect for office, and car usage. Moreover, it is a very quiet device, so using it to make your baby's food will not disrupt your baby's sleep.
Client's Reviews
Since the launch of SmartBlend, portable blenders and customers have been satisfied with the product. All the reviews it has received are five stars ratings. 
Some of the reviews:
"Super convenient and easy to use. Such a good product." – Jimmy James.
"This compact-sized, portable blender is awesome for fresh juices on-the-go. I just throw my favorite fruits in with some coconut water and take it wherever I go. Highly recommended for people with an active lifestyle like me." – Syl
"I got mine a few days ago and I'm loving it! Totally worth it." – Erica.
To read our full clients' reviews check out our website at:
https://smartblend.com.au/shop/smartblend
Also read: breakfast smoothies under 10 mins
Related posts