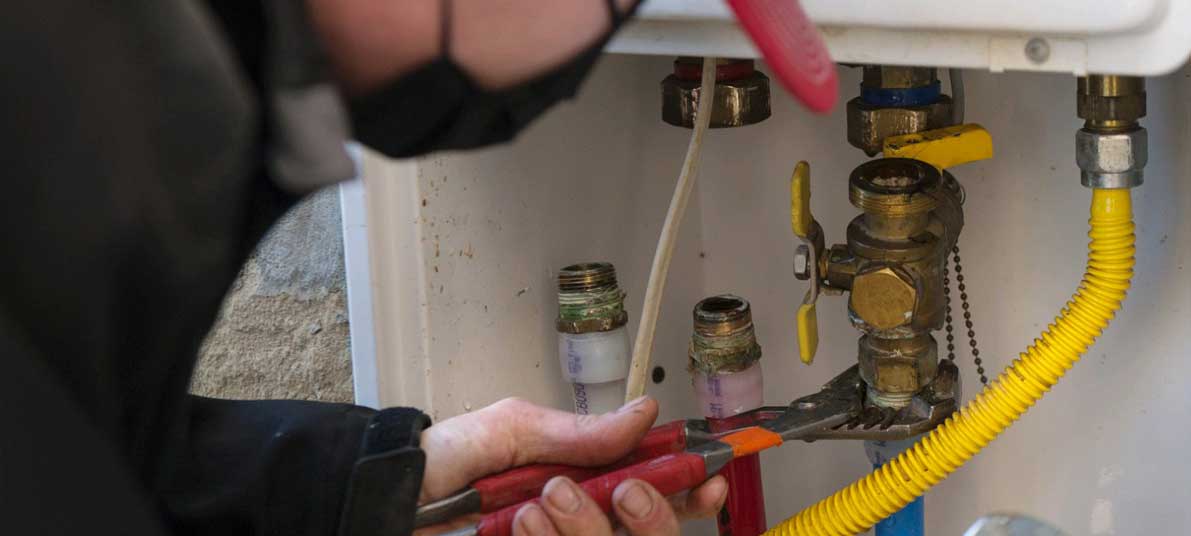 Slab Leak Detection and Repair
Alison Lurie, 1 year ago
4 min

read
1612
Fixing minor plumbing problems, such as a leaking faucet, or unclogging the kitchen sink, is often a DIY project for savvy homeowners. While minor leaks from plumbing fixtures are manageable for most homeowners, slab leaks are more complicated and can go undetected for weeks or months. Slab leaks are a common plumbing problem when hot and cold water pipes are buried beneath the home's foundation.
Cost of slab leak repair
A slab leak is a severe plumbing problem. It can go undetected for a long time before it's discovered, causing more damage over time. Slab leaks occur when the water line beneath a concrete slab breaks and allows water to seep into the house. People who experience this problem may see warm, wet spots on the floor, see mold, or hear water running. It can be tough to detect the problem, so a professional is often required to repair the issue.
The slab leak repair cost can vary depending on where and how much damage it has done. Depending on the type of pipe and how difficult it is to repair, the repair could cost anywhere from six hundred to more than two thousand dollars. In some cases, it can cost over $3000, involving ripping up concrete and replacing pipes. Although slab leak repair is typically covered by home insurance, you should consult with a professional before making any repairs.
Symptoms of a slab leak
If you have any of these symptoms, it is probably time for a slab leak repair. For example, you may have a small water stain on the floor, but it is more likely to signify something more serious. Water that is warm and wet under your foundation can cause mold and mildew to grow. The smell of musty water can also indicate a slab leak. To determine whether or not you need to get a slab leak repair, you should first turn off any water sources in your home.
The water line beneath your home's foundation can break, causing a slab leak. This water leak can cause significant damage to your foundation, create mold, and even lead to a termite infestation. A slab leak can be challenging to spot, but knowing what to look for will help you find it quickly and save money on a slab leak repair. A professional plumber can spot these signs and promptly fix the problem, saving you money and hassle.
Home insurance coverage for slab leak repair
If you have home insurance, you may be able to get your slab leak repair covered. This type of coverage pays for structural aspects of your home, such as cracks, but will not cover repairs to your plumbing. Similarly, your property insurance policy will not cover repairs to your possessions. Read your policy carefully to find out what your policy covers. Here are a few tips for getting slab leak repair covered. After you've contacted your insurance provider, you can file a claim.
The first step is to check your homeowner's insurance policy to see if you are covered for this specific type of repair. In most cases, your homeowner's insurance will only pay for damages caused by the listed perils in your policy. This doesn't apply to minor maintenance issues, such as wear and tear. A slab leak can occur for various reasons, including tree roots damaging the plumbing lines that have reached their useful life. In addition, your insurance policy may cover the cost of replacing or repairing a service line, which can cause a slab leak.
Fixing a slab leak
If you suspect that your house is experiencing a slab leak, you need to fix it quickly. Leaving it unchecked can lead to extensive water damage to your furniture and appliances. You can save yourself a lot of money and trouble by fixing the problem as soon as it becomes apparent. Below are some tips for fixing slab leaks. First, know the warning signs. The water level should be below the waterline.
In addition to leaking water, soil movement under the foundation can also damage the pipes. The leaking water can cause the ground to shift, causing a chain reaction that goes unnoticed for a long time. One of the leading causes of slab leaks is improper installation of pipes. If your lines are not correctly installed, they are more prone to bursting or breaking and varying water pressure.
Related posts