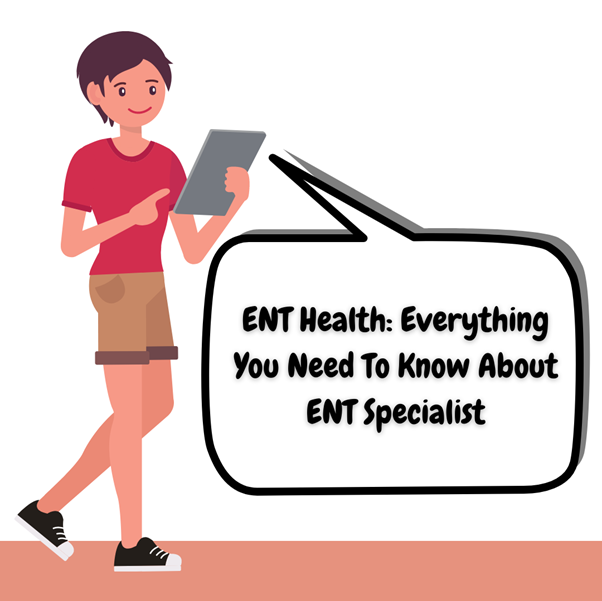 ENT Health: Everything You Need To Know About ENT Specialist
Herman Walker, 11 months ago
5 min

read
384
One of the things that almost everyone takes for granted is their health, especially their ears, nose, and throat. Most people feel uneasy visiting a doctor. They are afraid to find out something that might change their lifestyle for good.
The problem, however, is that not visiting a doctor also means you are neglecting the condition of your body. Similar to components of a machine, your organs and body parts will not normally function if one is not in good condition.
For that reason, no one can afford not to visit a doctor. Whether you are suffering from simple to severe ear, nose, or throat problems, a visit to a clinic in Singapore can solve that. Just make sure to see the right specialist that can treat your health problems.
In this case, an ENT specialist is the one you should see.
What Is An ENT Specialist?
An ENT specialist in Singapore is a medical specialist who specialises in ears, nose, and throat conditions. Apart from that, they often do treatments for vertigo and sleep apnea.
You might even hear some people calling them a sinus specialist in Singapore, but they can still treat ears and throat. Nevertheless, if you have an ENT problem, you can find an ENT specialist at an ENT clinic.
Is An ENT Specialist A Doctor?
As mentioned above, an ENT specialist is a doctor for ears, nose, and throat. These are the body parts they specialise in treating, which is why if you are feeling any pain in these areas, make sure to see an ENT specialist right away.
Postponing your visit to an ENT specialist will only cause more health problems as your conditions worsen.
4 Conditions That An ENT Specialist Can Treat
Unlike other medical fields, an ENT specialist can treat children to seniors as long as they are for ears, nose, and throat concerns.
Listed below are some of the conditions that an ENT specialist in Singapore can treat.
1.  Vertigo and Dizziness
Dizziness or vertigo affects about 20% to 30% of people at some point in their lives. An ENT specialist can help you establish a suitable treatment plan for your condition that will allow you to regain your footing and relieve your symptoms.
2.  Clogged Noses / Sinusitis
When your sinuses have become enlarged and irritating, you have sinusitis. Sinusitis is defined as a history of sinus infections that have failed to respond to treatment or have lasted for a long time. For this condition, you should see a sinus specialist in Singapore. They are the one who specialises in sinuses to help you figure out the best treatment option for your concerns.
3.  Sore Throat
Tonsillitis is a condition in which the tonsils become inflamed. When tonsillitis becomes too inflamed, an ENT specialist will conduct tonsillectomy surgery. It is the procedure that removes inflamed tonsils from the throat.
To prevent undergoing that treatment, you should see an ENT specialist once your sore throat still feels unwell after trying to treat it for a few weeks.
4.  Sleep Apnea
Sleep apnea is a sleeping disorder that makes you heavily breathe once you fall asleep. You may have sleep apnea if you snore loudly and are fatigued even after a full night's sleep.
According to Lancet, there are 1 billion people who are suffering from sleep apnea worldwide. With this percentage, some people you know might have sleep apnea, including you.
To treat sleep apnea, you need to undergo a snoring treatment in Singapore. In this procedure, the doctor will use a CPAP machine. It is durable medical equipment (DME) that monitors your breathing and sleeping pattern.
Visiting An ENT Specialist: What Should You Expect?
Visiting an ENT specialist in Singapore is like visiting a regular doctor. In an ENT clinic, they mostly ask questions about your medical history, family history, surgeries or any procedures you had in the past.
Once you have answered everything, they will run some tests. They will check your hearing abilities, sense of smell, and how your voice sounds.
During your consultation, expect an ENT specialist to use some tools and equipment to assess your ENT conditions.
Afterwards, an ENT specialist will most likely suggest treatment related to your ENT condition. In some cases, you might need to do the procedure within the day or on your next visit.
How Much Will It Cost?
The cost of your consultation highly depends on the treatment required for your ENT condition. But most of the time, the cost of an initial consultation is around S$120 to S$170and the subsequent visit is S$100 to S$120.
However, before you see an ENT specialist in Singapore, make sure to consult your health insurance first. They might cover the cost of your consultation and other treatment related to ENT.
When consulting your health insurance, consider also asking them which ENT clinic they are affiliated with that you should visit. You could also do the same if you are looking for a particular ENT specialist who can treat your ENT problems.
How To Take Good Care Of Your Ears, Nose, And Throat?
To avoid experiencing any of the mentioned ENT conditions above, you should learn how to take care of your ears, nose, and throat. Taking care of them ensures they will work well even by the time you have grown old.
Never Listen To Music In Extremely High Volume
Do Not Use Cotton Buds
Gargle Before Bed
Keep Calm, Control Your Stress
Do Not Sneeze Too Hard
Keep Your Ears, Nose, And Throat Healthy!
You can make this happen by visiting an ENT specialist in Singapore regularly. Your regular visit will help detect early signs of ENT conditions and treat you as soon as possible.
In that case, go to ENT Surgeons from time to time! They are an ear, nose, and throat clinic in Singapore that can keep your ENT in good health. Plan an appointment now by calling ENT Surgeons at (65) 6235 3886 or leaving a message on their website.
Related posts