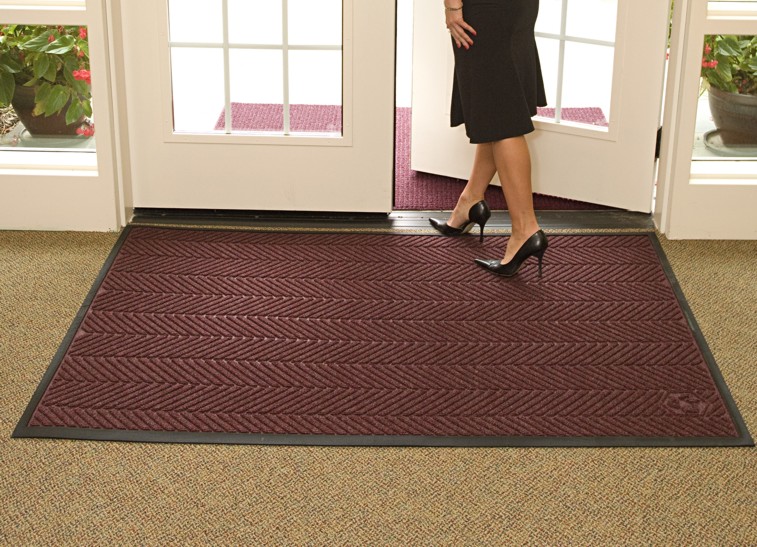 To protect your flooring and your occupants, commercial floor mats are installed both inside and outside your facility.
To reduce slip, trip, and fall accidents, floor mats are utilized in a variety of settings, such as schools, hospitals, and retail businesses.
They're also utilized to keep abrasive dirt, liquids, and harsh chemical compounds like ice melt or oils from being tracked through your facility's flooring.
Understanding the relevance of matting in your business is critical for avoiding slip and fall injuries and maintaining the appearance of your facility. Not all mats are created equal, and each has its own set of applications.
A properly implemented matting program will have a significant impact on how your facility cleans and how much it costs.
You may be put off by the upfront cost of a matting program. Commercial floor matting, on the other hand, might save you money in the long run in terms of personnel and floor care.
Your team will waste more time and money on soil removal operations such as vacuuming or removing scratches from your floor finish if you don't implement a proper matting program.
90% of soil is "tracked-in" from outside, and adequate entry matting can prevent 85-90 percent of dirt from entering your structure. Preventing soil from entering your building is the most effective approach to keeping it clean.
The first line of defense for your facility's floors is matted at the entrance.
However, entryways aren't the only place where mats are used. Commercial Mats should also be installed in areas of your building that are prone to spills or are particularly slippery. The cafeteria or break rooms, where self-serve soda machines and sinks are present and commercial kitchens, where oil and grease are present, are two spill-prone places where slips and falls are a significant risk.
It can be difficult to determine which mat is appropriate for your institution based on its location and use. To assist you in better securing your facilities, we'll go through the various sorts of mats and where they're employed in this post.
Floor Mats: What Are They and How Do They Work?
Choosing the proper commercial floor mat for your company may improve safety, productivity, and maintenance expenses. There is a mat for nearly any application in your facility, from comfort mats to grease-resistant kitchen mats and everything in between. You'll be well on your way to a substantially improved working environment if you use our floor mat guide to assist you in making the best choice for your company.
Floor Mats that are Anti-Fatigue
Typical applications include:
Grocery store cash registers, snack shack cash registers, and quick-service restaurants cash registers
In restaurants or hotels, host/hostess stations
Manufacturers' assembly lines
Invest in anti-fatigue floor mats to keep your employees happy. For positions such as cashiers and hosts/hostesses that demand a lot of standing, these mats are designed to relieve stress on your staff' legs and backs. Some are for single-use, while others may be purchased by the linear foot and trimmed to any length, making them an excellent choice for large assembly lines! We also have a range of sizes and finishes to compliment your front-of-house décor.
For your entire kitchen, bar, and dish room applications, we also have a wet area, grease-resistant, and grease-proof anti-fatigue mats available! These mats provide the same extra padding as our comfort mats, but in a more durable construction that can withstand tough environments.
Mats for Wet Areas
Typical applications include:
Commercial kitchens' dish rooms and prep areas.
Refrigerators at grocery stores and restaurants
Entrance ramps to your shop from the street
You're locked up
Are you looking for a floor mat for a damp area?
You'll want a mat with strong water resistance and/or drainage holes if you're going to use it in a kitchen, dish room, cooler, or outdoor setting where it will be exposed to moisture. When mats are exposed to water, they take longer to dry and wear out faster.
Related posts