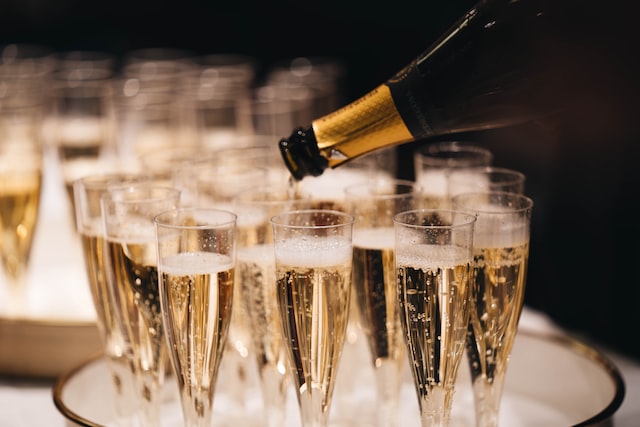 The 10 Best Champagnes to Drink in 2023
Kim Renner, 1 year ago
2 min

read
348
Are you planning an important event for 2023 and you want to know now which bottle of champagne to choose in order to celebrate in style? You have come to the right place since we are going to suggest the best champagnes to drink this year. We have selected these 10 luxury champagnes thanks to their quality, their character and their refinement.
Louis Roederer Cristal 2008
Pick Louis Roederer Cristal 2008 if you want to drink champagne of high quality. This luxury sparkling drink is the work of Maison de Champagne Louis Roederer, founded in 1776 in Reims, France. Emblematic of the brand, it was developed in 1876 for the Tsar of Russia. Cristal 2008 is one of the most prestigious vintage champagnes.
Veuve Clicquot La Grande Dame 2012
La Grande Dame 2012 is an iconic champagne from Maison Veuve Clicquot. This prestigious drink was developed by Japanese artist Yayoi Kusama as a tribute to Madame Clicquot, nicknamed the great lady of Champagne (La Grande Dame de la Champagne). Made of Pinot noir and Chardonnay, this champagne is creative and surprising at the same time.
This French champagne has notes of pear, berries and chalky earth. It is made by the first Champagne house to make a certified organic brut Champagne. Duval-Leroy offers the best luxury sparkling wines but this one is just perfect.
Delamotte Blanc de Blancs
If you are looking for a rich and decant brut, this one is for you! Made 100% from Chardonnay, Delamotte Blanc de Blancs is creamy on entry then becomes more acidic and deeper on the palate.
This is certainly the best rosé you can find on the market. Appreciated by French kings and today's celebrities, it results from the perfect blend of Pinot Noir and Chardonnay.
Egly-Ouriet Brut Tradition
Egly-Ouriet Brut Tradition is one of the best non-vintage champagnes. It is a textured and expressive champagne that is delicious to drink when young.
Perrier-Jouet Belle Epoque 2012
One of the most elegant champagnes of the 2012 vintage, Perrier-Jouet Belle Epoque benefits from an exceptional quality.
Pierre Gimonnet Fleuron Blanc de Blancs Brut
If you are looking for a crisp and acidic champagne for 2023, choose the Fleuron from Pierre Gimonnet & Fils.
Taittinger Brut La Francaise 
Maison Taittinger blends Chardonnay with Pinot Noir and Pinot Meunier to obtain this luxury champagne with persistent bubbles and refined notes.
This one is really worth the hype with its complexity. As a matter of fact, Dom Perignon Vintage is warm and fresh at the same time. If you want to improve your knowledge of champagne, click here to read more about this.
Related posts