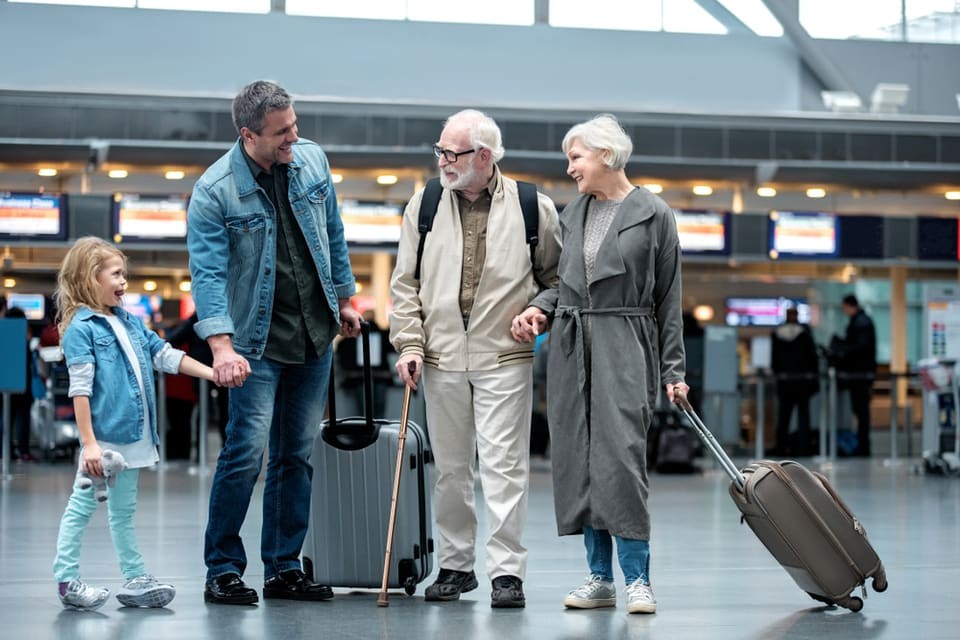 Flying with senior citizens can be a difficult task. After all, you need to treat them exactly in the same manner like you would treat a child, with utmost care. You need to take care of their requirements, their medicines, their health condition and support them throughout the end of the departure. It is quite different from a normal vacation with family. I remember, when the last time I took my grandfather to Pune, he could barely walk properly, so I supported him from one side and my sister on the other. We made our flight ticket booking in advance from Intermiles, so luckily we did not have to wait at the counter for long. It was a bit stressful for sure, but we followed certain tips that helped us conduct all the airport procedures at ease. If you want to know about those tips as well, scroll down and you will surely have a better flight experience next time if you follow these pre-boarding tricks.
Keep their documents with you
As they say, with senior citizens comes big responsibilities. And referring to my past experience, I do agree with this phrase. Senior citizens can sometimes forget important things which can be troublesome. So, you cannot rather you should not take risks when it comes to essential documents that need to be presented at the airport counter. From, passport (if travelling to a new country) to ID proofs, it is better if you keep them all with you till the flight journey ends. By doing so, you don't have to worry about document loss and can present them quickly at the counter.
Check into senior travel assistance at the airport
According to the Air Carrier Access Act, most senior citizens have the right to ask for assistance for boarding and deplaning. An airline should be able to offer this assistance to every citizen boarding the plane. So research well about the airlines before booking a seat and ensure that it has all the necessary arrangements for travel assistance. However, the airlines don't offer personalised services, so you have to come along with the person to provide him with such assistance. Another way you can provide service is by availing of concierge services. These services will help your parents go through the entire airport process and assist them till boarding the plane. However, these services don't come for free, so you have to be ready to pay some charges to avail of this facility.
Research wheelchair regulations
If your grandparents have mobility issues, they can take the free wheelchairs from the airport for travel. Travelling in a wheelchair is much easier and you will find it helpful both for yourself as well as your grandparents. So, if you want wheelchair assistance, research well on their availability and also their regulations. Once you are done with the research, you can now make your booking.
Avail of free lounge access
While travelling with an elderly person, you should know that they might not be active like you. They might need to take rests at intervals. Although there are seats in the airport where you can let them sit and relax, sometimes the seats can be jam-packed, especially if you are travelling during prime seasons. So, wondering what can you do about it? Well, you can access the lounge while waiting for the flight. I know, you must be wondering that accessing the lounge is quite expensive and might cost you a fortune. However, there are some debit and credit cards that provide access to lounges for free. You can book your tickets from those cards and get lounge assistance for the senior citizens.
Take preparations for security
Every passenger has to go through this procedure and with senior citizens, it is no exception. However, for security checking of a senior citizen, it is crucial to know about the TSA rules that make the entire process easier. Since a senior citizen cannot go through the normal screening due to a wheelchair, walkers and other mobility aids, inform the TSA officer and he will take care of the entire process.
Check for airline discounts
Some airlines provide discounts on the ticket cost for elderly people and the disabled. So, you can avail yourself of those airlines to get discounts on your trip. Although it is not as common as it might seem, there is no harm in trying, right? If you see the discount is available, you can book directly from the airport or from a reputed travel website like Intermiles. Trust me, you would not want to let go of these offers.
Now that you have a brief idea about how to fly with senior citizens at ease and what are the pre-boarding tips which can help the process, what are you waiting for? Complete these needful tasks and have a great flying experience with your grandparents.
Related posts