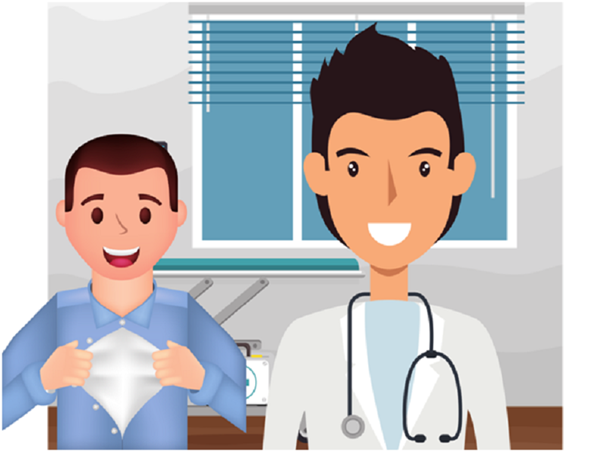 Ostomy Supplies You Might Need
Jack Sylvester, 7 months ago
8 min

read
179
After Getting an Ostomy
Approximately 120,000 ostomy procedures are performed every year as a life-saving measure to treat diverse medical conditions.
Doctors perform an ostomy on a patient if they have inflammatory bowel disease, cancer, diverticulitis, infection, birth defects, incontinence, and a host of other medical issues. It helps people live healthy lives despite a range of conditions or injuries. Bodily waste, such as faeces and urine, can exit the body through alternate, surgically-created openings called stomas.
A person's stoma can be found on the left or the right side of the abdominal area. It depends on what body system is involved. A person's small or large intestine or the ureters of the kidney are attached internally to the stoma. Prosthetic receptacles called pouches or bags are connected externally to collect waste, bypassing the usual internal digestive or urinary routes.
Most ostomates can still do everything they did before after getting the procedure. It includes swimming and other sports, working, and enjoying relationships.
Types of Ostomies Performed
The most common type of ostomies are:
Colostomy – It is a procedure that connects the colon to the abdominal wall. The sigmoid colostomy connects the descending colon and is the most common colostomy procedure.
Ileostomy – The last portion of the small intestine, called the ileum, is attached to the abdominal wall. Temporary ostomies are typically attached to the ileum.
Urostomy – The kidney and ureters are affixed to the abdominal wall via an ileal conduit.
Ostomy procedures can be conducted at any age. It can also be executed to help patients eliminate properly while healing from acute conditions or injuries aside from being a permanent fix.
Choosing the Right Ostomy Supplies
Ostomates new to ostomy and other stoma supplies must learn how to use them correctly. Ostomy pouches, skin barriers, flanges, and kits are devices you will be changing and maintaining. It is crucial to get familiar with the basic design of these stoma supplies.
You do not need to keep using the ostomy supplies provided by the hospital following your procedure. It might not be the right ostomy system for you, especially if it is leaking and uncomfortable, creating skin irritation or emitting odours. You can always consult with your doctor or WOC (Wound, Ostomy, Continent) nurse to help you find the configuration right for you.
Below is a list of skin barriers and types of ostomy or stoma bags you need for your ostomy care. There is also a list of wound care products and other stoma supplies you might need.
Ostomy pouches
The ostomy or stoma bag collects your stool or urine. There is a wide range of sizes and designs to accommodate different users and a variety of activities. Smaller pouches are designed for intimacy and swimming. The larger pouch sizes are better for everyday wear or night use.
Two types of Ostomy Pouches
One of the most crucial things to consider in choosing your stoma supplies is determining whether you need a one-piece or two-piece system.
One-Piece Bag Systems
This system permanently attaches the skin barrier to the collection bag. The stoma bag and skin barriers are removed when it needs to be changed. You only need to discard the stoma bag in a receptacle for proper care.
One-piece systems are the best option for people with vision impairments, arthritis, and other conditions that might affect hand strength and coordination. However, it can present more risk of skin irritation and infection because you need to remove the skin barrier every time the bag is full.
Nonetheless, one-piece systems tend to lie flatter against the skin. It also enables ostomates to quickly change their stoma bags and take care of their stoma wounds.
Two-Piece Bag Systems
On the other hand, two-piece bag systems allow the detachment of the bag from the skin barrier. They can be replaced independently, emptied and cleaned. You don't have to remove the skin barrier to change your stoma bag.
Ostomates with more waste output prefer this system. It also offers improved convenience in attaching various sizes of bags for different activities. Because the skin barrier can stay in place for several days, it reduces the risk of skin irritation and infection.
However, two-piece systems are a bit more visible under clothes. This kind of stoma bag tends to take a little longer to take care of: change, drain and clean.
Drainable or Closed Bags
Another crucial feature you need to consider is figuring out whether you need a closed or drainable bag.
Closed-end Ostomy Bags
These are sealed pouches meant to be disposed of and only for single use. Closed pouches are excellent choices for excursions since they offer quick changes and convenient disposal.
Drainable Ostomy Bags
On the other hand, drainable ostomy bags have a built-in or attached closure mechanism. This kind of stoma bag is used multiple times if properly taken care of. They only have to be emptied and cleaned before being reused. Drainable pouches are more recommended for frequent output and permanent, long-term ostomy needs. They are a better choice since they can be more cost-effective.
You can use both drainable and closed-end ostomy bags if you are using a two-piece system. However, closed bags are typically the only type suitable for one-piece systems.

Skin Barriers
The skin barriers used in ostomy care come in a variety of styles, sizes and configurations. Their configurations accommodate a wide range of body and stoma shapes and sizes. Skin barriers are also called wafers, ostomy barriers and flanges.
The barriers are attached to the stoma and the area that surrounds it. Two-piece systems have separate barrier units. In one-piece systems, wafers or flanges are affixed to the pouch. It can be soft and malleable or rigid depending on the specific requirements of the user. It can also come flat or convex. Some skin barriers come with pre-cut openings, while other wafers can be cut to fit.
Most two-piece systems come with their skin barriers. However, you can also acquire flanges separately for a more customised fit and better use. Most also come with adhesive backing. Some skin barriers require additional adhesive or tape to stay in place.
Knowing your waste output and ostomy care needs is also crucial. Ostomates with soft or liquid outputs should choose skin barriers designed for resistance to liquids. If you have to frequently change your barrier, or have sensitive skin, look for gentle adhesives that help mitigate skin irritation. Flat flanges tend to fit better for those with protruding stomas or deep abdominal creases. On the other hand, convex configurations are more suitable for flush or retracted stomas.
Ostomy Deodorants
Most new ostomates are concerned about controlling the odour their ostomy system might produce. No one would want to smell like urine or stool. However, with the current technology, ostomy odours are a thing of the past.
You can buy ostomy deodorising products that effectively eliminate odours from your ostomy appliances. The products are available in drops, tablets, liquids, and sprays. You should only be smelling the odours when you are emptying the bag. There can be a problem or a leakage with your stoma bag or system if you are smelling odours at any other time.
You can also purchase ostomy deodorants that help prevent stools from sticking at the top part of the pouch by lubricating the stool.
Other Ostomy Supplies
Most ostomates don't require more than the pouching system and skin barriers to tend to their elimination requirements. Some ostomates need specific accessories to reduce the risk of infection, contamination, and skin irritation. However, these are associated with poor ostomy management and hygiene. These are some of the supplies you might need for your stoma and wound care.
Pastes, Powders, Wipes
There are specially formulated skin barrier pastes that help fill in folds, crevices and other surface irregularities of the abdominal area. It ensures the best seal on the area around your stoma with the wafer of your ostomy appliance.
Liquids, powders and wipes help protect your skin. It mitigates skin irritation while also enhancing wafer adhesion.
Tapes, Adhesives, Adhesive Removers
Some ostomy systems do not come with their skin barrier adhesives. There are separately sold ostomy tapes and other various forms of adhesives that will keep wafers and pouches fully supported and firmly in place. Some products can also protect the ostomy appliances from moisture and liquid. The removers are used to remove any adhesive from the ostomy system or your skin.
Belts & Covers
Ostomy pouches sometimes have built-in covers. It can also be purchased separately. It is for added skin protection and comfort. Belts are used as added stay-in-place support when wrapped around the abdomen. It can also be an alternative to adhesives.
Coloplast develops products and services that make life easier for ostomates. They work closely with the people that use their products to create solutions that are sensitive to their specific needs. Their business includes ostomy care, urology, and continence care, and wound and skin care.
Jack Sylvester is a freelance writer, He is extremely fond of anything that is related to ghostwriting, copy writing and blogging services. He works closely with B2B businesses providing digital marketing content that gains social media attention. His aim to reach his goals one step at a time and He believes in doing everything with a smile.
Jack Sylvester
Jack Sylvester is a freelance writer, He is extremely fond of anything that is related to ghostwriting, copy writing and blogging services. He works closely with B2B businesses providing digital marketing content that gains social media attention. His aim to reach his goals one step at a time and He believes in doing everything with a smile.
Related posts