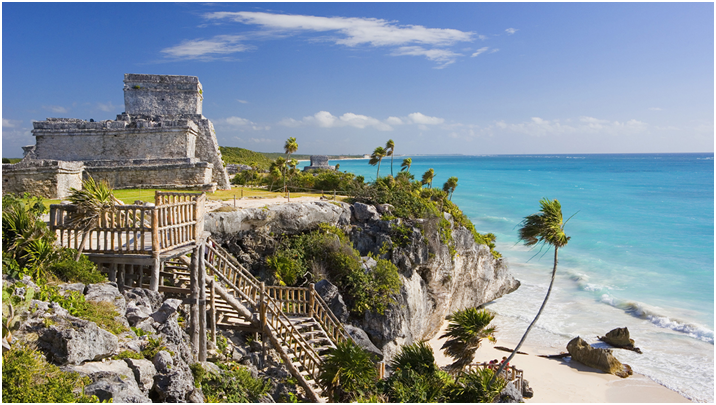 My 3 favorite places in Tulum
Clare Louise, 3 years ago
3 min

read
868
Choosing Tulum as a vacation destination is one of the best decisions to take a break from the hectic working world and the stress of the big cities. So if you are making your list of things to do in Tulum I would like to give you my 3 favorite places to have an unforgettable vacation.
From the moment you request your Shuttle from Cancun to Tulum, it is important that you are prepared to live a fully ecotouristic experience, so I recommend you to travel in good tennis shoes and comfortable clothes. Let's get started.
The Tulum Archaeological Zone:
The representative place of all Tulum the archaeological site of Tulum is located on the east coast of the state of Quintana Roo a region known as the Riviera Maya. This city received in ancient times the Mayan name of Zamá which means "Dawn in Maya" and the current one, Tulum which means "Walled City".
It becomes my favorite place because this archaeological site is the only one in the world to have ruins located on a cliff on the seashore, besides having two beaches: a private one dedicated to turtle nesting and a public one where you can swim in the turquoise blue waters with the ruins in the background. Undoubtedly a must-see destination for only $2.50 USD.
I recommend arriving early to avoid the large numbers of tourists, wear comfortable shoes, beach sandals, swimsuits,s and avoid carrying drones.
Kaan Luum Lagoon:
Just 12 km down the road to Felipe Carrillo Puerto and past the town of Tulum you will find the Siaan Ka'an Reserve where you will find the hidden lagoon of Kaan Luum whose meaning in Mayan is Yellow Land.
The Kaan Luum Lagoon is my second favorite place for its natural beauty is beautifully decorated with mangroves, its waters are fresh and clear where you can see thousands of fish that shine with the sun's rays, you can enjoy this view from the dock that is located here.
Tour the lagoon by kayak or boat trips to see the wildlife of the area is certainly a recommended place for the whole family, quiet and economical for only $ 3.00 USD, now, if you want to do extra activities will have a different price depending on the activity and the season.
I recommend you bring some snacks since there is no place nearby to buy something, the place has a dining room where you can eat without polluting the place.
Casa Cenote:
As the last recommendation, 40 minutes by bike from the town of Tulum is this beautiful cenote, you can also take a public van that can leave you at the entrance for $2.50 USD and takes you in less than 10 minutes. however, I recommend you to go by bike to live a more complete experience.
The incredible thing about this place is that it is a cenote surrounded by mangroves in the form of a river, this place is perfect for snorkeling and swimming in its waters and sees the marine life of this place, it is really amazing. For only $8.00 USD you can enjoy this natural beauty.
I recommend you to bring your own fins and mask to avoid extra expenses and don't worry if you bring your own stuff because you can rent lockers to keep all your belongings.
As you will notice the Mexican Caribbean is a place for everyone who wants to disconnect and enjoy a well-deserved rest and as an extra recommendation on your next visit to the Mexican Caribbean, take Transportation from Cancun to Playa del Carmen, and visit this incredible destination full of northern life and long parties and extreme adventures, another great experience that you have to live.
Related posts