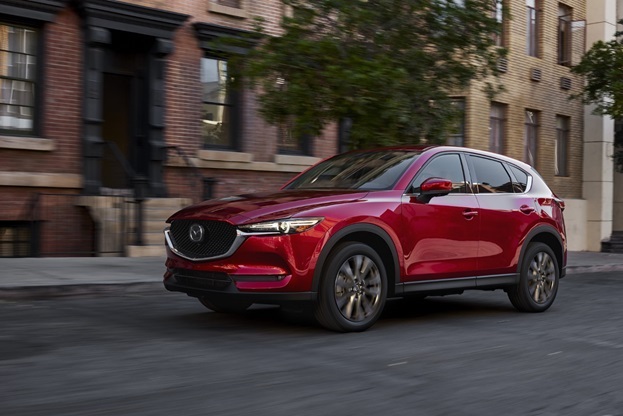 Check out Detailed Specs of Compact SUV 2021 Mazda CX-5
Clare Louise, 3 years ago
3 min

read
2338
Most compact SUVs have been known for offering good mileage. One of the compact SUVs that provide drivers with such high fuel mileage is the Mazda CX-5 2021 version. Due to its impressive engine, it not only has a potent powertrain but is also fuel efficient. To understand its fuel efficiency, performance, and more one should go through the powertrain details. After knowing about this fuel efficient SUV, you can visit Mazda dealer Scottsdale to book a unit.
Potent powertrain
The standard engine of CX5 provides ample throttle response when going around in a city or starting from a stoplight. Hence, quick acceleration is in the nature of this engine, which is a four-cylinder option that provides 187 horsepower. However, if a person's work involved driving through a highway regularly, then it might feel a little underwhelmed.
Nevertheless, Mazda solves this issue by providing an optional turbocharged engine that spits out 250 horsepower easily. Thus, this makes it not only quick in acceleration when in a city but feels great to drive when on a highway too. Also, both engine model is teamed with automatic 6-speed and is available in AWD or FWD; you can choose whichever is more convenient for you.
People don't require driving this hard for enjoying its excellence. Composed cornering and accurate steering, makes it an ideal car to use it daily or when going for a cruising on weekends. What makes this vehicle unique is its ability to provide better ride quality even on uneven road. It is also said by people that it offers ride quality that even crossovers can't provide which costs twice than Mazda CX-5.
Dynamics of this vehicle is still unrivaled as well as balanced damping, minimal road noise, isolation of pavement imperfection, and more makes it one of kind car. In addition, driving this car on curvy roads makes it even more satisfying and brake pedal responds without any delay making it one of the safest cars on road.
Such drive quality and impressive powertrain is one of the reasons for this car to be such a fuel efficient one. It serves a mileage of 25 mpg (city) and 31 mpg (highway), which always exceeds in hands of experienced drivers. You can stop by Scottsdale Mazda dealership to gather more info and get one.
Pricing and more
The Sport model costs $26,545, while other's starting price are Touring ($28,285), Carbon Edition ($30,130), Grand Touring ($31,735), Carbon Edition Turbo ($31,935), Grand Touring Reserve ($36,560), and Signature ($38,680). If you want to ride in style and have the best CX-5 then there is no doubt you need either the Signature model as it is the best Mazda has to offer and it is quite a model.
With such affordable price, people can't believe that type of car Mazda offers. With numerous features, classy styling of exterior and interior, powerful engine, and fuel economy, this is a car which is no doubt ideal for people looking to buy a compact SUV. Get one today at best possible deal!
Related posts