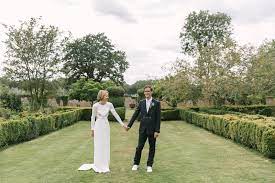 Making the Most of Minimalist Weddings
Alison Lurie, 2 months ago
4 min

read
85
Minimalist weddings are becoming increasingly popular with couples who want a fuss-free and no-frills celebration of their love for each other. There are plenty of ways to make the most of minimalist weddings and keep them sleek and stylish. 
Focus on the essentials by keeping your guest list small and the decoration minimal
By focusing on the essentials, you can create a truly memorable celebration without all the unnecessary frills. Keep your guest list small and intimate, allowing you to connect with each of your loved ones on a deeper level. Instead of extravagant decorations, opt for subtle accents that highlight the natural beauty of your venue. 
Let the venue speak for itself and allow your love to take center stage on this special day. A minimalist wedding is perfect for couples who value quality over quantity and want a more refined and timeless celebration.
Opt for a simple yet elegant wedding attire
On your special day, you want to look and feel your best without the added stress of a complicated wedding attire. That's where minimalist weddings come in. By opting for simple yet elegant dresses like LDS wedding gowns, you'll exude effortless grace and timeless beauty. 
With clean lines, soft fabrics, and delicate details, these dresses perfectly capture the essence of minimalist style. Plus, choosing a minimalist wedding dress allows you to focus on what really matters: your love story and the joy that surrounds your union. Say "I do" to simplicity, and make your big day unforgettable.
Choose a simple yet stunning venue that doesn't need much decoration
One way to achieve a minimalist wedding is by choosing a venue that speaks for itself. Opting for a venue that doesn't require much decoration can actually be a great way to enhance the natural beauty of your wedding, with the added benefit of being budget-friendly. The main focus of the day should be on celebrating your love, after all. 
A simple yet stunning venue can make for a memorable and intimate wedding experience, giving you and your guests the opportunity to truly soak at the moment.
Opt for a short and meaningful ceremony
By eliminating excessive details, couples can create a more intimate and meaningful atmosphere that truly celebrates their love. Instead of a long and drawn-out ceremony, couples can choose to have a short and sweet exchange of vows that will leave guests feeling touched by their love story. 
A minimalist wedding may be simple, but it is anything but boring. In fact, it allows couples to fully embrace the essence of what a wedding is all about love and commitment.
Invest in high-quality photography and videography
Just because you're going for a minimalist look doesn't mean you should skimp on capturing the memories. In fact, investing in high-quality photography and videography can be one of the best ways to make sure you remember your special day forever. 
By choosing skilled professionals with an eye for detail, you can capture every moment in stunning detail, so you can look back on your wedding day and relive it all over again.
Serve delicious yet straightforward food and drinks
When it comes to food and drinks, it's important to keep things uncomplicated yet still delicious. Consider serving dishes that showcase fresh, seasonal ingredients and flavors. 
For drinks, stick to classic cocktails and simple yet refreshing options like sparkling water with a splash of citrus. By keeping things straightforward, you'll create a relaxed atmosphere that allows your guests to focus on the joyous occasion and savor the moments that matter most.
Pick a theme or color scheme that is easy to execute 
One can pick a theme or color scheme that requires minimal accessories to create a unique and memorable wedding. A simple color scheme can be monochromatic or pastel to add a touch of sophistication to the proceedings. 
Alternatively, a rustic theme can incorporate natural elements such as wood and greenery, creating a warm and welcoming atmosphere. A minimalist wedding is all about stylish simplicity, allowing you to focus on what really matters – celebrating your love and commitment to each other.
In conclusion, weddings can often become a chaotic and overwhelming affair, with endless to-do lists and an army of vendors to manage. But what if you could strip all the fuss away and embrace the minimalist mantra of "less is more"? A minimalist wedding is all about simplifying, and cherishing only the truly important elements, from the guest list to the décor. It's about opting for understated elegance over showy extravagance and allowing the natural beauty of your surroundings to speak for itself. So instead of stressing over every detail, take a deep breath and embrace the beauty in simplicity. Your minimalist wedding will be a true reflection of your love and commitment, without any of the added fuss.
Related posts