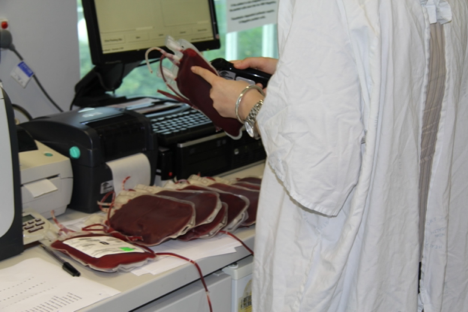 Know The Main Drawbacks of Current Blood Transportation Handling
Adam Mosley, 3 years ago
4 min

read
1066
Blood storage and transportation in blood banks and hospitals need maintenance of precise temperature environments.
Many blood banks and healthcare facilities do not have well-designed equipment to store blood. And most of the coolers are not capable of insulating precisely, leading to non-uniform temperature distribution, negatively impacting the stored blood.
Usually, bagged crushed ice or gel packs are used as the main cooling material during blood products' transportation (whole blood, packed red blood cells). But, the ice or gel packs require pre-conditioning, entailing delays and slower response time.
Most shippers prefer using regular gel packs to maintain the temperature range of +20 to +24 degrees C.
The issue with today's methodologies of blood transportation is that it has a few drawbacks, which are:
Quality Issues
The coolers in use are made of high-density plastic lined with 1.5 to 3-inch foam insulation. After filling with crushed ice, only around 30 percent of usable space inside the cooler remains for storing blood products. Limited capacity is one of the major concerns in blood storage and transportation today.
Poor thermal performance is another concern. In today's packaging system, manufacturers use Styrofoam or Polyisocyanurate insulation.
Despite being inexpensive, the insulations provide limited performance that might hamper blood handling during emergencies.
Lack of flexibility is another drawback. The coolers are based on the one size fits all formula that does not go well.
Manufacturers should include the insulation, cooling material, and pack-out in coolers according to the type of blood product's needs.
The existing coolers have little flexibility to size up or down as per each shipments' needs, leading to efficiencies.
Compliance Issues
Many blood banks and healthcare facilities use packaging for blood. The packaging is arbitrary, requiring extensive evaluations before storing the blood.
It will help if there is a pre-validated packaging system as that would make things faster to evaluate.
Technicians and blood bank supervisors have to spend considerable time assessing coolers, ice packs, cardboard boxes, plastic shells, and trolleys from different sources. During the assessment, they have to run multiple tests to ensure the system conforms to the FDA/AABB standards. They need to conduct period tests every 6 to 12 months.
Excessive Costs
Shippers usually use cardboard boxes lined with insulation panels to transport blood. And with the crushed ice per box, the weight increases significantly, leading to incremental shipping costs.
Shipping companies' charges are based on dimensional weight, so the packaging design for blood products has to be optimized for the container's size and weight.
The existing limited capacity, limited thermal performance, and heavy crushed ice often lead to higher transportation costs.
Although the current blood packaging system is inexpensive, the total costs involved in packaging and shipping become high.
Therefore, there is a need for an optimized pack-out design and reduction of shipping costs.
Some vendors offer vacuum insulation panel-based packaging, which is expensive, fragile, and heavy, ruling out cost-effectiveness in blood transportation.
How Can Blood Transport Boxes Help?
The drawbacks associated with the contemporary methods of blood transportation handling can be reversed to a great extent by using blood transport boxes.
The boxes provide the flexibility of easy transportation in all types of vehicles. You can install them on ambulances, blood vehicles, and vaccine vehicles.
You can use the boxes in hostile environments and within the temperature ranges from -2 to 43 degrees C. The boxes can withstand humidity above 80 percent.
Accurate temperature control is a remarkable feature of the boxes, in which microprocessors control the temperature digitally. There is also the facility of forced air cooling when the temperature rises above the permitted levels.
A Checklist for Blood Banks
To enable blood banks to choose the right blood transport solutions, we have included a checklist here. If you run a blood bank, you can use this checklist to compare the solutions available from different vendors.
Capacity: The units of blood to carry
Weight: The weight when fully loaded with cooling materials and blood products
Cooling Materials: Whether cooling materials are included in the packaging system?
Shipping Duration: The duration of shipping or the time to keep the blood in the prescribed temperature.
Durability: Whether the containers can survive normal shocks?
Design: Have the package designed especially for transporting blood products? Is advanced insulation technology a part of the design?
Harmful Impacts of Improper Blood Storage
Blood banks and medical facilities should exercise adequate care in storing blood in the right ways. Improper blood storage can lead to damaging the blood, which doctors cannot use on patients.
The right temperature environment is crucial for storing blood. If the temperature goes outside the recommended range, blood loses its ability to transport Oxygen to tissues upon transfusion.
If blood gets exposed to warmer environments, there arises the risk of bacterial contamination. And, in freezing temperatures, blood can get hemolyzed and can result in fatal transfusion reactions.
Related posts