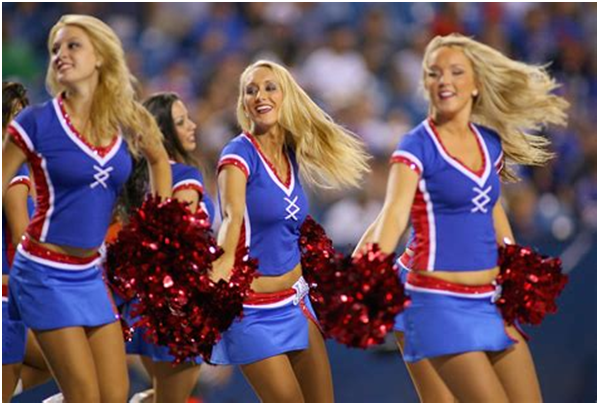 How to Raise Money: Cheerleader Fundraising ideas that work:
Herman Walker, 3 years ago
4 min

read
835
How exciting it is to watch the cheerleaders do their dance steps, stunts, and cheers. How lovely the squad is in their flashy uniforms while waving their pom poms. Behind all the excitement, cheerleaders undergo rigorous training, need different fancy outfits, and money. Cheerleading fundraising is a necessity to financially support every cheer squad activity.  Below is a short list of cheerleader fundraising ideas
The fundraising campaign for the cheer squad will be used for their daily training. Training may require expenses for food allowance. Cheerleaders will also need a new fancy outfit for every competition. Moreover, the cheer squad along with the sports team needs to travel for competitions. All these mentioned activities need funds for support.For help with your cheer fundraising, visit Fundraising Zone.
There are plenty of ways to raise money to support your cheerleaders. The internet is also a great source of thousands of fundraisers, and all you have to do is find the best ones that fit your cheerleading fundraising needs. You simply need a little creativity to come up with lucrative cheerleading fundraising ideas.
Best Ideas for Cheerleading Fundraising
The following ideas for cheerleading fundraising are tried and tested to be profitable. Each fundraiser can help you raise hundreds or even thousands of dollars. The money raised will be more than enough to pay for your cheer squad's fancy outfits, allowances, travel, and other expenses related to cheerleading activities.
The Brochure Fundraiser for Cheerleaders
The brochure fundraiser is a simple concept that schools organize to earn profit for a cause. Fortunately, your cheerleading fundraising may adopt the same fundraiser activity concept. The brochure or catalog fundraiser for cheerleaders will require you to promote some profitable products. After conceptualizing a product, have the brochures printed, and distribute them to prospective donors.
Below are some great product ideas for your brochure fundraiser for cheerleaders.
Cookie Dough Fundraising
Popcorn Catalog Fundraising
Coffee Catalog Fundraising
Cookie Dough Fundraising for Cheer
Cookies are one of the favorite snacks in every household. Children and adults alike eat cookies at any time of the day. Almost anyone would love a freshly baked cookie at home. And who wouldn't love a fresh ready-made cookie dough at home? This cookie dough fundraising for cheer will rake in a lot of cash for sure.
Popcorn Catalog Fundraising
Popcorns are not just snacks for movie houses, but they are a household favorite too. Popcorns are perfect on a binge-watching weekend with the whole family. Have a real delicious caramel popcorn recipe for your brochure and see the money rolls in for the cheer.
Coffee Catalog Fundraising
Almost every household has coffee in their pantry cabinets. Why? This is because coffee is a daily commodity that most people drink. Have a list of coffee that you can choose to sell using the coffee catalog fundraiser. Make sure they are delicious but affordable. Distribute your catalog and collect your profits.
Summer Clinic for Cheerleading Fundraising
Sometimes it's difficult to think of profitable products to sell in your fundraising activity. How about making money out of something that you already have? It sounds like a great idea, right? What can you say about offering a summer clinic for cheerleading fundraising?
Since you already got the cheerleading talent, the cheerleaders can teach young girls aspiring to be cheerleaders. The cheer squad may launch a summer clinic, and charge each sign up a fixed fee. One good idea to earn a bit more is to sell cheer uniforms to each student who signs up.
The cheer squad may include the cost of the uniform with the sign-up fee.
Get Sponsors for your Cheerleading Fundraising
Getting sponsors for your cheerleading fundraising is one easy way to raise funds for the squad. So, how do you get sponsors for cheerleading fundraising? Look around your community and find prospective local companies. The cheer squad may write a sponsorship letter to each prospect. You may scour the internet to look for a cheerleading sponsor letter sample.
A good letter will help you convince a prospect to give outright donations. You may also get the local companies email address and send them a cheer fundraiser email letter. Again, don't forget to write a good one, for it will give you a better chance of getting an outright donation.
You may also think of something that you can give them in return for their sponsorship. It can be in the form of an advertisement in your monthly cheerleading newsletter or website if you have one. One perfect idea is to have a cheerleading fundraising Facebook page to feature your sponsors. Advertising doesn't come cheap, so local companies would surely love to shed off some dollars to your fundraiser.
Related posts