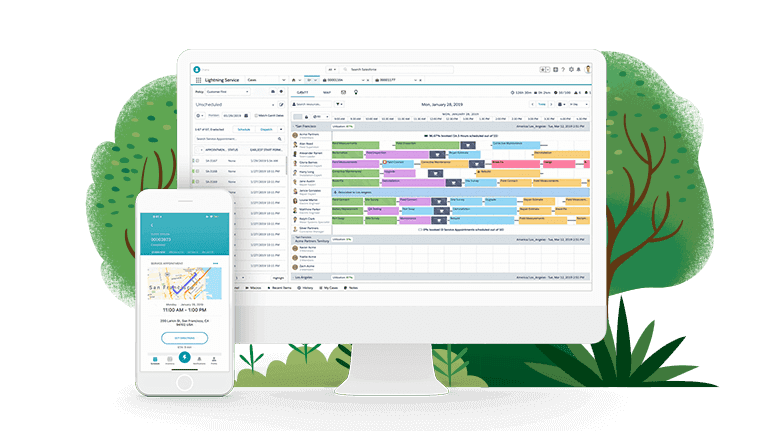 Salesforce field service provides a comprehensive view of workforce management. In this case, field service provides services to customers beyond your office or site. It is valuable to your organization if you have mobile field technicians who support your customers. It helps to ensure that your employees do not compromise the functionality of the services they offer while working out of the office. Implementing Salesforce field service will help you reap multiple benefits, including:
Increased Performance
Handling your field agents manually can be tedious and time-consuming. It's also difficult to manage your operations when manually tracking and locating your workers. As a business owner, you know the importance of time, and you should optimize it. Salesforce field service makes the best of your workers' time in the field. It connects work orders with accounts, assets, cases, contacts, and other elements in Salesforce.
Mobile Access
Your field service agents should view and edit customer information on the go. For instance, when your field service employee finds additional sales opportunities when out servicing the product, they should assess these features on a mobile device. By using field service, they can have real-time collaboration with access to job schedules, articles, and more.
Improving Customer Satisfaction
Customer satisfaction is vital to running a successful business. In the modern market, you should focus on making your customers' lives easier through easier ways of doing business. Consumers expect prompt follow-up and to communicate over their preferred platform. You can solve your customers' issues faster with a field service system. It connects your customer service team to the field service team and other employees to ensure they have all the necessary information when working on an issue. This way, your field service team ensures that the customer is taken care of within the shortest time possible. It also streamlines your business and allows you to exceed customers' expectations.
Real-Time Visibility of All Business Operations
By connecting mobile devices to the software, you can assign, manage service appointments, track used materials, and close work orders. The real-time service monitoring makes it easier to identify a problem and act on it without inconveniencing your schedules. For instance, if a technician cannot attend an appointment in time, dispatchers can locate the closest technicians and assign the appointment to one available.
Reduced Business Expenditure
Employees are more flexible and efficient due to the freedom to work while mobile. They can complete many tasks while on the go. You can also allocate job schedules based on skill, location, distance, and other factors, allowing you to tailor service capabilities. In addition, on-site payments will not require back-office billing. This leads to increased performance, resulting in more profits and reduced expenditure.
Final Word
Your company's quality of field service is the difference between an excellent and poor customer experience. In this case, Salesforce field service brings together your field service agents, contractors, and customers on one platform to deliver services that generate excellent customer experiences. Satisfied customers will be loyal to your business and recommend it to others, establishing a competitive advantage.
Related posts