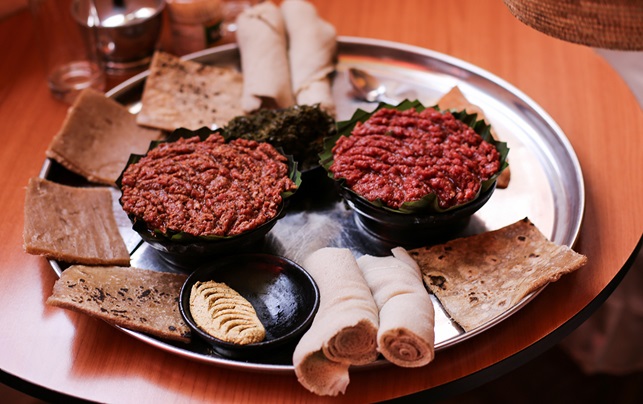 How can you make your grandma happy with a spicy kitfo?
Nancy Lyles, 3 years ago
4 min

read
895
It was my grandma's birthday. And I was searching to find a very special gift for her.It was a party at my uncles home. my younger sister has backed a vanilla cake and she was decorating it with vanilla cream.
My dad has made a beautiful frame and he has put a photo of my grandma in the garden into the frame.My mom had a different idea.She was cooking very special food for my grandma.
my grandma likes strange foods
Everybody knows that my grandma likes strange foods.She always is looking for new recipes like Indian,Italian,Chinese or other ethnic foods so my mom was surfing the net and she had found a completely strange dish to serve called Kitfo. I was surprised because it was raw meat!How can she eat a dish of raw meat?
I couldn't find my present yet. what could I do to make her happy? Nothing came to my mind. Except that helping my mom and find out how the kitfo tastes.I asked her to help and she admitted.
My mom was so excited she said it's an Ethiopian cuisine.It is like a raw hamburger Which is marinated into butter and a mixture of special spicy chili called mitimita. She asked me gently would you please chop the meat Into small Pieces? I thought maybe we can share our gift together if I help her.
1st I chopped the beef and after that my mom made some ground beef by the use of mincer(meat grinder )and added 6 tablespoon of that chili Spices called miimita to it.Next she asked me to bring a small pot.Then melt 4 tablespoons of clarified herbed butter and mix it with black pepper,salt and garlic powder. I said grandma is old and this food is very spicy to her.It's not healthy!My mom smiled and said no honey!she loves spicy cuisines.Don't worry.It's OK and it's not pestilential to her.After that we mixed the spicy butter with ground beef. I think it's not a good idea I said.It would not be delicious at all.It's raw!Maybe we should back or fry it.My mom smiled and marinated the mixture together.
how can we serve kitfo?
It was almost done.So tell me how can we serve it? asked my mom. I said let's read the recipe again. At the recipe it was a word which I didn't know the meaning.What does" injera" mean? I asked.My mom said Maybe it's a traditional bread in Ethiopia. We searched and find out there are lots of things which can be used instead of any of the ingredients for example you can replace the butter with some kind of salty cheese Or even you can serve kitfo With a thick healthy Bread called kocho.I said we don't have any of these breads. My mom said we can use baguette. Suddenly a new idea came to my mind.
we can choose the easiest way to serve And I think it's so delicious and everybody likes chips. Oh yes we have lots of potato chips in the cabinet my mom said happily and it is very easy to serve the food at the party I bet everybody will enjoy it.In spite the fact that the Internet photos show that kitfo Is served in the plate we can changed the way Based on our tactics.
We put a morsel Of kitfo On the top off potato chips and Put them on a big serving tray. How can we decorate it asked mom. I took a quick glance around myself.My attention was drawn to the window basil vase. I pick up some basil leaves and put one on the top of each morsel. It looks better now thanks darling said mom.
May I taste kitfo?
I said. My mom smiled: Sure! As I tasted the food I was surprised again. The kitfo was very smooth and delicious.It was spicy, buttery and tasty!But there was still a question:Will grandma enjoy eating this food?
The party was started.We were ready to go.Everybody has brought gifts and I looked at the kitfo tray which I tasted before in my hands.when we arrived the party l was so excited for my particular gift. It was awesome.grandma said: How did you know I was going to go to the kitfo house and try this cuisine? It's wonderful!now I can taste it in my birthday with my family and friends.
The best part of the celebration was that I saw that brilliant happiness in her eyes.There was a great ball : Do you really want to make someone happy? You don't have to buy an expensive present. You should just know what does she or he like.Just go back to your heart and made it with your magic eternal love.
I suggest you read about Belyashi Recipe – EpersianFood
Related posts