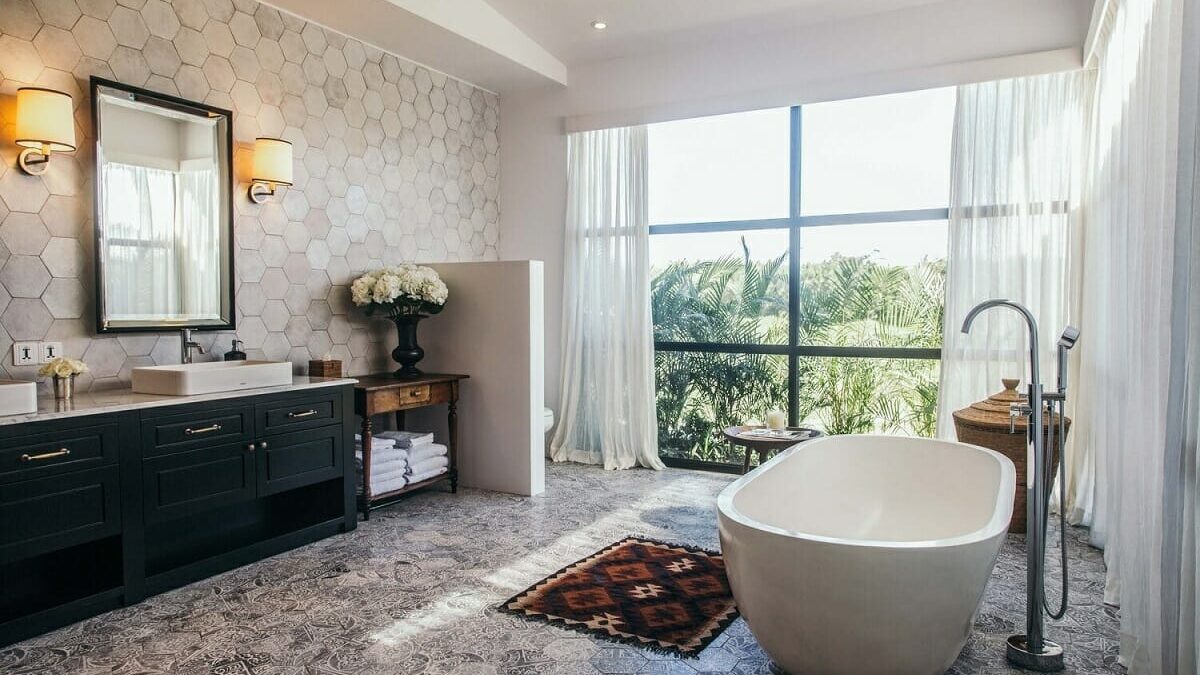 Hottest Bathroom Design Trends of 2023
Adam Mosley, 11 months ago
3 min

read
285
The bathroom tends to be one of the busiest rooms in the house. Used to get ready in the morning, as a retreat throughout the day, or as a space to relax and unwind. It's no secret that our bathrooms are a frequently used area, so why not make sure it's designed in a way that makes you feel good and is enjoyable? As we head into 2023, there has never been a better time to give your bathroom a revamp. Read on for some bathroom inspiration as we round up the hottest design trends set to dominate 2023.
A Statement Piece
If you're looking to make a change in 2023, why not opt for a statement piece in your bathroom? You could opt for a bold tile or even a statement sink. Tiles give you the option to add patterns and textures to a space while a feature sink can add a pop of color and personality.
Freestanding Bathtubs
Another trend set to take the stage in 2023 is the freestanding bathtub. A freestanding tub is a fitting we often expect to see in a fancy hotel or stately home and, as such, it's a great way to add some opulence to your bathroom.
Complementary Fixtures and Fittings
This year, attention to detail will be at the forefront of bathroom design. This means the focus will be placed on two key areas. The first on the style of your fixtures and fittings. They should work together and complement each other. The second is attention to functionality. Your bathroom should be a space that flows and feels practical. If you're planning to design a bathroom that's perfectly adapted to your taste and needs, speak to the bathroom specialists in Bedfordshire for expert advice.
Say Goodbye to Synthetics and Hello to Eco-Friendly Materials
As we all become more and more conscious of the environment and opt to make eco-friendly changes to our lifestyles, bathroom design is no exception. Experts predict we'll see more natural materials used in bathroom design. Materials like wood or homemade tiles could take center stage. Natural materials can also be used to dress the room. This is perfect if you looking for a budget-friendly way to breathe new life into a space. Consider adding wicker baskets, towels made from natural fibers, as well as bamboo pots or storage containers.
Eco-friendly materials work incredibly well when paired with botanical elements so add some bathroom-friendly plants to your space. Plants like spider plants, peace lillies, and snake plants thrive in humidity and can help keep the air clean.
Era-Spanning
Another hot bathroom trend of 2023 is era-spanning. This means combining elements from different periods to create a unique look. This trend is super assessable and allows you to get creative and design a space that's unique to you. For example, you could mix vintage wallpaper with modern fixtures.
However you choose to express your style, your bathroom should be a sanctuary and haven. A place you can retreat to, to relax and unwind. Let us know in the comments down below your favorite bathroom trend for 2023.
Related posts