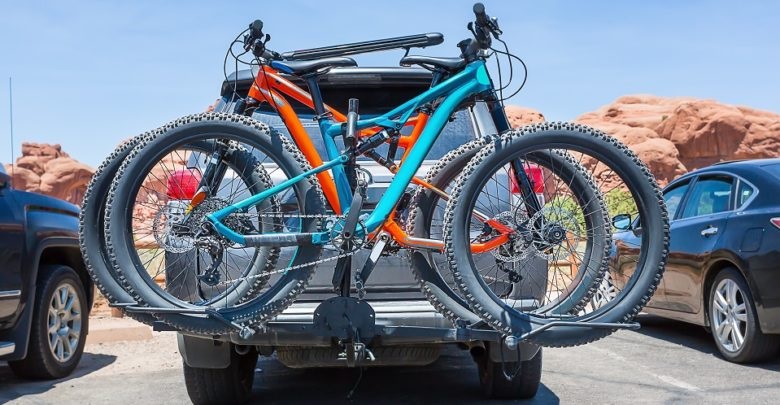 High Quality Car Trunk Bike Rack Carrier Buying Guide
Adam Mosley, 4 years ago
5 min

read
1183
Gone are the days when people had to dismantle their bikes to take them on a road trip. Modern bike racks make it easy to take your bike with you wherever your car travels. But what if your vehicle's design doesn't allow for an easy use of any type of bike carrier?
It may be that the roof of your car isn't suitable for mounting a bike rack. And your vehicle may come with no hitch as well. If that's your case, don't worry. You can still use one of the most versatile types of bike carrier out there – a trunk mount bike rack.
Our guide will share what you need to know to spot and buy a decent one.
How Does a Trunk Mount Bike Rack Work?
Bike carriers that mount to the trunk are simple in design and work for the majority of cars.
Utilizing several rubber-coated metal hooks, this type of bike rack uses your vehicle's trunk, bumper, or rear window for stability. Pressing against these parts, the pads covered in foam or rubber provide the necessary support for the bike.
As a result, trunk mount bike carriers are easy to set up and keep the car's finish intact.
Like other types of bike carrier, though, trunk mount bike racks have their strengths and weaknesses.
Key Pros of Using Trunk Mount Bike Carriers
Compared with other types, trunk mount bike carriers:
Are easier to mount and unmount Trunk mount bike racks are among the easiest to install and dismantle. They require no effort to set up whenever you need them. And they fold down conveniently for hassle-free storage.
Cost less than alternatives Since they're the most basic type, trunk mount bike carriers are some of the cheapest you can find. As such, they're ideal for those who have a use for a bike rack only occasionally. Or those who simply don't want to break a budget.
Are simpler to adjust If you want a bike carrier that's flexible, look no further than trunk mount bike racks. Their simple design allows for a range of setups. This makes trunk mount bike carriers some of the most adaptable on the market.
Work for different vehicles Do you have a few cars you want to use a bike rack on? It's not a problem. Thanks to their versatility, trunk mount bike racks can be switched seamlessly between multiple vehicles, as long as they're compatible.
Trunk mount bike carriers are a nice versatile type of bike rack that suits most people. But they're far from being an all-purpose device.
Main Cons of Using Trunk Mount Bike Racks
Despite their strong sides, trunk mount bike racks:
Use more points for attachment Because of the mechanism involved, trunk mount bike carriers interact with more points on your vehicle. This can be a real problem for your car's finish. Especially if you aren't being careful during setup or disassembly.
Provide less security The convenience of trunk mount bike racks comes at the cost of their reliability. Sure, cables or nylon straps in this type of bike carrier provide ample flexibility. But they're simply not as sturdy as the design of other bike rack types.
Carry less bikes At first glance, trunk mount bike carriers seem to be able to fit in as many bikes as other types. But in reality, their somewhat flimsy build can't bear the same load. Don't expect most trunk mount bike racks to carry more than 3 lightweight bikes.
Don't work in some cases While this type is among the most versatile out there, it's still not one-size-fits-all. Trunk mount bike racks aren't a good option for bikes with unusual frame design. And they're not a good fit for hatchback cars with a spoiler on top.
Luckily, these limitations are barely noticeable if a trunk mount bike carrier has good quality.
Let's see how you can spot one like that.
Looking for a Decent Trunk Mount Bike Carrier
To choose a high-quality trunk mount bike rack, you'll be wise to ask yourself these questions:
What materials is it made of? Trunk mount bike carriers aren't the sturdiest. And having your bike rack fall apart right on the road isn't something you want. Make sure your bike carrier utilizes a durable material, such as the time-tested aluminum.
How much weight can it handle? Load bearing capacity isn't just a number. It's estimated for a reason, and it pays to keep it in mind when choosing a trunk mount bike rack. Don't buy a bike carrier knowing full well that you'll be overloading it – it's a recipe for disaster.
Are the pads reliable? Trunk mount bike carriers of inferior quality tend to slack off on the padding system. Such bike racks can wreak havoc on your car's finish. Make certain that the pads on a bike carrier reliably prevent scratching during interaction.
Is it suitable for your car and bike? Just because a trunk mount bike rack says that it's extremely adaptable doesn't mean it's a fit for your car. It may not even be suitable for your bike's unique build. You must check the compatibility for both well before buying.
Does it mount and unmount easily? Most trunk bike carriers mount and unmount without any hassle. But it makes sense to opt for those of them that have especially simple design. The more simple the build, the sturdier it usually is, and the less frustrating is all the assembly.
Can you afford it? You don't want to settle for anything that could destroy your bike and help someone shoot an epic fail video. But you also don't want to break your budget. Make sure the price matches the quality level and remember – it's just a bike carrier.
These criteria will help you zero in on the trunk mount bike rack that will suit your needs.
Hopefully, you've found our guide helpful.
Related posts