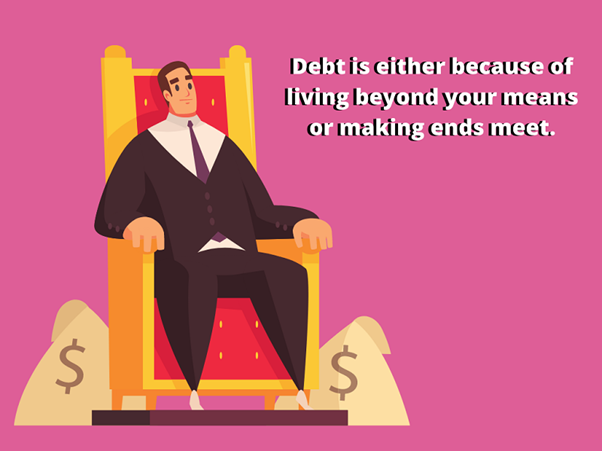 Financial Matters: Why People Incur Debt, And What To Do About Them
Kim Renner, 12 months ago
5 min

read
313
The complex thing about incurring debt or the lack of compliance in settling financial obligations is the line between wants and needs. Some people experience a case of binge shopping or enticing retail promotions that one does not need. In other instances, people are trying to make ends meet. They make monthly amortisations for their valuable homes.
What these people need is a debt consultancy service. It is not, in any way, an escape from settling your obligations but finding a solution for the problem.
Let us explore why people cannot settle their financial obligations and the steps they can take – like hiring a debt consultant to create a feasible plan.
WHAT IS DEBT, ANYWAY?
 Debt comes in many forms: credit cards, personal loans, monthly housing fees, and even medical expenses. These things happen because the person cannot settle their obligations at a particular time. For example, if the credit card due date is on the 25th of the month, they already missed paying it. Consequently, the interest rates pile up, and the amount they owe to the bank grows bigger. That is where the importance of a debt consolidation plancomes in. It serves as a strategy or approach to settling everything.
In other cases, such as monthly housing rent or car loan amortisations, they cannot pay halfway or realise they no longer have the financial means to continue the instalment plan. There is a feeling of hopelessness because where are they supposed to get the amount they owe? Another would be the possibility of the car or house being taken away by the bank. Again, the solution is to hire a debt consultant for their expertise.
WHY DO PEOPLE INCUR DEBT?
As mentioned earlier, it is driven by living beyond their means and making ends meet. The consumer culture, coupled with credit card schemes and flexible terms, entices people into buying things that spark joy. Some examples include going on a luxury shopping spree without thinking of the future or enjoying free-flowing drinks and club access with friends. When these things pile up: All you have is a big problem that requires a debt consolidation plan.
When driven by the need to provide for their necessities, debt is much more stressful. You might even experience sleepless nights and moments of deep thinking because you cannot think of ways to reduce the burden of your obligations. Also, the challenging part here is not everyone knows about debt consultancy services. Here are some reasons behind every money problem:
#1: CREDIT CARDS
Instalment plans, buy-now-pay-later schemes, and retail partnerships are just a few reasons people incur credit card debt. Some cannot settle their monthly payments halfway, while others never pay after the deadline, and it keeps on piling up.
#2: PERSONAL LOANS
People take personal loans to borrow a particular amount of money from banks or licensed money lenders. They use it for different reasons – such as housing, cars, business capital, and other things that need a large sum of money. A debt consultancy service can help the client settle everything without exorbitant interest fees.
#3: MEDICAL EXPENSES
Medical expenses are no one's fault because illnesses are not supposed to happen. The usual reason for this is the lack of an insurance plan and preparation. It might also be a case of sudden complications during a stay in the hospital.
#4: EDUCATION LOAN
Education loan is also one case in a debt consultancy service firm. These are usually college tuition fees or professional master's programmes that adults take. Both banks and educational institutions offer this financial aid to the debtor.
WHAT CAN PEOPLE DO IN MANAGING DEBT?
There are many solutions to managing debt through a consultancy firm. People can start by reflecting upon their bad purchasing habits and stopping them. Another would be asking money from a family or friend, but that route might lead to debt piling up. Here is a step-by-step guide to dealing with this problem.
#1: CALM DOWN AND DO NOT PANIC
Calm down and do not panic. Be thankful that you realised your bad spending habits or want to make a change and settle everything you owe. You should never make a reckless move because it might affect the entire situation.
#2: STOP SPENDING OR DOING ANYTHING WITH YOUR FINANCES
The next step is to stop spending or doing anything with your finances. If you owe credit card payments, do not make impulse purchases that can affect your situation. Do this when you need to wait before hiring a debt consultancyfirm. In short, never do anything you might regret.
#3: LOOK FOR A DEBT CONSULTANT
After reflecting upon the situation or problem, seek a debt consultant immediately. You do not want to wait because time is of the essence. Interest rates might increase, and the amount you owe might keep on growing. Also, make sure the consultant or firm suits your needs. If it is a credit card problem, they should be experts in that issue.
#4: COMMUNICATE EVERYTHING TO THEM
Open communication is the key. Do you owe a bank or a licenced money lender? How long is the debt already? How big is the interest rate? Is your life at stake? Answer the debt consultant when they ask these questions. It helps them know your situation and formulate a debt consolidation plan that fits your needs.
#5: TAKE NOTE OF THE TERMS AND CONDITIONS
Take note of the terms and conditions of the consultancy service and consolidation plan. It does not lessen your financial burden but rather a solution to your problems. You can also look at it as a way to buy time or move the deadline without incurring interest rates.
#6: COMPLY WITH EVERYTHING THE CONSULTANT SAYS
Now that you have a debt consolidation plan: comply with everything the consultant says. Follow the deadlines, and make this a habit. You will notice the difference because it changed your approach to dealing with your finances.
Debt Aid is a consultancy service firm that helps clients settle whatever financial obligations they have. If you have problems, queries, or concerns, do not hesitate to contact a customer service representative.
Related posts