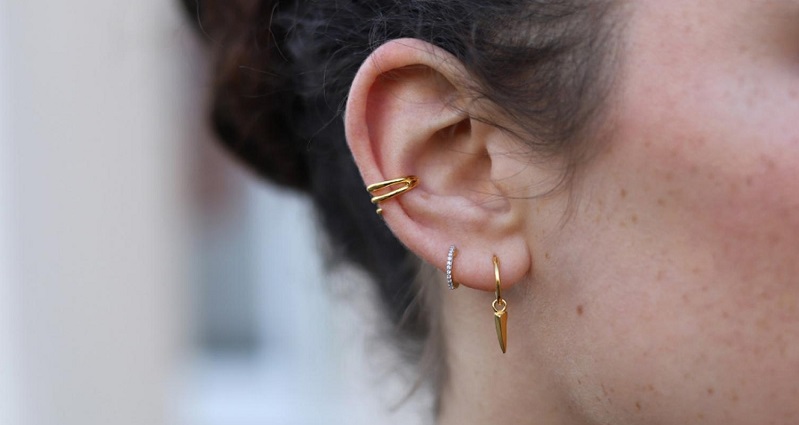 Carry your earrings confidently with these 5 tips
Adam Mosley, 3 years ago
3 min

read
1068
Clothes might maketh the man but earrings maketh the woman. Earrings are a small piece of jewellery that can instantly glam up any outfit you adorn.
But there are so many choices out there with conflicting advice on how to style each earring that it might be a tad confusing.
So, here are 5 simple tips on how you can carry off earrings confidently –
Weight distribution for heavy earrings
A chunky pair of earrings can hurt your ear if you're not too careful. They can pull at your earlobe and make your earhole bigger than what it should be.
You can circumvent this by adding an invisible, small patch on the back of the ear to support the weight of the earring.
You can also opt for fashion jewellery that looks heavy but isn't actually to save your ear from any unnecessary pain and damage.
Clip-on earrings for extra effect
If there is ever an occasion when you need to look fabulous and wear your earrings all night, you should consider clip-ons. They look great, support your ear and come in so many designs to choose from.
Match your earrings with what you wear
There's nothing sadder than a great pair of earrings that have been matched with a less than great outfit. Let's say you shopped for beautiful 18k gold earrings for women and a pair of green fashion jewellery. If you pair the fashion jewellery with an outfit that clashes with green, that is a travesty. On the other hand, gold looks good on everything, so you can easily pair it with every outfit. Study the colour theory to understand which colours go well together and which metals are versatile.
You also want to make sure that the pattern of your earrings doesn't clash with your outfit. If the design is extremely traditional, then your outfit shouldn't be too modern or else it will look like a mis-match.
Monitor usage
You should make sure that the earrings you're wearing don't cause any infection in your ears. If you are allergic to common fashion jewellery, consider buying 22 karat gold earrings for women instead.
You should also ensure that you're never wearing earrings for too long at a time. Take them off first thing when you get home and never wear them while sleeping.
Know the different types of earrings
What will help you carry your earrings off beautifully is knowing the different types and when to wear what type. There are some commonly known types like studs, loops, statement, traditional jhumkas but there are some otherwise unknown types like ear crawlers that can help you take it up a notch. You can wear studs with just about anything whereas you want to reserve statement earrings for a special occasion.
 There you have it. All these simple tips will help you elevate your look and carry off your earrings with the utmost confidence.
Related posts