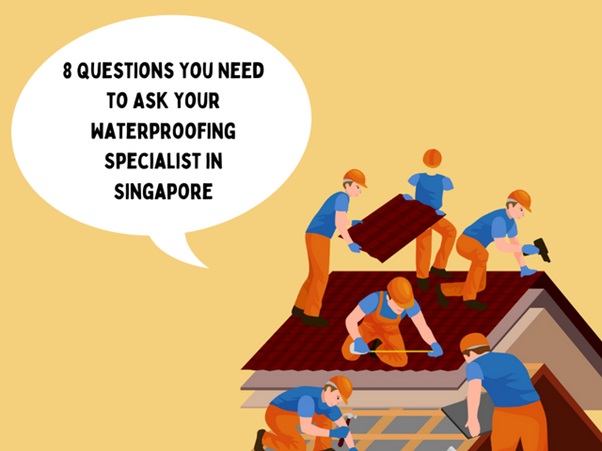 8 Questions You Need to Ask Your Waterproofing Specialist in Singapore
Nancy Lyles, 6 months ago
5 min

read
540
When you're looking for someone to conduct a ceiling leakage repair or a concrete roof waterproofing service, you need a specialist with the appropriate qualifications and credentials to accomplish the task. You wouldn't want to pay money and rely on an amateur hoping they somehow manage to provide results similar to that of a professional. After all, why would you consider that option when you can consult a waterproofing specialist in Singapore to receive reliable services.
However, not every waterproofing specialist is equal. Others are better due to factors such as experience and skill. Therefore, clients like you must assess them and ask questions to determine if they are the right one for you. Doing so may minimise the likelihood of an unsatisfactory experience.
Continue reading this article if you are interested to know more about these eight questions you should ask a waterproofing specialist in Singapore.
8 Questions You Need to Ask Your Waterproofing Specialist in Singapore
1. How Long Have You Been Doing Waterproofing?
While having adequate skills can be a significant factor in determining whether a waterproofing specialist is worth your money, you also need to consider their experience in the business. Generally speaking, asking them about their years in service assures that their service will end with satisfactory results. After all, if a company continues to operate for several years, it is safe to assume that it will have experience in various situations with the corresponding solutions. Additionally, their business wouldn't survive for long if they don't continue to provide excellent service.
2. How Much Experience Does Your Team Have?
Aside from learning about the experience of a waterproofing specialist, you also need to check if their team has more or less spent the same time working for various customers. You wouldn't want to pay for a company expecting to receive excellent service only to discover that their staff lack experience in handling your problem. Therefore, ensure you remember to inquire about their employees to ensure they solve your issue.
3. Have You Ever Failed a Customer?
Besides their experience, learning about their past failures can provide valuable insights into what you can expect when something goes wrong. For example, you should ask what they did after a metal roof waterproofing job in Singapore ended with unsatisfactory results. What did they do to compensate their client?
Remember that like all businesses, your specialist is human, and they are bound to make mistakes sooner or later. However, what sets a reliable professional from the rest is what they do after failing a job.
If a company refuses to be open about its past mistakes, you should look for another specialist who is more willing to share about their failures. After all, it is an excellent indicator that they care about their customers and are willing to change to ensure it never happens again.
4. Do You Have Insurance?
As mentioned above, a waterproofing specialist can make mistakes. Moreover, their staff can make decisions which could affect their performance or lead to accidents. Therefore, it is necessary to ask if the company has insurance to protect you from those situations. Without it, you are at risk of receiving no compensation when something goes wrong while they are waterproofing your roof tiles.
5. Do You Have References I Could Check?
It isn't unusual for customers to be cautious of a company. It doesn't matter how well their previous jobs ended. As long as it comes from their mouth, it is advisable to be wary and seek more reliable proof. Fortunately, a dependable waterproofing specialist in Singapore will be more than willing to provide you with several references you can call. Depending on the person, they may tell you about the excellent customer service, adequate compensation, friendly staff, and professional mannerisms. At the end of the day, your goal is to determine what other people think about the company.
6. What Does Your Warranty Cover?
Every company that provides goods or services to customers needs to provide a warranty. Without it, you cannot be sure if they are reliable. Receiving it is a sign that they will accomplish the task with satisfactory results, and if something is wrong, they will be open to addressing the mistake. Therefore, if a waterproofing or water leakage specialist in Singapore does not provide warranty service, consider looking for a different company.
7. What is the Best Solution to My Problem?
A dependable and experienced specialist knows waterproofing is not the ideal solution to every problem. They will conduct tests to assess the issue and determine if you need, for example, ceiling leakage repair. After analysing the results, they can offer you better ways to address the problem, even if it means they'll have to refer you to another company.
8. Do I Have Alternative Options?
While there are reasons why you can't afford the best solution to your problem, you should consider asking a waterproofing specialist about what other options are available, be it temporary. They should be able to give you detailed information, such as the advantages and disadvantages of each choice.
Conclusion
Finding the right waterproofing specialist in Singapore can be difficult. However, one possible solution to make your search less troublesome is to ask them questions. These eight inquiries allow you to determine whether a company will provide excellent service and the necessary compensation should things go wrong. As a quick recap, here are the eight questions you should ask a waterproofing specialist.
First, ask how long they have been providing waterproofing services.
Second, determine if their staff has adequate experience to provide satisfactory service.
Third, inquire about their previous failures.
Fourth, see if they have insurance.
Fifth, look for references you can call to verify their reliability.
Sixth, assess their warranty coverage.
Seventh, learn about the best solution to your problem.
Last, gather more information regarding alternative options should you lack the funds to pay for the best solution.
If you require a waterproofing specialist in Singapore, visit General Waterproofing for more information regarding their services, such as concrete repair, facade cleaning, roof re-sealant, and more.
Related posts