5 Ways To Help People In Urban Poverty
Adam Mosley, 1 year ago
2 min

read
276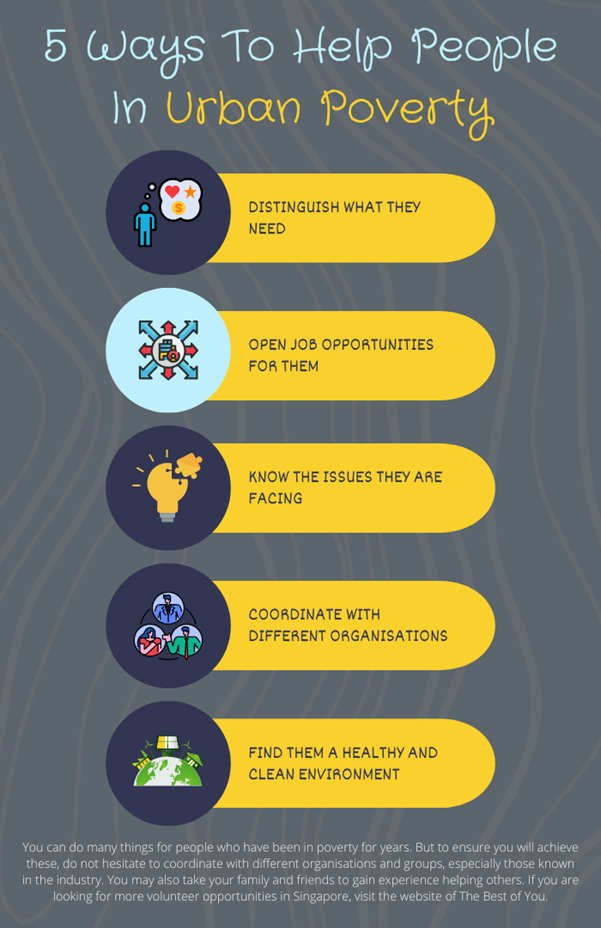 Wherever you go, you will see people living in poverty. However, this does not mean overlooking their situation or not doing anything about it. They need assistance from the government and private organisations to achieve the necessities families would need to survive. If you want to help people in urban poverty but do not know how to start, here are some tips that you might find helpful in achieving your goal:
1. DISTINGUISH WHAT THEY NEED
Before you can help someone, you need to know first what they need. Like others, people in poverty need a home, clothes, education, health services, and food security in Singapore. Those are the basic ones that will help people survive every day. You can provide these things, but you must be wise about how you will do it. What you provide can be a short-term or long-term solution, depending on what you and your organisation decide.
2. OPEN JOB OPPORTUNITIES FOR THEM
Job opportunities are one of the issues people face because of a lack of educational background. With this, coordinate with private sectors and encourage them to open more jobs where anyone can apply and earn.
3. KNOW THE ISSUES THEY ARE FACING
You also need to know the issues people face because those could hinder the things you want to do for them. Solve those problems first, then proceed with your goal of helping them. Social inequality in Singapore happens, so do not skip checking this before providing for their needs.
4. COORDINATE WITH DIFFERENT ORGANISATIONS
Coordinating with different organisations will also assist you with your goals. They have the connections you need, giving you more access to supplies and knowledge. You will find many volunteer programmes too, so check them if you need more helping hands.
5. FIND THEM A HEALTHY AND CLEAN ENVIRONMENT
People who live in urban poverty deserve a healthy and clean environment, and you can provide those to them with the help of different organisations. The government is also part of the ones you can contact, considering they have the budget for people. Use your knowledge and connections to find an environment safe for children and adults.
You can do many things for people who have been in poverty for years. But to ensure you will achieve these, do not hesitate to coordinate with different organisations and groups, especially those known in the industry. You may also take your family and friends to gain experience helping others. If you are looking for more volunteer opportunities in Singapore, visit the website of The Best of You.
Related posts