5 Attributes of a Dependable Bike Servicing Shop in Singapore
Sherry Hammons, 11 months ago
2 min

read
233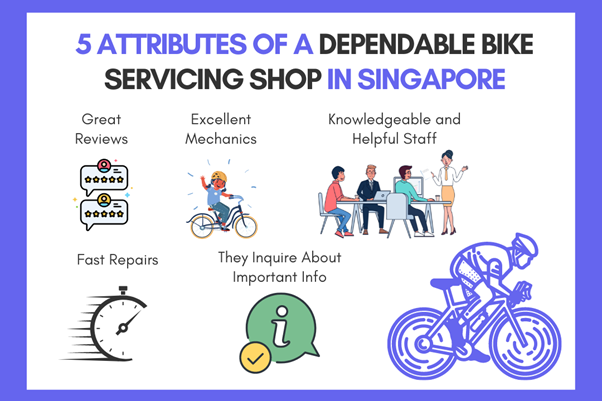 Maintaining your bicycle in pristine condition is essential for a perfect day of riding. And when you rely on your bike for transportation, you must also locate an excellent bike servicing shop in Singapore. What should you be seeking? You should find a place that is not only affordable and dependable but also has the necessary skills to perform repairs and maintenance.
How do you determine whether a bike shop meets your needs? Here's how to determine whether a bicycle repair shop is reliable.
1. Great Reviews
One of the best ways to locate a reputable bicycle repair shop is to ask other cyclists where they go. The majority of individuals are eager to share when they discover a treasure. If you don't know any local cyclists, use online review sites and local message boards to determine who comes highly recommended.
2. Excellent Mechanics
Several cyclists have said they will go out of their way to find a competent mechanic. When a rider brings their bicycle into a bicycle repair shop for maintenance, they want to be able to rely on the mechanic. For some riders, choosing a shop comes down to the mechanic. They will go out of their way to visit a specific shop for the mechanic and may even switch shops to follow a mechanic.
3. Knowledgeable and Helpful Staff
Riders desire friendly, knowledgeable, and helpful shop employees. It involves providing riders with factual information and personal preferences while keeping the two distinct. When a customer considers a purchase, the sales staff describes the product's features and benefits. If the employee has a personal preference for bicycle repair, they will tell why and take responsibility for the comments.
4. Fast Repairs
People who ride frequently do not want to wait one or two weeks to receive their bicycles. Many are willing to pay a bit more for quick and precise bike servicing in Singapore. And if the job won't finished on time, quality shops contact customers to inform them of the repair status. It is always advantageous if your bicycle repairs finish ahead of schedule.
5. They Inquire About Important Info
When you enter a high-quality local bike shop, you will immediately recognise it. They will inquire about the riding you are performing, the years you've been riding, and more. They desire to learn about you and assist you on your journey. They are willing to educate you and let you leave without buying because they know that intelligent customers will return and you will be the kind of customer they enjoy serving.
If you need a repair from a bicycle shop, Coastline Leisure will help you out.
Related posts