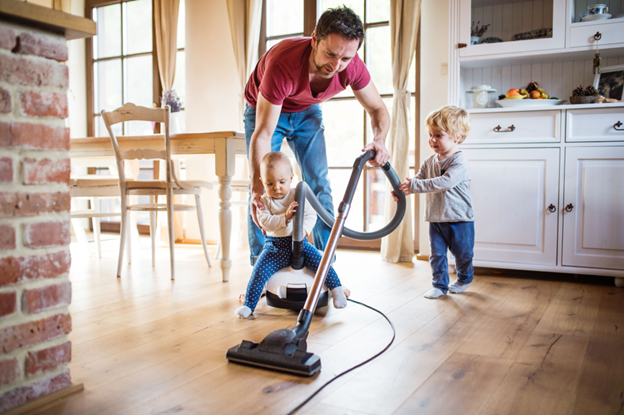 3 Home Cleaning Tips to Help Your House Sparkle
Sherry Hammons, 7 months ago
3 min

read
328
Do you feel like your home isn't as clean as it could be?
Luckily, there are things you can do as a homeowner to help keep your house clean. Whether you want to clean between your annual cleanings or tackle a mess, there are always ways you can stay clean on your own.
Wondering what to try? Keep reading for our best home cleaning tips to help your house sparkle.
1. Disinfect Surfaces and Appliances
Disinfecting surfaces and appliances is an important part of home cleaning. All hard surfaces such as tables, countertops, doorknobs, and handles should be wiped down with a disinfectant solution that contains at least 70% alcohol content.
To clean appliances such as microwaves, fridges, and stoves, use a mild detergent and a damp cloth. Make sure to wipe down the interior and exterior of the appliance, paying particular attention to any handles that you touch regularly.
If it is possible, give the appliance a once over with a disinfectant spray. Don't forget to go the extra mile and clean out any air vents, drawers, and greasy filters.
Lastly, once a month, you should use disinfectant and water to wipe down walls, floors, and carpets. Following these tips and you'll have a sparkling clean house in no time.
2. Try Natural Cleaning Solutions
Natural products are just as effective, have less toxic fumes, and often have antibacterial properties. They are not only safe for your family but can reduce your exposure to chemicals and help the environment too. 
For example, you can use white vinegar mixed with water as an effective window and surface cleaner. For bathroom tiles and surfaces, use a mixture of baking soda and water.
Lemon with a bit of salt or baking soda can be used to make a paste that's great for cleaning and disinfecting stainless steel or porcelain surfaces. For wood surfaces, club soda or olive oil can be used in combination with a soft cloth to restore shine. 
3. Consider Hiring House Cleaning Maid Service
Having professional house cleaning maid services will guarantee that you get a thorough cleaning job. You'll have peace of mind knowing that your home is maintained with the best equipment and products available.
Professional house cleaning maid services are also available to customize your cleaning needs to fit your lifestyle, budget, and schedule. They can offer a variety of services, such as dusting, vacuuming, wall washing, mopping, and polishing.
They have experienced and trained staff who have the expertise and knowledge needed to ensure that your home is thoroughly clean, safe, and easy to maintain. You can visit this website at https://tidyvibeclean.com/fife-wa-house-cleaning-maid-service/ to help you keep your house sparkly while also keeping you, your family, and your pets safe at home.
Consider These Effective Home Cleaning Tips
In conclusion, using these home cleaning tips can help to make your house sparkle. Try them out on a regular basis, and you will see savings in both time and money.
Don't forget to enlist the help of your family for assistance as well as keep your cleaning supplies organized. And don't forget to reward yourself afterward!
Did you find this article helpful? You can check out our website for more awesome content like this.
Related posts