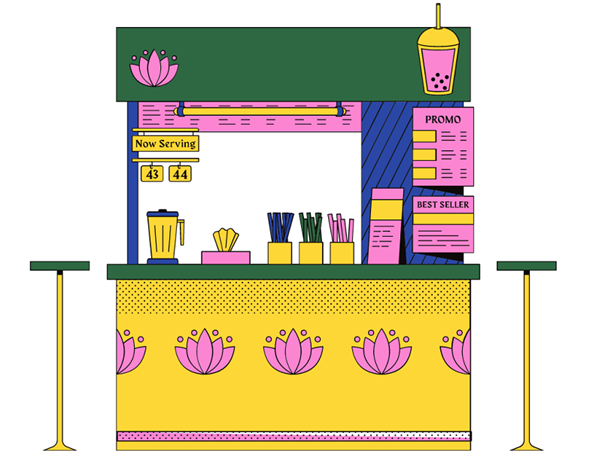 People love to explore when it comes to foods and drinks. They experiment with different mixtures until they discover something that can get the attention of many. You will see it done in many countries, and visitors and tourists enjoy them. But foods and drinks available in other countries are now obtainable locally. You do not need to visit a specific country to taste their specialities because they are available in your neighbourhood. One good example is milk tea in Singapore.
MILK TEA TOPPINGS YOU SHOULD HAVE IN YOUR DRINK
Every time you buy milk tea online, you will notice that there are many options to choose from before you can complete your drink. You must know what to pick to avoid making an awful taste in your thirst-quencher. One of the things you need to choose is its toppings. You will see it in different shops that offer various drinks aside from bubble tea. To help you pick what is for your drink, here are the toppings you can try:
TAPIOCA PEARL
Milk tea is incomplete if tapioca pearls are not beside the drink. It is the most popular topping for milk teas and could be for any flavours you prefer. Whether you choose a classic taste or a premium one, you can trust tapioca pearls to be a good match. But aside from the black pearls, there are also others available like lychee, brown sugar, and honey.
COCONUT JELLY
Chocolate, strawberry, taro, and honey milk teas are the flavours where you can include coconut jelly as a topping. This one is sweet and has soft and solid parts in its consistency. Its colour is clear so you can easily recognise it with other toppings.
RED BEAN
Red bean is one of the foods you can mix in different recipes. Some mix it with rice, while some are with desserts. The fish-shaped pastry is an example. But aside from having it in your rice and dessert, you can also blend it with your milk tea. It adds sweetness to the drink and gives something people can easily chew. Like tapioca pearls, it also goes well with different bubble tea flavours, but they match with taro, chocolate, and classic better.
GRASS JELLY
If you know someone saying that their topping does not have a taste, they might be talking about grass jelly. Many milk tea lovers do not want this extra because it does not taste much, unlike other toppings. But if you still want to try it, choose a drink flavour that would enhance its taste. Some of them are chocolate, coffee, and taro.
POPPING BOBA
Many might not be familiar with popping boba because not all stores have it on their menu. It is like a tapioca pearl but tastes like fruit if popped inside your mouth. It creates a sound, and that is when the flavour comes out. You can partner it with your strawberry bubble tea.
CRUSHED COOKIES
Some milk tea shops in Singapore use crushed cookies as their toppings. You can have it in your drink, but for selected flavours only. Never mix it with flavours that have nutty-flavour, like taro. For crushed cookies, you can go for flavours like chocolate and coffee.

COFFEE JELLY
If you buy bubble tea online, another topping you will see is coffee jelly. Many people want to taste it because it also goes well with various beverages. But if you wish to enhance the flavour of the topping and the drink, go for the classic flavours.
TARO BALLS
Some people are not aware that taro balls exist. Its texture is rough, and there are solid parts on it. But, those are the reasons why it goes well with your drink. As its name states, you can have it in your taro-flavoured drink. For those who want modifications, try it on your classic bubble tea.
PUDDING
If grass jelly does not have a taste, pudding has it. Grass jelly and pudding might have the same consistency, but their colour and flavour are different. Pudding is known to be sweet and soft, while grass jelly is almost bland. This topping is best for any taste, but you might want to try it with your chocolate and honey milk tea.
FRUITS
For people who want something fresh in their milk tea, you can choose fruits as your topping. The fruits you will see in this beverage are strawberries and kiwi. But before you avail of this topping, consider the flavour you purchased. It might not go well with your drink and could only give you a bad experience.
WHIPPED CREAM
You can also use whipped cream to be your topping, and you do not need to think of the flavour of your drink. Whatever drink you have, whipped cream will be a good topping choice.
ICE CREAM
Not many people know that ice cream is a good milk tea topping. It adds taste, especially if its flavour matches the drink. But if you are looking for an ice cream flavour that could go well with everything, go for vanilla.
Before spending your money on drinks, you need to know the available topping options. Do not forget this if you buy milk tea online, especially if you want something you can chew while drinking. These add flavours to your bubble tea but also have an additional cost.
STEPS TO FOLLOW WHEN ORDERING MILK TEA
Aside from knowing the toppings of milk tea in Singapore, you also need to understand the steps when ordering the drink. It will give you a smooth transaction with the shop and not have problems with the additional requests for your bubble tea.
Pick a milk tea shop that offers the drink, flavour, and topping you want. Search for them online, then choose one that matches your taste.
Check for their available flavours and see what your tongue wants to taste. The usual flavours are classic, taro, chocolate, coffee, and brown sugar.
Pick your preferred drink size, especially if it is your first time. Do not buy bubble tea online and upgrade its size if you are unsure of the taste. You can save money by doing it.
Know the sugar level of your milk tea to match the sweetness you prefer.
Choose a topping, and you may have various choices, depending on the shop.
Finalise and place your order. The shop will confirm it, then wait for your milk tea to arrive.
Though it is fun customising your drink, be mindful of what you choose. The last thing you would want for your bubble tea is to taste awful. Learn more about drinks by visiting the website of Nano Partea. They also offer coconut shake in Singapore.
Related posts