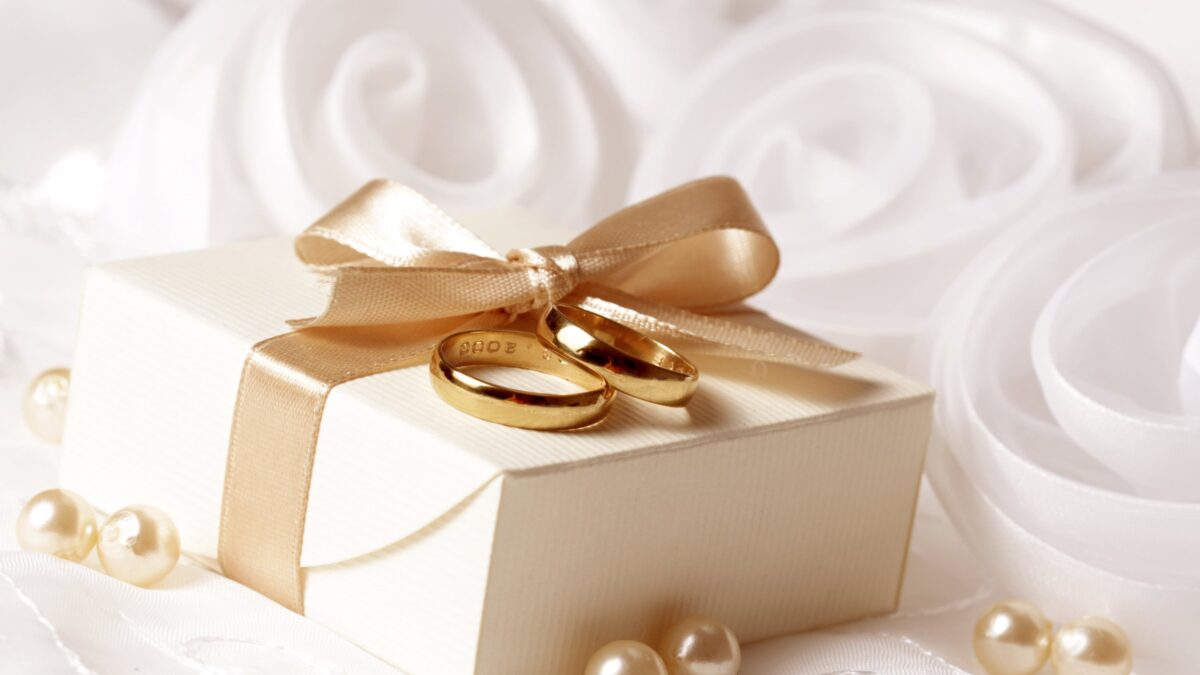 Something old, something new, something borrowed, and something blue. These are things traditionally given to the bride to symbolize good luck. If you're invited to a wedding and looking to give something extraordinary as a present — keep in mind that it doesn't necessarily have to be something pricey. Are you shopping for wedding keepsake gifts? Here are 11 gift ideas you can try if you're on a budget.

Wedding Mementos Memory Box

A couple's wedding day is a momentous occasion. It's a celebration that produces several mementos — from wedding invitations to hand-written vows. Your recipient can keep all these in this alder wood-made customizable keepsake box, which is one of the most meaningful wedding keepsake gifts out there.

Happily Ever After Keepsake Box

While the lid of the item above can only engraved with the couple's surname and wedding date, this version also bears the sweet phrase, "Love, laughter, & happily after."

Test Of Time Personalized Wedding Clock

This wedding-themed crystal clock is a reminder of how marriage is a journey with highs and lows. For it to be preserved, it must be bound by a love that can stand against the test of time.

For All Time Personalized Crystal Clock

Clocks like this are functional, symbolic, and elegant-looking. This version of the popular, budget-friendly wedding gift can be personalized with the first letter of the couple's surname, placed above their first names, wedding date, and the phrase, "for all time…".

Love Never Fails Custom Unity Candle

This candle symbolizes the union of the couple. The flame it produces is also often associated with the passion burning in the hearts of the newlywed. On one portion of this candle's surface, you can find a beautiful verse depicting the power of love.

Love Honor Cherish Unity Candle

Both the item above and this one can be personalized with the couple's first names and wedding date. However, this one is simpler in design. Instead of a poem, it only features a phrase that reminds every couple of the things that they should always do to each other — love, honor, and cherish.

Our Wedding Day Personalized Unity Vase

Like unity candles, unity vases are thoughtful yet economical gifts that signify marital bond. This customizable carafe-style vase stands nine inches tall and comes with a cork stopper, along with two eight-inch vases for sand.

Infinite Love Unity Vase

The vase above can be customized with the couple's first names, surname, and wedding date. In this design, it becomes notches more symbolic as it's also engraved with the infinity symbol.

Bless This Home Personalized Ornament

If you're looking for something tinier and more budget-friendly, glass ornaments are an ideal option. This one, in particular, only measures 3.5 inches. Though small, the message and well-wishes it conveys are enormous and moving.

Mr. & Mrs. First Christmas Ornament

This item is perfect if the bride and groom are getting married in the holiday season. This marks the first Christmas they will celebrate as a married couple.

Mr. & Mrs. Clause Personalized Ornament

Thematic wedding keepsake gifts are indeed in-demand. But if you want to opt for a more light-hearted one, this ornament is for you. It features a picture of a Santa couple and can be personalized with the couple's first names and their wedding year.
Related posts