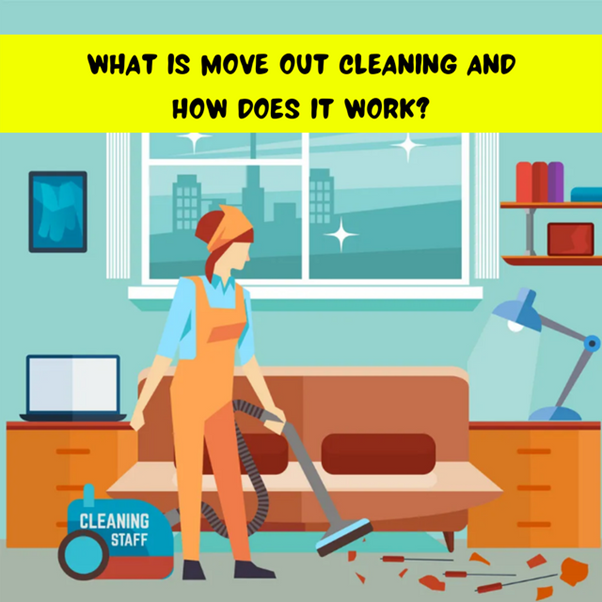 Why You Need Professional Move Out Cleaning Services in Singapore
Kim Renner, 5 months ago
5 min

read
306
Is it time to vacate your apartment or home now that my lease has expired? The process of leaving your rental might be time-consuming. Getting a new house, arranging a moving service, and packing your belongings are all part of the process.
With so many other things to do, cleaning may be the last thing on your mind. In Singapore, it is common practice to include a clause requiring tenants to return the property to its original condition when signing a leasing agreement. However, how can you get it back to how it was when you first moved in?
The good news is you can hire move out cleaning services in Singapore. Although you cannot guarantee that the property is in perfect condition, cleaning experts can ensure you leave your old home looking good.
What is move out cleaning, and how does it work?
Moving is labour-intensive, regardless of how far you're going: across town, country, or even country. Since there are a lot of small details to take care of, experts will do the job to make sure that everything goes as planned.
End-of-lease or move out cleaning services is thorough housekeeping to prepare for the next renter. It employs a crew of cleaners with extensive training and the latest cleaning technology.
The ultimate goal is to have the apartment cleaned to the owner's satisfaction so that you may claim your security deposit.
Professional cleaning services in Singapore can help do extensive and deep cleaning in all the parts of your property. You'll find it more accessible and more convenient to move out when you hire a team of expert cleaners who will do the job for you.
It will also give you the free time to settle in with your family and adjust to your new surroundings.
What do move out cleaning services include?
1. Top-to-bottom cleaning
Professional cleaners will thoroughly clean every crevice and corner of the house methodically. It is possible to repair any area because the service bill depends on the square feet of the unit and not the time it takes to complete it. You may even request curtain cleaning in Singapore as an additional.
2. Go over furnishings
The cleaners will go over the furniture if it comes with the unit. Unless you have a specific request, such as how you would want to clean your sofa, they will use their tools and equipment to deep clean each.
3. Wipe cabinets and drawers
While it may appear spotless at first glance, closer study reveals mould and dust hiding in the minor cracks. When you hire move out cleaning services in Singapore, they will use a suitable fabric cloth for wiping the inside and outside of your cabinets.
4. Clean bedrooms
There will be a cleaning of the light switches and the baseboards. You can also expect the removal of dust and cobwebs. You may even request for home disinfection service in Singapore to remove any virus around the surfaces.
5. Throw garbage
Expect that all trash will be removed and disposed of properly. Upon the move-out cleaning, cleaners will thoroughly empty the premises of any waste materials.
6. Mop floor
While you pack up, experts will mop all your floors. You may also ask them if they can include cleaning your carpets.
7. Disinfect bathrooms
They will scrub and disinfect every inch of your bathroom, including your toilet bowls and the tank area. They can also wipe down the sinks, baths, and showers.
8. Clear out kitchen
Don't forget about the kitchen and laundry area when moving out. Move out cleaning services in Singapore includes cleaning the appliances and the counters.
Other packages might include cleaning other areas or appliances. After you move out to your new house and decide to remodel, you may also call them for post renovation cleaning.
Should you hire move out cleaning services?
1. Achieve the best cleaning results
Moving out of a rental flat is much easier when you hire professional cleaning services in Singapore. You can feel confident about getting it inspected by your landlord since you know it went through the proper cleaning procedure.
2. Spotless surroundings
There is a significant likelihood that you will forget to clean something when you perform it yourself. Experts can also provide a home disinfection service in Singapore that will guarantee that you don't miss a spot.
3. Secure your deposit
Hiring for move out cleaning services in Singapore will maximise your chances of reimbursing your deposit. Cleaners that know what landlords want and can access all the places in your property are a good investment.
4. Carry the right tools
If you're doing the move-out cleaning, one of the most stressful tasks is finding out which cleaning instrument or product is best. Professional cleaning services in Singapore fully understand what to use and where their chemicals are only applicable.
5. Reduces your workload
Moving requires a lot of time and effort. You'll have more time to complete other duties if you hire a cleaning company to help you move out. Having nothing left to do at your old workplace is a welcome relief.
Instead of putting yourself through the hassle of cleaning everything yourself, you will be stress-free knowing you are working with experts! You can focus on fixing your new house instead.
6. Maintain a positive rental record
One way to leave a good impression is to ensure your home is sanitary for the incoming tenant. Once you hire move out cleaning services in Singapore, you can leave your old space without worrying about your landlord.
7. Have more time
Hiring professional cleaning services will free up your time so that you can attend to more pressing matters. Since they will handle everything, you can have the time to run other errands.
8. Save on cost
A professional team can complete the task more quickly and effectively than you could. As a bonus, you won't spend a dime on cleaning supplies or equipment.
Move out easily with the help of One Heart Cleaning!
Be one of the homeowners that experiences a clean space! One Heart Cleaning offers professional cleaning services in Singapore for those moving out or renovating their home. They use environmentally friendly cleaning materials that are safe for children and pets. Book them today!
Related posts