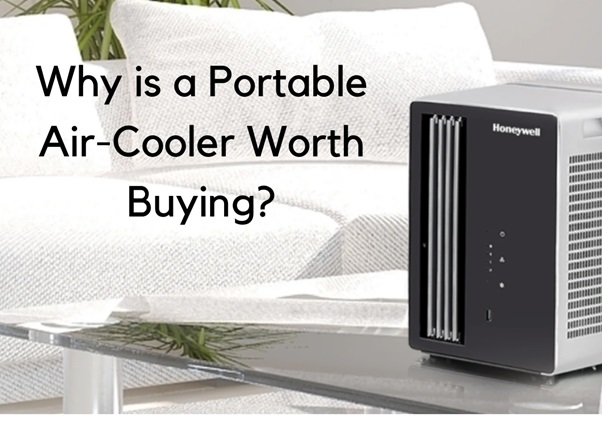 Why is a Portable Air-Cooler Worth Buying?
Herman Walker, 3 years ago
3 min

read
1035
When the soaring temperature of the summers gets on your nerves, you want nothing more than chilling out under the cool air of an air-conditioner.
If you have a central air conditioning system or a window/split unit in the house or planning to invest in any of these, then you may think that you are pretty much sorted for the summers. But that is not the case. While both these systems have their own merits, they also come with some drawbacks:
Central Air Conditioning
Expensive to buy
Difficult to install and maintain
A sharp spike in the energy bills as it is designed to cool the entire home
Ineffective if the windows or doors are open
Window/Split Unit
Completely blocks the window or wall space where it is fitted
Installation takes time
Expensive installation charges
Expert DIY skills
The most important disadvantage associated with both these systems is that you can't move it around the home or take it outdoors. What will you do if you want to beat the heat while working in a garage or enjoying family time in the backyard?
Well, that's where a portable evaporative cooler comes into the picture!
What is a Portable Evaporative Air Cooler?
An evaporative air cooler is an effective, energy-efficient cooling system. Ideal for hot and dry climates, it cools the hot air through the natural process of water evaporation. It pulls in the fresh air from outside to give you muchneeded breezy effect and reduces the temperature by up to 15°F.
An evaporative cooler fitted with caster wheels givesit easy movability. Hence, it is called portable air coolers.
Why Should You Buy a Portable Evaporative Cooler?
The biggest advantage as you must have realized is that it is moveable. Bedroom, living room, kitchen, home office, nursery, garage, backyard, patio, solarium or pet room – it can be shifted anywhere as per your mood and convenience. You can glide it smoothly between indoor and outdoor areas of your home without any hassles and beat the heat anytime, anywhere.
If you are looking for an air cooler for very small spaces, then a mini portable cooler is also a good option.
But portability is not the only factor in favor of evaporative coolers. There are so many other functional and value-added features that it offers:
Easy to Install: A portable air cooler can be placed in any corner of the room and can be moved from one place to other very easily. It is plug and play, you don't have to install anything in your room.
Energy Efficiency: Air coolers consume fewer units of power as compared to any type of air conditioners. So, it is also very cost-effective.
No Worries About Overheating: A good-quality air cooler comes with thermal overload protection that prevents it from overheating. Enjoy cool air all the time!
Aesthetic and Considerate Design: Most air coolers are sleek and sophisticated to match the beauty of your space. Its features like sleep mode and programmable time save energy while making you comfortable.
Humidification and Filtration: A portable air cooler increases moisture in the air to aid humidification. This feature is especially useful to prevent dry skin and eyes. It also filters out dust and PM10 particles from the air.
A portable evaporative cooler is undoubtedly a good choice for hot summer months. It's definitely worth buying!
Related posts