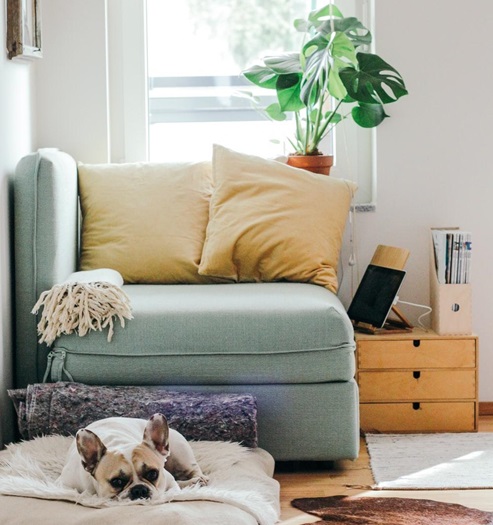 Tips For Making Your Living Room More Liveable
Herman Walker, 4 years ago
3 min

read
1095
Your living room is one of the cosiest, most comfortable spaces in your home, and you'll want to make sure that you style yours as well as possible whilst still keeping the relaxation factor going – the two don't need to be mutually exclusive! If you want a living room that's glossy mag ready as well as incredibly comfortable to live in, then you've come to the right spot. Follow these industry tips and tricks to make your living room more liveable today…
Find your style
Before you do anything, you'll need to do a little style soul searching. Figuring out what kind of aesthetic direction you want to head in is a key component of creating both a well designed and highly liveable lounge room. Do some homework and deep dive into styles that interest you, for example if you love that cool, sharp and edgy look, then you'll want to explore Industrial furniture. Stick to what you like to look at, and you'll already be on track to putting together a perfectly styled and comforting living room. You can find living room interior design ideas at Beautiful Homes.
Make meticulous measurements
Measuring your space is essential to putting together a well thought out and comfortable lounge room. Grab the measuring tape and make your measurements, noting them down to take with you when you're shopping for furniture. A liveable lounge needs furniture that is fitted to the scale of the room, for example you wouldn't put a two seater couch in the middle of a huge room, it would just look wrong. Shop in accordance with the size of your living room and everything will feel cohesively comfortable.
Start with the centrepieces
You'll need to start furnishing your living room with the larger items of furniture that you have or the pieces that pull the most focus, also known as the centrepieces. In your living room, these are your couches. Place your sofa set first to get a good idea of how much space you have to work with after the main items are accounted for.
Play around with the floor plan
Don't get stuck with the first floor plan that you try, it's your home so you have the luxury of time. Play around with different options to get a feel for what fits the space best, ask your family for their opinions and give yourself a few days to adjust to the new layout before making your final decision. You can always use a floor plan app or just try out a few sketches if you want to be as prepared as possible.
Storage solutions
Remember to make sure that you have plenty of storage in your living room. No matter how beautiful a space might be, if it's covered in clutter then it's just not going to look good. Search for furniture with storage solutions built in, such as side tables with drawers, a coffee table with hidden storage and footstools that can stash your blankets and cushions.
Let there be light
This one seems obvious, but so many people forget to install a healthy amount of lighting into their living room! An overhead spotlight just isn't enough, ensure that there are multiple light sources around the room to create a cosy, welcoming and convenient space to relax, entertain, do homework or just watch a movie. Lamps, candles and light dimmers will help up the comfort factor in every type of lounge.
Keep comfort in mind
Lastly, you should keep comfort in mind with every step of your styling process. By keeping this at the front and centre of your thought process, you will be making sure that every component is tailored towards switching off and winding down.
Related posts