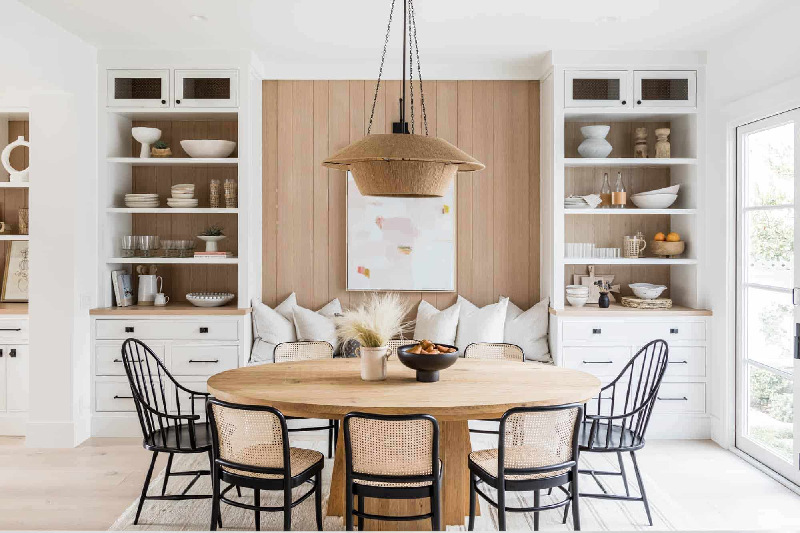 Round Timber Dining Table That Is Perfect In Your Kitchen 
Clare Louise, 12 months ago
4 min

read
386
Different shaped dining tables are suited to various dining rooms and the lives of the people who use them. The ever-popular rectangle, the round timber dining table, the trendy square, and the adaptable extensible are among the dining table forms available. But how can you figure out which dining table form is best for your house? Here's a guide to help you out!
Choosing The Best Dining Table
Consider how it feels when you sit at any of these tables, if it will be nice for extended amounts of time, and look for evidence of wear on floor models. Look for chipping and scrapes on the tables that might suggest how well they would hold up to heavy work at home.
The first criterion is that your dining table must be appropriate for your dining area! A kitchen table, on the other hand, is a substantial piece of furniture that requires more room around it.
Because square and rectangular tables are the most prevalent, you'll have the most flexibility in terms of designs, sizes, and expandable possibilities. However, a circular shape or round timber table may allow you a bit more room to walk about since it eliminates the sides while still providing a large surface area. Nevertheless, a rectangle and square timber dining table are ideal for entertaining large groups of people at formal sit-down events, as well as for casual buffet-style parties where visitors may serve themselves finger foods and socialise while wandering about. Where your house has no unique needs imposed by strangely shaped rooms and where space is plentiful, a rectangle-shaped dining table is an ideal all-rounder.
Meanwhile, the circular or round timber dining table is a hidden treasure that provides several advantages. A circular dining table is an excellent solution for compact spaces when you need to seat a large number of people without crowding the room with large furniture items. Moreover, this type of table looks fantastic in square spaces because it softens the edges and creates equilibrium.
In addition, a round timber dining table generates a smooth line of sight in open-plan settings, integrating with other furniture and living spaces. This is especially useful in apartment life, because one area may be used for several functions. Furthermore, because a round table does not have corners, it can accommodate more people.
It is simple to cram one or two additional seats around a round timber dining table, which would be impossible (or quite uncomfortable!) at a table with corners. Moreover, round timber dining tables are excellent discussion starters. When individuals are sitting at an angle to one other, they create a natural feeling of closeness, which feels pleasant and helps people connect. Also, while everyone is sitting at an average distance from the table's centrepiece, no one is excluded from group discussions. For small groups or when the area is restricted, a round kitchen table is the perfect solution.
How To Choose The Best Dining Table Material And Style
Choosing the correct substances for your kitchen table could be difficult. You must consider price, simplicity of upkeep, and your own personal style when picking the right one, and a piece of equipment that doesn't meet any of those requirements may result in a decision you later regret. Here are the most frequent materials and things to think about while using them:
Woods: Solid wood is a timeless material that is both sturdy and simple to maintain. Common, less costly alternatives include pine, acacia, mango, and teak. However, wood expands and shrinks as a consequence of heat in the summer, leaving scars and damage. Nevertheless, wood is quite simple to fix.
Veneer/Wood-Look: Solid wood is frequently more expensive than wood veneer. In this venture, a thin veneer of actual wood (or a substance that looks like wood) is bonded to a plywood or other timber core. Look for tables with clearly designated core inside, such as kiln-dried oak, to indicate excellent veneer.
Stone and Stone-Look: Marble, quartz mixture, and cast granite are examples of stone tabletops (like cement). Stone is long-lasting, although it is porous and rapidly absorbs dirt.
Glass: Although glass is impervious to moisture, heat may cause it to crack, scrape, or break. It also displays each and every fingerprint. If you're not too clumsy, a nice glass table top may last years, but if you're subject to chipping the corners or scratching the surface, it will begin to look terrible soon.
Metal: Metal table foundations, such as polished zinc, steel, copper, and coated or painted variations of these materials, are more often used.
Plastic and Laminates: These substances are stain-resistant and low-maintenance, yet they are typically considered as cheap.
Conclusion
The greatest dining table for you is the one that matches your budget, is well-made, suits your home, and has a design you'll like for many years. There are a few crucial factors to consider while choosing a good one. Reliability and craftsmanship are vital to look for while checking tables in furniture shops, along with price and a classic appearance.
Related posts