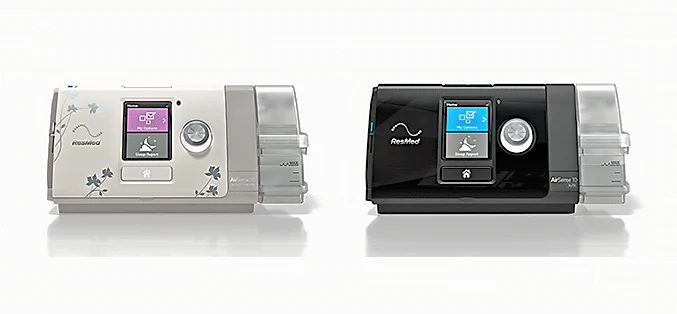 ResMed: Airsense 10 Auto Vs. Airsense 10 Auto For Her
Alison Lurie, 1 year ago
4 min

read
502
When it pertains to selecting the best ResMed CPAP machine for yourself, you may be asking whether the difference between the ResMed AirSense 10 AutoSet and the ResMed AirSense 10 AutoSet "For Her" model is just visual. While their methods are comparable, the ResMed AirSense 10 AutoSet For Her is modified in minor ways to improve women's sleep.
What Should You Know About ResMed Airsense 10 Auto And Airsense 10 Auto For Her?
Both devices offer an auto mode and a CPAP set pressure mode. The AirSense 10 AutoSet For Her has a white faceplate with a flower, while the ResMed AirSense 10 AutoSet has a glossy black faceplate. However, if the white face plates with flowers on the For Her model concern you, ResMed now offers an alternative silver or glossy black faceplate.
Additionally, users have expressed appreciation for how pleasant, quiet, and simple it is to travel with the ResMed AirSense 10 AutoSet for Her and AirSense 10 AutoSet. All CPAP masks, including the ResMed P10 and ResMed P10 for Her, as well as the N20 nasal masks and F20 full face masks, are completely compatible with both machines. Also, both the heated ClimateLine Air hose and the non-heated ResMed slimline tubing can fit on both CPAP machines.
Furthermore, both AutoSet machines include data features that allow them to record comprehensive sleep quality reports. These reports may be read and created using ResMed AirView or by SD card download.
What Makes The ResMed Airsense 10 Autoset For Her Perfect For Women?
ResMed's highly regarded CPAP machine includes a more sensitive flow algorithm that detects hypopneas/flow restriction better than the standard model. Owing to menopause or other hormonal changes, females may suffer greater hypopneas and flow regulation than males.
ResMed's ground-breaking women-specific mechanism, included in the AirSense 10 AutoSet for Her, works by boosting sensitivity to flow restriction and optimising responsiveness to these events. The algorithm aids in offering pleasant treatment for women by reacting to each flow-limited breath and preventing the pressure from rising rapidly amid detecting these hypopneas/flow-limitation episodes.
Furthermore, the ResMed AirSense 10 AutoSet for Her algorithm is not only for women; any patient with weak airways or suffering from COPD, Asthma, or Emphysema might also benefit from it.
Advantages of ResMed CPAP Machine for Women
The ideal CPAP machine for a woman must appear and feel different. The Airsense 10 AutoSet for Her is the first FDA-approved ResMed CPAP machine explicitly designed for women's sleep apnea. When used in conjunction with a high-quality CPAP mask, the Airsense 10 AutoSet for Her provides pleasant, precise, and successful therapy, allowing you to obtain your beauty sleep every night. Furthermore, underneath its luxurious design lies a highly intelligent and powerful mechanism that recognises breathing rates on a moment-by-moment basis to offer precisely the perfect pressure when you need it.
How to Select the Right Machine for You
Choosing the appropriate machine for you is critical since your life depends on it.
If you've been suspected of sleep apnea, your physician will recommend a machine depending on individual therapy requirements and assess your airflow pressure level.
Consult with your doctor

.
Ask your doctor questions during your initial consultation. Discuss the various machines and airflow and pressure settings with your companion to determine what is most comfortable for you. You can also request a ResMed-specific machine.
Your CPAP provider will configure your machine to your doctor's specifications and assist you in becoming acquainted with your therapy equipment. If you are prescribed an APAP machine, such as an AirSense AutoSet, make sure it is set to AutoSet therapy mode rather than CPAP.
You must question your CPAP equipment provider. Your CPAP store staff will track your nightly therapy and assist you in troubleshooting any issues you may be having with your CPAP therapy, machine, or mask.
The Significance Of Resmed CPAP Machine Maintenance
Regular checks, filter replacements, cleaning, and adjustments to your CPAP pressure range are critical for a peaceful night's sleep on a CPAP machine. Make sure to bring your CPAP machine in for a check-up every six months.
As with any medical equipment, it is critical to ensure that the motor is producing the correct pressure. With a pressure manometer, your CPAP vendor or home healthcare professional may quickly check the motor operation.
Furthermore, even with Auto CPAPs, it is critical to regularly adjust the CPAP pressure range to account for variations in weight, gain/loss, and general respiratory status.
Conclusion
ResMed makes it easy to access effective CPAP treatment anytime and anywhere, whether you are travelling or napping at home. Moreover, it is portable and adaptable, with several therapeutic modes, waterless humidification, and easy control through its application.
Related posts