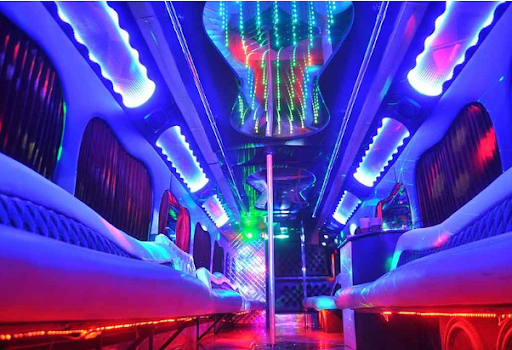 Pros and Cons of Hiring a Party Bus Rental
Clare Louise, 3 years ago
3 min

read
903
Gone are the days when people hired stretched limousines to celebrate any event with pomp and show. Now party buses in Las Vegas have taken over, providing equivalent comfort and additional luxurious amenities than limousines and now considered as a fun way to roll an extravagant party on wheels. People who look to celebrate their special occasions lavishly, opt to hire party buses. Unlike traditional limos, these offer more room, so that you can celebrate with a larger group while rolling on wheels.
Rightly called a club on wheels, a party bus has many pros and cons. This article throws light on a few of them. Take a look.
Pros of a Party Bus Rental
Save money – Hiring a party bus can be quite expensive than renting a traditional stretched limousine. But, you can think about incorporating a larger group of friends comprising more than 16 people, unlike a limo that has room for a maximum of 10. Split the rent of your party bus among your group. Save a lot and enjoy with all of them together onboard.
Equips luxurious amenities – Nothing can beat the luxurious amenities offered by a party bus Las Vegas. Not only do these amenities add to the comfort of your ride, but also enhance the joy of your party. The basic party equipment in a party bus includes a music and sound system, LED screen, lighting system, air conditioners, plush leather upholstery, restroom facility, and storage space. Minibar, dance floor, WiFi, disco lights, pool table, and many others can also be included in the party bus at an additional cost.
Provides a lot of space – A limo car offers space to comfortably accommodate a tiny group of 8 to 10 people, whereas, a party bus is spacious enough to fit in larger groups. There is a fleet of party buses offered to you in various sizes. While the smaller ones can accommodate from 15 to 20 people, the larger ones can comfortably fit in up to 40 people. Although the buses differ in size, each of them offers the same basic amenities.
Offers privacy – Just like celebrating inside a stretched limo is a private affair, you can expect a similar kind of privacy on a party bus as well. The large windows of a party bus make use of stained or tinted glass. This allows your party event completely personal. Moreover, the driver's seat is separated from the main compartment where your part event is organized, keeping it private from the driver also.
Cons of a Party Bus Rental
The decoration is simple – Decoration ideas of a party bus are quite casual, simple but yet fun. If your event requires loud decorations, then you can avoid party bus rentals Las Vegas.
Big size, additional charges – Although the big size of a party bus means extra fun with a larger group. But it also means an additional fee for cleaning a large area.

Related posts