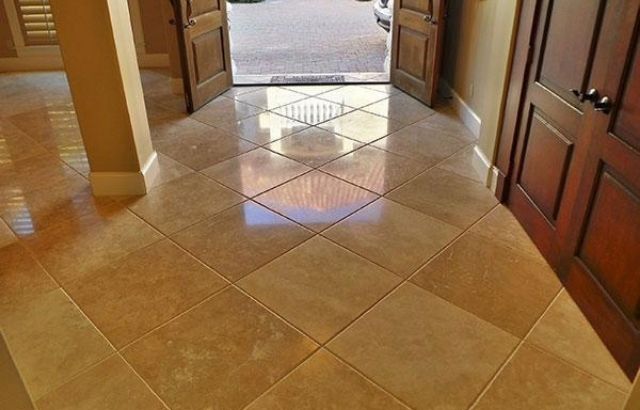 Travertine tiles are best for your kitchen and bathroom floors. It is a form of limestone mixed with mineral spring. Cleaning and sanitizing of travertine must be done on regular basis. So far restoration is concerned it must be done by professionals. If you clean travertine with harsh cleaners it may loss shine. You can go for polishing your tiles when it seems faded. Polishing makes your tiles shiny like glass. Polishing opens the blocked pores and allows it to shine again. There are various cleaners available in the market which cleans and sanitize travertine and apply thin sealing. 
Travertine restoration is a lengthy process and must be done by travertine restoration companies. Restoration passes various steps. Cleaning and sanitizing, sealing of grout, removing holes and pits, crack repair and shower restoration process. Applying correct grout color makes your grout new for next few years. Applying same color to fill pits and holes must be a challenging task. Smooth travertine tile without pits looks amazing. For crack repair matching color paste applied on the pits and polishing gives the look. It is necessary to seal the tile with invisible sealer. This will give smooth finishing. After all process restoration shower must be done.
When your travertine floor shows sign of wear and tear, scratches, dirty grouts and dullness, you must go for 4+ restoration process. Travertine stone has inbuilt holes while manufacturing. When you install tiles, these holes might be left as it is. You might hide these holes with polishing and filling, choice is yours. Travertine restoration includes polishing with diamond impregnated pads. The pad gives your floor desired gloss finish. Dirt, grim and contaminates accumulated in the surface of tile. When you clean your surface with mild soap and detergent an unwilling layer cover the tile. This makes your tile colorless and dull. For such floors honing process must be done and then sealer must be applied. Now the floor is ready for final step of restoration.
Travertine tiles are available in two forms, tumbled and polished travertine. Tumbled travertine tiles looks to be rustic in appearance and has rough attire. Tumbled tile appears more natural and has no glossy finish.  On the other hand, honed tiles are glossy and smooth in finish. You can choose among high-gloss, semi-gloss and low-gloss sheens. Travertine tile has been versatile to match any kind of home décor. Restoration should be done according to your stone type. If you have filled- travertine, polishing and sealing can be done more effectively. In un- filled travertine polishing and sealing only gives rustic look. Through refinishing you can restore your tiles finish. 
By using state-of-the-art diamond technology, you will get no grout lines, no stains and no scratches. What you will get will be the well- polished glazed floor. Through this technology uneven floor get even tone by removing extra stone. The result will be amazing as you get damage-free surface which look like mirror. This technology is most demanding in restoration technique. This technology makes your place more inviting, glossy and warm. Decorate your dream home with travertine restoration technology and get new look for your place.
Related posts