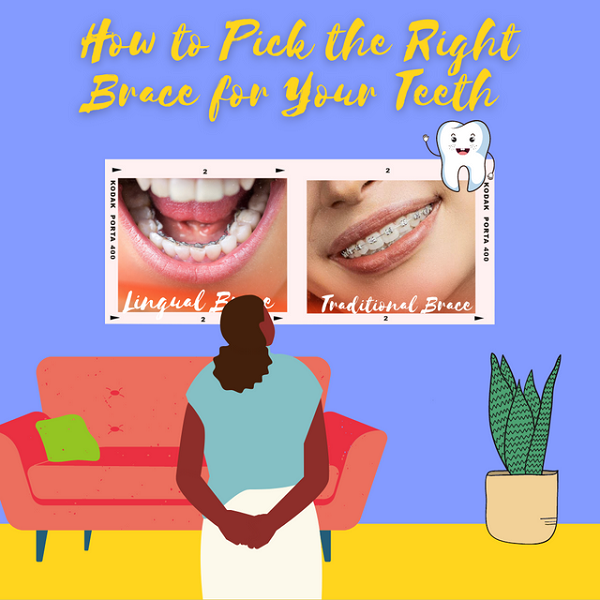 How to Find the Right Braces for Your Perfect Smile
Herman Walker, 7 months ago
5 min

read
276
Every human body is unique and different from one another, from how you move, how you think, and how your body looks. It is indeed essential to celebrate the difference and diversity of humanity. There are various body shapes, skin colours, and even skull development.
For this reason, each one of us will look different. However, the road to embracing yourself is to balance the things you want to flaunt and the things you want to improve. Everyone has imperfections, and everyone has their best features.
For sure, you've heard people saying that imperfections make you unique and more beautiful. Well, it doesn't apply in every case. There are imperfections you need to embrace, but there are also imperfections you need to change.
If you want to improve such imperfections as misaligned teeth, you can look for orthodontic braces. It is only the first step into embracing yourself. To flaunt your best smile, allow this article to help you pick the best orthodontic braces for yourself, like lingual, Damon, and ceramic braces in Singapore.
How to Pick the Right Braces for Your Teeth
As time goes by, many braces can help people improve their teeth. Nowadays, traditional braces are not the only option, and there are also invisible braces, lingual braces, and ceramic braces in Singapore. If you're a first-timer, it may confuse you to pick the right brace for your teeth. Hence, better continue reading this section to find the perfect brace for your soon-to-be ideal smile!
1) Visit a Dentist
Of course, the first step is to visit a dentist about your teeth condition. This way, you'll know your teeth problem and the treatment you need. Many teeth problems include teeth misalignment, crooked teeth, crowded teeth, overbite, etc. If you know your oral condition, it would be easier to look for the right brace.
Upon visiting, you can also ask about the treatment you may need. For some cases, orthodontic braces may not be enough, and jaw surgery in Singapore might be more applicable.
Also, don't forget to visit two or more dentists to get the best recommendations. After gaining professional advice, it is time for you to make your decision. There are still many things to consider, so continue reading the article to know the tips.
2) Consider Your Lifestyle
Before deciding on your orthodontic braces, consider your lifestyle, such as your income, preference, and how the treatment will affect your daily schedule. After this, you can choose braces from traditional braces, ceramic braces, lingual braces, and Damon braces. Fortunately, modern braces do not require most of your time for the aftercare treatment method.
On top of this, modern orthodontic braces also offer discreet options while wearing them. If you don't want people to notice your braces, you can choose modern braces, so people won't know you're wearing them. Braces like these are applicable for busy professionals because they have to meet with multiple people.
3) Balance the Pros and Cons
As you narrow down your choices, it is also advisable to balance the pros and cons. Indeed, modern orthodontic braces have more advantages than traditional braces. However, there are also pros and cons you need to consider before making the final decision. After all, you'll wear braces for months or even years, so make sure you feel comfortable as you wear them. To help you, here are some pros and cons to the braces.
Traditional Braces – Good for complex issues, but noticeable and demanding aftercare procedure.
Ceramic braces are less visible, but they can easily break if you have complex dental problems.
Clear or Invisible aligners – Discrete option, but not applicable for every dental issue.
Now that you know the pros and cons of different braces. It would be easier for you to choose your orthodontic braces. However, there are still some things to consider, such as the brace colour.
4) Choosing Your Braces Colour
Another thing you should consider is the colour of your braces if you choose visible orthodontic braces solutions. Choosing braces' colours may sound easy and fun. However, it is a bit more complicated if you choose the best colour for your lifestyle. To help you, you have to consider your diet, your complexion, lifestyle, etc.
For instance, you like to drink coffee. Make sure to choose darker braces colour to sustain your diet. If you are looking for a temporary braces colour, you also have to consider your outfit, eye colour, the season, and, of course, your favouritecolour. If you do this, you can be more comfortable when wearing your braces, like lingual braces, ceramic braces, or Damon braces.
5) Finding a Dental Clinic
After picking the type and colour of orthodontic braces, you should also look for a dental clinic to administer them to your oral. Do not forget to look for a reliable dental clinic that ensures safe and effective braces operation. The dental clinic should make you feel at ease with their skills and knowledge about installing braces.
On top of this, the dental clinic should know how to install different kinds of braces, such as the Damon braces, lingual braces, and ceramic braces in Singapore. This way, their knowledge can help you achieve a perfect smile. Also, the dental clinic should support you throughout the process before getting braces to after getting the braces.
6) Know the Aftercare Method
Another way to find the perfect orthodontic braces is to know the aftercare method. Will the maintenance routine affect your daily schedule? If yes, make sure you can sustain it because consistency is the key when wearing braces.
If you cannot follow the maintenance of your braces, there is a possibility that you will not get the results you want. Hence, it is essential to learn the different aftercare methods for your oral braces, including ceramic, Damon, and lingual braces.
Wearing the Right Braces
Your teeth also need your care and attention. Hence, visit MyBracesClinic, where you can get your orthodontic braces like the lingual, ceramic, and Damon Braces. Visit their website to know more about braces and jaw surgery in Singapore.
Related posts