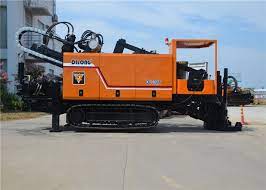 How to Find a Reliable HDD Contractor?
Herman Walker, 2 years ago
4 min

read
762
Horizontal directional drilling (HDD) is a cutting-edge technique for installing underground utilities without the need to dig trenches. It is an efficient approach for completing projects that require the installation of water and gas pipelines, fiber optic cables, and communication lines, particularly in places where the surface cannot be disturbed due to structures such as roads, buildings, and waterways.
HDD is  a big thing in the construction industry because it's poised to be a $14.95 billion market by 2022, with huge potential for good ROI and massive growth over the coming years. But, not all of these service providers are worthy to trust. A lot of them have been organizing underground companies that operate dangerously without safety equipment or precautions against sudden collapse, so you should be careful about how reliable your provider is before investing tens of thousands on their services!
Thankfully there are certain qualities that make HDD service providers worthy of your investment — we've compiled them below!
Experience
Horizontal directional drilling is a highly technical job that requires a great deal of experience to execute. Keep in mind that the project you're about to embark on is one that will cost you thousands of dollars. You should ensure that the hdd contractor you hire has a lot of expertise working on projects like yours.
Inquire about the length of time your prospective drilling contractor has been in operation, as well as the names and contact details of previous project owners.
Good Reputation
Any business's success is largely determined by its reputation. It aids in persuading others of a company's legitimacy and honesty. The abilities, commitment, capacity to deliver, and professionalism of a contractor are usually at the forefront.
You should ask around to see if your hdd contractor has consistently performed throughout the years in order to receive accurate information. You should also inquire if they have ever been involved in any type of controversy or unethical business dealings.
Location and Accessibility
The location of the underground drilling firm you pick is critical to its success. A good contractor is one who is based in your area. The easier they are to reach, the better your chances of successfully partnering with them.
General Liability Insurance
Jobs involving horizontal directional drilling are a little dangerous. Heavy machinery is used in this process. Drilling firms must be ready for accidents at all times, because they can happen. Insurance should cover them completely. Avoid hiring uninsured contractors since they are more likely to get you into trouble if something goes wrong.
Modern Equipment and Advanced Technology
HDD is a highly technical process that necessitates the use of modern equipment. You should hire a contractor with sophisticated machinery and cutting-edge technologies if you are the project owner. This can help you save time and money by facilitating operational speed and avoiding costly damage to the environment.
Certificates and Permits
Make sure the contractor you're considering is either licensed to work or has been certified as a legitimate contractor by your state. A state license or certification can serve as proof that your prospective contractor is adhering to all state rules and regulations.
Warranty
When selecting an HDD service provider, look for one that provides a warranty or after-service support to assure that they will be there if something goes wrong during the warranty term. A warranty shows that your contractor is confident in their work. It is essentially a proof of a contractor's desire to maintain the highest level of quality in their job.
Good Customer Service
Customer service is frequently the foundation of a successful company relationship, as any business owner or management understands. Choose an HDD contractor with friendly, professional employees that are willing to listen and communicate effectively. This will enable you and your contractor to collaborate effectively until the project is completed.
Takeaway
It is straightforward and quick to secure horizontal drilling services. The difficult part is deciding on the best directional drilling contractor for your project. Given the growing number of HDD contractors, it can be difficult and time-consuming to sort through them all to choose the right one for your project. Thus, set important requirements that your directional drilling contractor must meet, regardless of the scope or scale of your project.
Related posts