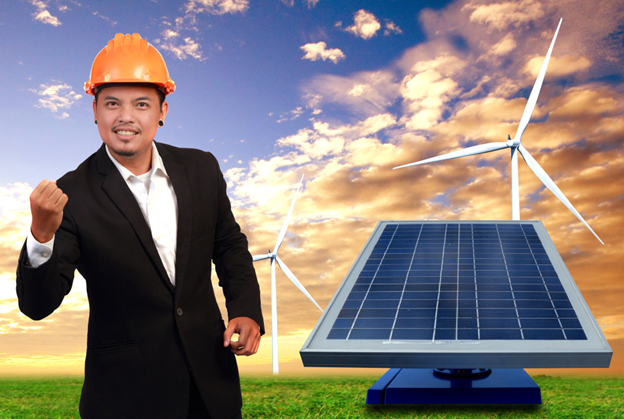 How to Choose a Home Solar Contractor: Everything You Need to Know
Adam Mosley, 3 weeks ago
8 min

read
120
Knowing your alternatives when looking for solar panel installers is essential. It is critical to make an informed decision when you choose a home solar contractor. This article will teach you all you need to know about hiring a reputable solar contractor.
We'll walk you through the process, from assessing your needs to verifying licenses and certificates. You can choose a home solar contractor who suits your needs. Just study the important considerations, review customer reviews, and receive various bids.
Prepare to harness the power of the sun and make the switch to clean energy for your home. Continue reading!
Assess Your Solar Needs
It is critical to examine your individual solar demands before hiring a home solar contractor. Consider your energy use, available roof space, and exposure to sunlight. Understand your energy goals and demands. This can assist you in locating a contractor that can build a residential solar system that suits your needs.
Determine whether you want to use solar power to offset a part or all of your electricity consumption. Also, consider your future intentions, such as charging your electric vehicle or expanding your home. Then, convey these to the contractor.
Research and Gather Information
Conducting in-depth research and acquiring pertinent data is essential. This should be done before starting the process of choosing a home solar contractor. Start by looking at reliable resources. This includes websites for the solar sector, online review sites, and regional solar associations.
Learn the fundamentals of solar energy. See how it operates and the possible advantages it may have for your home. To become comfortable with the choices available, do some research. Check various solar panels, inverters, and other equipment kinds.
Additionally, learn about local tax benefits, financing choices, and incentives for solar energy. Click here to see how it may lower the cost of your solar installation.
Check Licenses and Certifications
A qualified solar installer will have all the necessary licenses and certifications to install solar in your area. These certifications reflect their industry knowledge. It also demonstrates their compliance with industry standards and rules. Inquire about the licensing numbers of the contractors. Then, cross-check them with the appropriate licensing board or organization.
Inquire about well-known organizations' certificates. The North American Board of Certified Energy Practitioners (NABCEP) is one of them. These certificates speak to their expertise and knowledge of solar technology and installation.
Remember to double-check their credentials and certificates. You can then put your trust in the contractor's credentials. They can also ensure that the applicable standards are met.
Verify Insurance Coverage
Working at heights and handling electrical components are inherent risks in solar installation. A good contractor will have proper insurance coverage. This includes general liability and workers' compensation insurance.
These plans safeguard both you and the contractor in the event of an accident. This can also protect you in case of property damage or injury during the installation procedure.
You need to remember to request proof of insurance. Check with the insurance provider to ensure its legitimacy. This will help protect your investment and limit any liabilities.
Review Experience and Track Record
Look for solar contractors who have a track record of successful installations and happy customers. Inquire with the contractor about their years of business experience.
Also, check for a specific competency in home solar projects. Inquire about the number of installations they have accomplished. Then, request examples of their previous work, such as case studies or client feedback.
Check to see if they have earned any awards or recognition for their efforts in the solar sector. A reputable contractor will be proud to prove their accomplishments. They will also be able to provide references for you to contact.
Evaluate Customer Reviews and References
Look for contractors who have received good feedback and ratings. Make sure that they are on reliable platforms or websites. To also learn about actual experiences, read through user reviews.
Inquire about the contractor's references from previous clients as well. Ask about their entire experience. Check the professionalism of the contractor. Also, consider the effectiveness of the solar system installed by contacting these references.
Examine a customer's solar installation experience. So, you can hear from those who have had their solar panels installed. Their views and expertise provide invaluable guidance. You'll also have confidence that the contractor you hire will produce a satisfying result.
Obtain Multiple Quotes
It is critical to gather quotations when selecting a home solar contractor to make an informed decision. You can compare pricing, services, and recommended solar solutions by contacting several contractors.
Request detailed prices that include the cost of the equipment. It should also indicate the installation, warranties, and any other expenses. Take note of the brands and kinds of equipment recommended by each contractor. This will allow you to determine the return on your investment.
Obtaining multiple quotations allows you to identify any cost disparities or outliers. It also allows you to interact with each contractor. You'll have a better grasp of what each contractor offers. You can see how well they match your solar goals and budget as a result of this process.
Understand Equipment and Warranty
It is critical to understand the equipment proposed by a home solar contractor as well as the warranties linked with it. Take your time to investigate. Try to become familiar with the solar panels, inverters, and other system components. To ensure you make an informed decision, learn about their efficiency. Check their durability and overall performance.
In addition, understand the warranties granted by the contractor. The equipment manufacturers are also critical. Consider the length and scope of warranties. A broad warranty protects you in the long run against equipment failures or underperformance.
Know Your Financing Options
Understanding and comparing your financing options can be game changers when it comes to picking a home solar contractor. You have the option to unlock the possibility of financial freedom. You can also make your solar ambitions a reality with a number of financing alternatives available.
Take the time to explore different options. This includes solar loans, leases, power purchase agreements (PPAs), and government incentives. Each choice has its own set of benefits and drawbacks. So it's critical to weigh them against your financial goals and circumstances.
To make an informed decision, consider interest rates, payback lengths, upfront fees, and long-term savings. By evaluating your financing choices, you can find a solution that matches your budget. You can maximize your return on investment. It will also allow you to reap the benefits of solar energy without breaking the bank.
Evaluate Maintenance and Support
When choosing a home solar contractor, it is critical to consider the maintenance and support they provide. After all, you want your solar energy system to run smoothly. It should also provide you with the peace of mind that comes with dependable performance.
A reputable provider should offer maintenance services to keep your solar panels in top shape. This includes frequent inspections, cleaning, and troubleshooting. By servicing your system, you can enhance its efficiency and lifetime.
Inquire about the contractor's support services as well. A timely and educated crew can help you with any questions or concerns you may have about your solar system. Their aid can make a major impact on your solar journey.
Understand the Installation Process
A qualified contractor will begin by performing a complete inspection of your property. This is to determine the optimum design and placement for your solar panels. They will then handle the essential permissions and documentation. This will ensure compliance with local legislation.
During installation, the contractor will attach the solar panels to your roof or other suitable areas. They will link them to the electrical system. They will also integrate any necessary components such as inverters and batteries.
Quality assurance is an essential part of the installation procedure. A trustworthy contractor will conduct thorough inspections and testing. This will ensure that your solar system is operating safely.
Contract and Documentation
Examine the contract carefully to ensure that it covers all important aspects. This contains the project timeframe, funding method, equipment specifications, and any probable issues. Examine the contract for processes for dealing with unforeseen events and settling disagreements.
Documentation is critical for establishing accountability and ensuring peace of mind. Permits, licenses, and certifications should be provided by the contractor. It should also have manufacturer warranties for solar equipment.
Take the time to read and understand the contract before signing it. If you have any questions or concerns, don't be afraid to approach the contractor for clarification. Remember that a reliable contractor will be transparent. They will also be willing to answer any of your queries.
Making an Informed Decision to Choose a Home Solar Contractor
Finding the appropriate people to install solar panels can be difficult. But with knowledge of how to choose a home solar contractor, you can make an informed decision. You can easily navigate the choosing procedure if you follow these suggestions.
When it comes to hiring the appropriate contractor, remember that knowledge is power. Take your time, ask questions, and evaluate your options. With this guide, you'll be well-equipped to embark on your solar journey with confidence.
Partner with a reliable home solar contractor. Bring your ideas to life and reduce your energy bills! Visit our page now to learn more!
Related posts