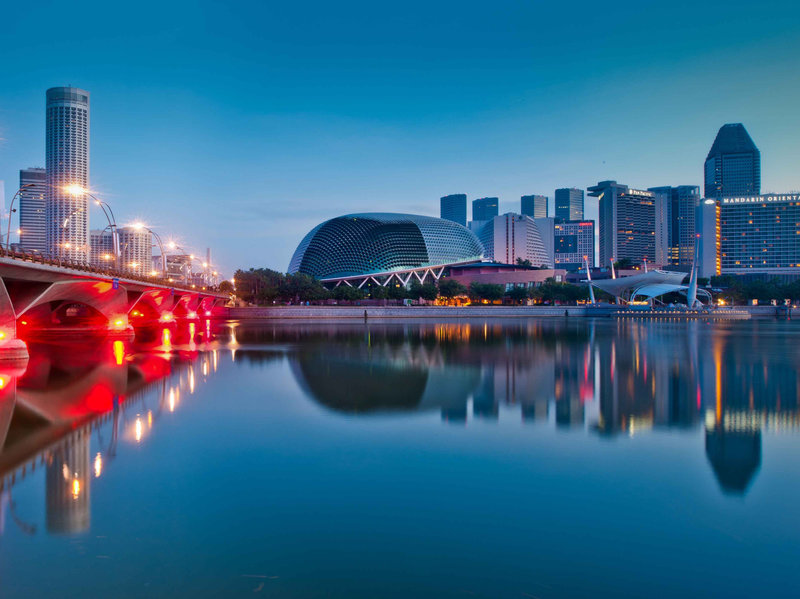 The Rise of The Tech Industry in Singapore
Herman Walker, 3 years ago
3 min

read
60310
Singapore envisions a superior future with innovation. As such, the city-state continues to take actions to develop its technology ecosystem. Singapore's Economic Development Board (EDB) and Enterprise Singapore partnered to make initiatives to attract foreign talents in the tech industry of Singapore. They are looking to fill roles like a founder, investor, employee, consultant, and academician to contribute capital networks and knowledge to the tech ecosystem.
Amidst the tight competition amongst the countries within southeast Asian regions, Singapore is rising to be the top choice companies pick to expand in the tech industry. Singapore's tech industry is already home to 80 of the world's top 100 tech companies. This includes Microsoft, LinkedIn, Google, and Huawei.
Why the Tech Industry in Singapore Is Thriving
Ecosystem and Infrastructure That Promotes Innovation
Singapore's commitment to research and development fosters innovation. With the government and the private sector's support, Singapore's capabilities, enterprise innovation, and entrepreneurship will thrive over the next years. This ecosystem of collaborative stakeholders attracts both multinational companies and promising startups into Singapore's grounds.
Already, Singapore is a top tech hub in Asia. It ranks higher than other cities like Beijing, Shenzhen, and Hyderabad. Further, the city-state is also ahead of countries like China, Japan, and South Korea on the Asian Digital Transformation Index. This index measures how Asian economies are developing technology ecosystems, skills, and digital infrastructure.
Singapore Has the Right Talents
Around US$ 50 million funds have been set aside to increase Singapore's talent pool. This is expected to train its workers, particularly in areas such as data analytics, tech-enabled services, digital media, and cybersecurity. This is to facilitate the businesses' access to tech talents. And this is only one of its recent initiatives to increase tech talents within the city-state.
For many years now, Singapore has been at the top in its ability to develop and attract world-class talent. For six consecutive years, Singapore topped the INSEAD's Global Talent Competitiveness Index. Singapore ranks higher than New Zealand, Australia, Japan, Malaysia, and South Korea. Today, Singapore is noted to lure global tech talents.
Global Connection
A large network of 22 bilateral and regional free trade agreements (FTAs) links Singapore-based enterprises to the world's major markets. This is very favorable to tech firms navigating the growing economic protectionism.
Additionally, Singapore recently signed the European Union-Singapore Free Trade Agreement (EUSFTA) and the Comprehensive and Progressive Trans-Pacific Partnership (CPTPP). These mega-FTAs are expected to broaden regional trade and strengthen IP protection standards. As a result, this effectively allows Singapore-based enterprises greater access to the world's major markets.
National Initiatives
Tech@SG, a two-year pilot program, has recently been launched to network high profile tech companies with international organizations. Additionally, it aims to attract and generate a talent pool within the tech industry in Singapore. This is expected to influence companies from digital, medical technology, biotech, cleantech, agricultural technology, and fintech sectors.
Moreover, Tech.Pass, an extension program of Tech@SG, will commence in January 2020. Tech.Pass is a visa that allows foreign nationals to stay in Singapore for two years to invest, startup, work, or mentor in the tech industry in Singapore.  This tech talent new pass the latest strategy to attract companies and talents into the city-state.
Ride The Rising Wave
If you are looking to work in the tech industry in Singapore, now is the best time to do it. The increasing demand for tech entrepreneurs and talents is at its peak. Additionally, it's good to take advantage of the many incentives and benefits while it's still early and while the competition to get a spot is still not that tight.
Are you a tech entrepreneur planning to expand in Singapore? We can help you with your new company formation. Contact 3E Accounting Singapore today to avail our services.
Related posts