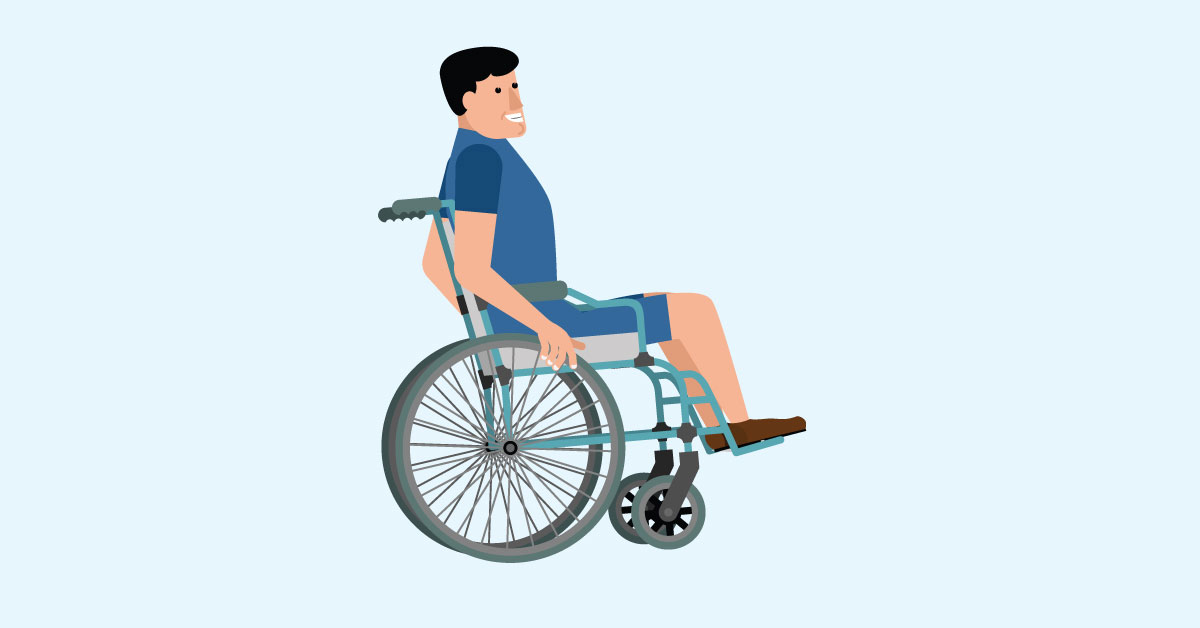 Health Insurance For Differently Abled People
Nancy Lyles, 7 months ago
5 min

read
200
Do you have the responsibility of taking care of a person who is differently abled or need to know about government-sponsored schemes that could improve your quality of life?This post will help you find answers to questions you've always wanted to ask. 
The Central and State Governments sponsor several schemes or health insurance policies to promote the welfare of people with special needs.Let us first look at the categories of disabilities and the factors determining eligibility for health insurance coverage under these schemes. We will also try to gain an understanding of how to avail of cashless health insurance and critical illness health insurance and utilise these schemes to live with dignity.
Who falls under the classification of differently abled?
Differently-abled individuals fall into three groups: those with congenital, accidental, and mental disabilities. 
Congenital disabilities are medical conditions that affect individuals from birth, such as cystic fibrosis, heart conditions, Fragile X syndrome, spina bifida, and cerebral palsy. 

Accidental disabilities result from accidents and may include broken or impaired limbs as well as partial or complete blindness caused by accidents. 

Mental disabilities refer to conditions related to mental disorders or illnesses, such as psychiatric disorders, behavioural distress, or mental impairment. 
Those with congenital or mental disabilities are considered high-risk individuals and may not be eligible for complete coverage under critical illness insurance policies. 
Accidental disability coverage may be available as a standalone rider benefit or as part of a health insurance policy.
Niramaya Health Insurance Scheme
Among the various government-sponsored healthcare policies in India, the Niramaya health insurance scheme is an initiative that provides access to quality healthcare for individuals with disabilities. This includes Autism, Cerebral Palsy, Mental Retardation, and Multiple Disabilities. With the Niramaya Health Card, individuals with these disabilities can enjoy up to Rs1 lakh coverage and avail of the benefits of cashless health insurance in government-empanelled hospitals.
What sets this scheme apart is its comprehensive coverage of medical treatments and therapies, including OPD treatment, surgeries, ongoing therapies, and more. It covers transportation expenses and does not require pre-insurance medical tests. In addition, the scheme's inclusive coverage ensures that individuals receive similar benefits regardless of their disability type, making it a remarkable initiative that supports and empowers people with disabilities.
If a person's family income is less than Rs 15,000, he/she needs to pay a premium of Rs 250. But if the individual's family income exceeds Rs 15,000, the person must pay Rs 500 as the premium.
Eligibility factors for a health insurance policy for the differentlyabled
Several factors determine the eligibility of an individual for a health insurance coverage that covers disability: 
Present Health State:

Insurers typically review an applicant's health status from the past two months to assess the level of risk. A person's application might face rejection if he/she has a chronic ailment or health issue at the time of policy issuance.

Earnings of the individual's family:

Insurers evaluate the family's overall income to offer an appropriate insurance policy to the individual. The premium for the policy may also be determined based on the family's earnings.

Capacity to pay the premium:

Insurers may review an applicant's bank accounts and statements to assess the person's ability to pay the premium for the chosen insurance plan. Based on this assessment, the insurer may determine whether the individual is eligible for health insurance coverage.
Importance of health insurance for differently abled individuals
Your ability to earn a livelihood, manage expenses and save for the future is one of your greatest assets. But what if a sudden illness or disability makes you unable to work indefinitely? Without any income, survival would be a challenge. Although there are healthcare plans specifically tailored to provide total coverage in terms of critical illness health insurance, one can always avail the health insurance benefits designed especially for people with a disability. 
Here are the popularly known reasons why you should consider opting for this coverage if you are battling a disability:
Such schemes can actively replace a portion of your income when you cannot work.

Having family members who rely on your financial support can heighten the importance of acquiring insurance plans that offer critical illness and disability riders.

Disability accounts for many lost workdays and can result from serious illnesses, including mental health issues. Such schemes will help you tide over such circumstances.
Important considerations when purchasing health insurance coverage
Before securing a health insurance policy catering to people with special needs, several critical factors require careful consideration. 
Firstly, regardless of whether you opt for a government-sponsored health insurance plan or choose to procure coverage from a private insurer, the submission of your current medical report is mandatory. This entails undergoing a medical examination at a government-authorised medical facility and consulting a registered physician to obtain a valid medical report. The decision to grant or deny your request for insurance coverage will depend on the information contained in your medical documentation.

Individuals with disabilities should be aware that the government provides tax deduction benefits to those investing in health insurance plans. Individuals with partial or severe disabilities in India can avail of tax deductions by up to Rs 50,000 and Rs 1 lakh, respectively, as per the provisions stated in Section 80U of the Income Tax Act.

It is also important to note that insurers have the authority to determine the premium amount for your health insurance policy. Insurance companies may charge premiums based on current GST terms, your location, and your age as a disabled individual. 
Conclusion
Initiatives like the Niramaya Health Insurance Scheme in India have made significant strides in providing affordable and efficient health insurance coverage for persons with disabilities. However, these initiatives highlight the need for inclusive policies that support and empower people with disabilities, ensuring they receive similar benefits regardless of their disability type.
Related posts