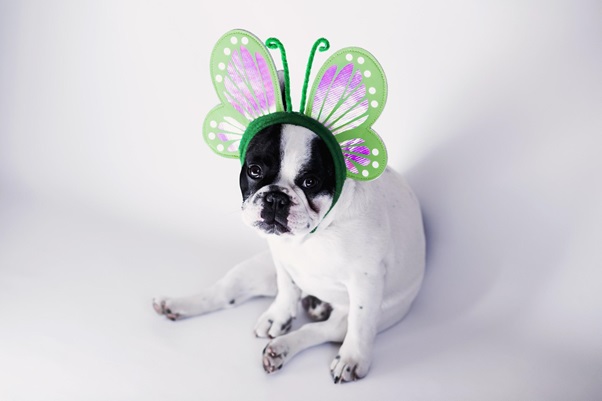 Halloween 2019: Costume Ideas For Your Dog
Sherry Hammons, 4 years ago
3 min

read
1003
Halloween is an exciting time for your pet. From trips to the pumpkin patch to delicious pet food UK and spooky films, there are plenty of fun ideas that you can replicate this October. 
Another exciting choice for many is to dress their pup up in a funny Halloween costume. Of course, you will need to ensure that this doesn't restrict their movement and that they are happy wearing it, but if they are comfortable, it can present many unforgettable photo opportunities!
Whether you put one of the following costumes on at home or you take them out to trick or treat with you, it's going to be a wonderful Halloween this year! So what options are popular in 2019? Here are some top picks that you can replicate!
A Ghostly Ghostbuster
Everyone knows the Halloween classic Ghostbusters. And this year, many people are replicating the look by dressing their pup up as Venkman, Stantz or another character in the gang. Complete with overalls and a backpack, it will get your dog in the Halloween mood. 
A Spooky Spider
Why not transform your dog into a spooky (yet still cute) spider! A hilarious costume, it will look amazing as they are running around the house or when you are out on a walk because of the extra legs!
A Wicked Witch (or Wizard)
Maybe a traditional costume is more suitable for your pooch? If so, why not try out a classic witch or wizard costume. From a simple witch's hat to a cape, wand or cloak, there are many variations of this charming Halloween costume. 
A Hilarious Hot Dog
Another classic Halloween costume for dogs, the hot dog is a funny alternative to some of the more spooky options. A costume that's still on trend for this year, it is perfect for dachshunds or smaller dogs – as well as larger breeds. Transforming them into the delicious food, it's a comfortable choice that won't restrict their movement when they walk.
A Legendary Lion
Transport your dog to Pride Rock with a fun Lion King inspired costume! By adding a lion mane your dog's wild side will be brought out! A costume that is bound to have everyone you meet in awe, it's great for long-hair breeds such as golden retrievers.
A Unique UPS Driver
This year, Halloween has brought a fabulous new trend – dog costumes that feature a parcel/another item that it looks like they are carrying. In particular, a UPS or delivery driver outfit is taking over Instagram. A unique costume that differs from the classic options, your pup will look very amusing!
A Devilish Demodog
Do you love the Netflix hit show Stranger Things? Then this costume might be the perfect choice this Halloween. The moment that your dog puts this on you will feel as though you are a resident of Hawkins, battling the demodogs! A quirky alternative, it's ideal for die-hard fans of the show.
Related posts