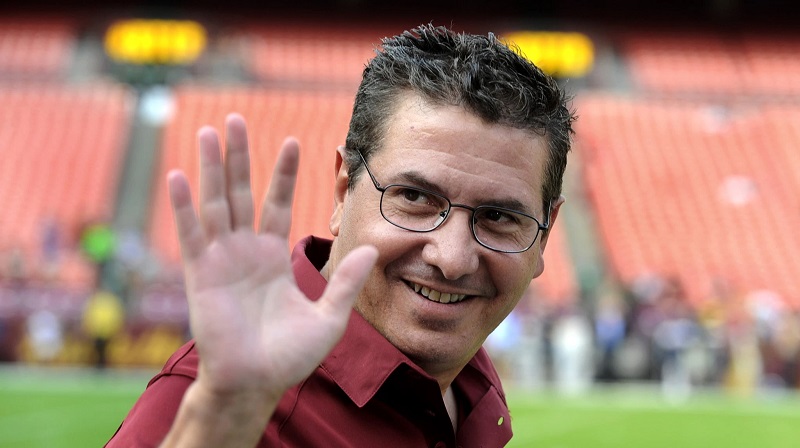 Daniel Snyder: Successful Businessman and Community Philanthropist
admin, 2 years ago
4 min

read
937
Dan Snyder grew up in the Washington, DC, area. As a boy, he attended football games with his father, and his 1999 purchase of the Washington team was a dream come true. Under his leadership, the team has ranked as one of the world's most valuable sports franchises. A self-made business owner with roots in the community, Snyder has also been prominent for his philanthropic efforts.
Early Business Success
Snyder was the founder and CEO of Snyder Communications, Inc. At the time, he was the youngest CEO of a New York Stock Exchange company. Snyder Communications grew to a global organization of 12,000 employees with more than $1 billion in annual revenues.
Later, he founded the health services company inVentiv Health. Dan Snyder is the founder and managing board member of Red Zebra Broadcasting, which operates radio stations in Maryland, Virginia and DC, airing Washington Football broadcasts, popular national radio shows and local programming.
Washington Charitable Foundation
Through his Washington Charitable Foundation, Dan Snyder has created corporate and community partnerships that focus on education, community outreach and health and wellness for residents of the greater DC area. Since its founding in 2000, the foundation has donated more than $29 million to various individuals and organizations.
During the 2019 football season, the foundation hosted over 100 in-school workshops for children and the Read Program, a literacy outreach program that reached more than 38,000 young students.
Through the Loads of Love initiative, the Washington Charitable Foundation has donated washing machines to more than 80 schools and community organizations. These machines allow children who are homeless or in other unstable living situations to have clean clothes.
In 2106, Daniel Snyder donated $35,000 to restore the historic Ashburn Colored School in Loudoun County after someone vandalized it.
Helping at Home and Abroad
Daniel Snyder's charitable efforts have reached across the country and the world. After Hurricane Matthew devastated Haiti in 2016, Snyder mobilized his team. He sent two players of Haitian descent with a plane full of medical supplies. The players delivered the supplies to Hospital Bernard Mevs in Port Au Prince.
Referring to the relief effort, Bahamas Minister of Tourism Obie Wilchcombe said, "This organization led by example, mobilizing immediately to bring relief to our people who are in need. It is our hope that other organizations will follow [this] example."
Neighborhood and Community Outreach
In 2010, Dan Snyder was awarded the Distinguished Leader Award by the Youth for Tomorrow organization. Co-founded by Hall of Fame Washington football coach Joe Gibbs, the organization operates a residential, therapeutic home for children who are homeless or at risk. This home has taken in more than 900 children aged 11 to 17 from Northern Virginia and DC.
The same year, he received an award from Beacon House, a neighborhood-based organization that supports at-risk families in the Edgewood Terrace community. Snyder has donated a football field to the town's recreation center.
Snyder's organization has donated $250,000 to the Black Lives Matter movement and $100,000 to the Capital Area Food Bank.
Salute to the Troops
Under Dan Snyder's leadership, the Washington Football team developed its popular Salute club. The club honors veterans and members of the military. The first of its kind in the NFL, Salute hosts year-round events that include game-day parties, re-enlistment ceremonies at FedEx Field, military appreciation events and more.
In 2016, Snyder partnered with the Gary Sinise Foundation to build a specially adapted smart home for Luis Avila, a veteran and Washington Football fan who was paralyzed in combat.
Team Highlights
During Dan Snyder's 20 seasons of ownership, the team has sent 27 players to the Pro Bowl, nine have made the All-Pro list and 13 have made the All-Rookie Team. Five Washington players have been inducted into the Football Hall of Fame. They are Darrell Green, Bruce Smith, Deion Sanders, Champ Bailey and Jason Taylor.
The team fully owns its stadium in Landover, Maryland. The stadium seats 82,000 fans. Since taking over the team, Dan Snyder has added upgrades worth more than $100 million to improve the fan experience at games. These include high-speed escalators to the upper deck, new signs, more than 1,000 flat-screen TVs and the standard-setting Owner's Club East and Owner's Club West private luxury suites.
Other improvements include new game clocks, play clocks and improved video displays. Dan Snyder upgraded the wi-fi in the stadium and created better access to enhanced game-day features on the Washington Football team app. Season ticket holders now get complimentary access to the Red Zone Channel on their NFL apps.
Personal Life
Daniel Snyder continues to be active in various businesses, charities and NFL-related activities. He lives with his wife Tanya and their three children in Potomac, Maryland.
Related posts