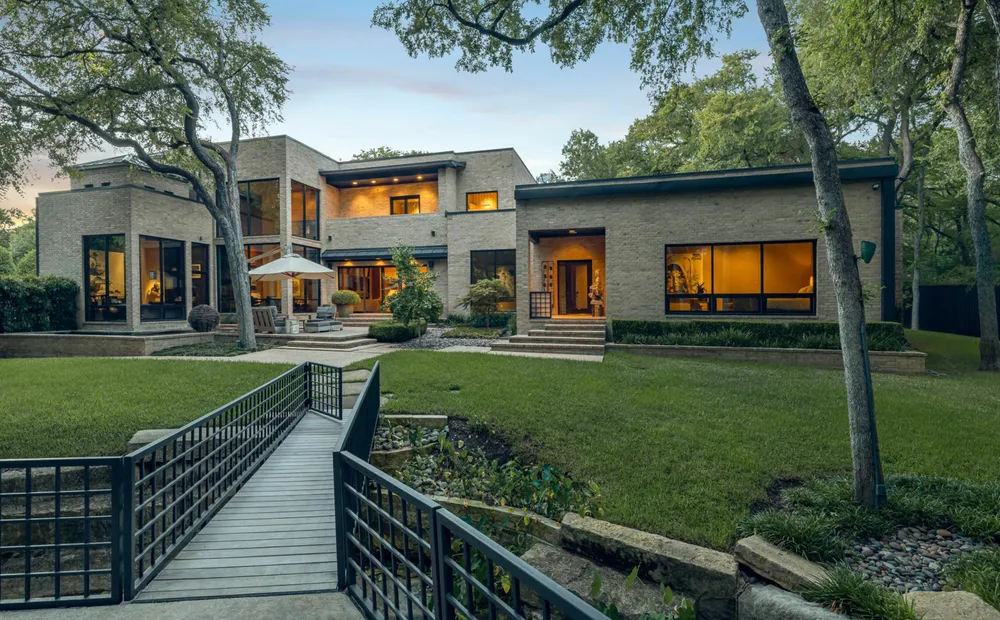 Check Out These Luxurious Homes In The Dallas Metropolitan Area
Kim Renner, 1 year ago
4 min

read
346
When many people think of Dallas, Texas, luxurious living may not be the first thing that pops in their minds. However, there are a LOT of truly breathtaking homes and penthouses in Dallas that look like they are right out of Beverly Hills or Manhattan. 
The reason for this is actually because of Dallas' robust, growing economy. So many businesses in the midwest region of the U.S have chosen to base their headquarters in Dallas. This crunchbase listing profiles just one of the many successful Dallas companies that call this Texas city home.
With lots of money flowing into Dallas, there has been a ton of construction going on for new luxury highrises and gigantic mansions in the metropolitan area. Here we'll explore some of the more eye-catching and impressive homes that are for sale in Dallas as of September 2022. 
5411 Surrey Circle – $24,500,000
This 16,000-square-foot mansion in the Bluffview neighborhood of Dallas resembles that of Tony Stark's mansion from Iron Man. Designed in 1972 by Bud Oglesby, 5411 Survey Circle has some incredible modern components that match well with more contemporary parts of the home design. As of the time of this article being written, it has been listed on Zillow for 137 days. This means it is possible the price drops, or it will continue to sit on the site and others for some time. 
According to the listing on Zillow, the property has 8 bedrooms and 10 bathrooms. Additionally, there are many outdoor amenities such as a private pool, which is absolutely breathtaking. It features gunite heat, infinity pool edges, and more. The property also has an attached grill, balcony, courtyards, decks, patios, firepits, and even tennis courts!
The lot size of the entire property is 3.5 acres, enough land to truly feel like you are separated from your neighbors. If you're interested in this mansion, then copy and paste the address into Zillow to learn more about the property.  
1747 Leonard Street #2701 – $15,000,000
If you're looking for a manhattan style palace, then this property is definitely one you should check out. Atop the 27th floor of a truly stunning skyscraper in the Arts District, this penthouse is the most luxurious apartment on the market in all of Dallas. The building itself was recently constructed as well, in 2020, so it will have every modern amenity you can think of — and more. 
The unit has been listed on Zillow for 203 days as of the time of this article being written, so there's a good chance it's going to stay around for some time. It has 4 bedrooms, 6 baths, 4 private parking spaces in the garage, 2 stories, a private pool, hot tub, outdoor garden, deck, patio, and more. The total square footage of this Dallas penthouse is 11,115.
1747 Leonard Street also has one other unit for sale at the current moment. For $5,355,000 you could get yourself a slightly smaller but equally as elegant condo in the Art District of Dallas. At the time of writing, the unit has only been on the market for 8 days, so you're going to need to act quickly if you want to consider the property.
As for the unit's features, you can enjoy 4 bedrooms, 5 baths, a balcony, private pool, hot tub, 3 private garage parking spaces, as well as all the modern amenities you could think of. The apartment is 4,702 square feet, more space than you will ever need for a city apartment. 
If you are interested in touring the place, you can head over to PropertyPanorama's website and enter in the address of the unit. 
Wrapping It Up
Thanks for checking out our top three picks for luxurious homes in the Dallas metropolitan area. These properties are expected to be on the market for some time, as not every day does an apartment or house like this sell. However, we think they are fair prices for what is provided. 
Additionally, we recommend doing some research of your own on Zillow and other listing sites to find a home in Dallas that fits you the best. 
Related posts