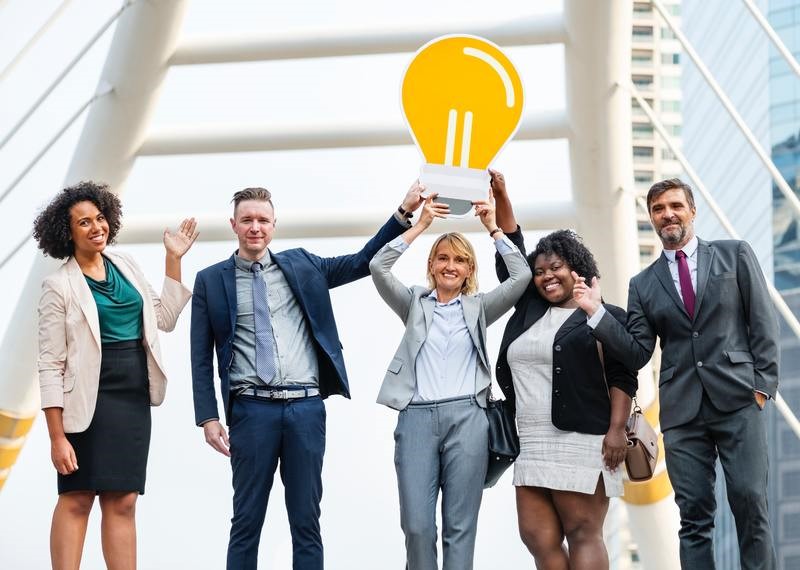 Best Motivational Strategies You Can Use To Boost Employee Productivity And Retention
Clare Louise, 1 year ago
5 min

read
1084
Employee satisfaction is vital to every company for long-term growth and success. If you think a competitive salary packet is enough to get the job done, you need to think again and look beyond that. In today's ever-changing job scenario, employees crave job satisfaction and purpose.
They are searching for work that will give them a sense of job fulfilment, and there is no better way to do this than through motivation itself. Here are powerful motivational strategies in business that you can use to encourage your employees and get the best out of them.
Set achievable goals to create meaning
Setting achievable goals is essential to giving an employee a sense of meaning to their daily tasks. This, in turn, will provide them with a sense of achievement and pleasure in their work. While setting up goals for employees, you must connect the company's goals and objectives. You can do this by informing them of what is expected and showing them how they make a difference. Finally, you can reward them for their achievements after successfully meeting the objectives.
Reward employee achievements and accomplishments
It is known that employees value and treasure workplace recognition, especially when it is done publicly. Studies have shown that rewarding an employee or a team for their accomplishments is directly connected to overall performance levels. Rewarding these accomplishments motivates employees to stick with the company, leading to a long and fruitful association with the organization. Apart from publicly acknowledging their achievements, you can also offer them a certificate of achievement, a team lunch, or a 'thank you' meeting. Alternatively, you could also send them on a team breakfast treat, cover a significant expense, or even offer VIP parking space.
Encourage periodic breaks
Encourage your employees to take regular short breaks to motivate them. This will help reduce fatigue, release stress, and boost their productivity. You can allow your employees to take a fast five or ten-minute break after every hour. They can take a short walk or visit the break room for a quick beverage or snack. Another advantage to periodic intervals is that it reduces distraction while motivating employees to focus on the task at hand.
Employee empowerment
Empowering employees means giving them more authority over their tasks and daily duties. It also reduces the amount of supervision over an employee. Although this may not be effective with a few of your employees, it does help foster a sense of responsibility among those that take the initiative to be creative with their duties. You can achieve this by allowing responsible employees to have more say in the jobs that they perform. This strategy will also motivate other employees to step up too. This can be a powerful motivational strategy when accompanied by proper training. For proper training you can visit this website techtimes.com.
Promote work flexibility
Employees who are allowed to choose to work from the office or home prove to be happier and tend to be more satisfied with their jobs. Work flexibility not only enhances an employee's productivity but will also reduce a company's overhead costs. This can be done by allowing your employees to choose between work from office or home, each with its own set of perks. You could also offer part-time work to employees staying in far-off places. This will motivate employees to remain with the company, increasing employee retention and overall job satisfaction.
Employee training and coaching
Another way to motivate your employees is to provide regular job training and coaching. This strategy will encourage employees to collaborate, especially since they are expected to interact daily. Training and coaching encourage employees to be more responsible and independent rather than shirk daily duties. It will also boost their motivation, improve morale, and enhance job satisfaction.
Provide career and educational development opportunities
In an ever-evolving marketplace, most employees are eager to stay up-to-date with the latest work trends. Offering your employees tuition for higher studies to better their skills is a terrific investment that only adds to its growth. Investing in an employee's human capital makes them feel more valued and positively impacts employee retention. Most companies do this either by partially or entirely bearing tuition costs for educational opportunities or certification courses.
Conclusion
Motivational strategies in business are vital to getting the best out of your employees. It is also a great way to give them job satisfaction and a reason to come to work each day. Create a blueprint using these powerful strategies in your business to motivate your employees and safeguard your business.
Another good way to safeguard your business is through business insurance. It is an excellent way to protect your business from unexpected risks. You can find out more and compare business insurance quotes online by visiting this website.
Sources:
1) Rebecca Skilbeck, Feb 12, 2019, Forbes, 'Six Strategies To Maintain Employee Motivation', viewed 13 July 2021, https://www.forbes.com/sites/rebeccaskilbeck/2019/02/12/six-strategies-to-maintain-employee-motivation/?sh=64ba12181d35
2) George N. Root III, Chron., 'Motivational Strategies in Business', viewed 13 July 2021, https://smallbusiness.chron.com/motivational-strategies-business-4636.html
3) Post, StaffScapes, 'Seven Employee Motivation Strategies That Boost Productivity,' viewed 13 July 2021, https://staffscapes.com/seven-employee-motivation-strategies-that-boost-productivity/
4) Insperity Staff, Insperity, 'Employee recognition ideas: 52 epic ways to give rewards', viewed 13 July 2021, https://www.insperity.com/blog/52-epic-ways-to-reward-your-employees/
5) Rachel Mucha, 3 March 2021, HR Morning, '8 reasons to focus on furthering employees' education', viewed 13 July 2021, https://www.hrmorning.com/articles/furthering-employees-education/
Related posts