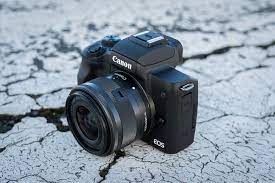 Advantages of the EOS M50 camera
Clare Louise, 2 years ago
3 min

read
507
With the Canon EOS M50 camera, any moment will be a good excuse to capture amazing images. Venture into exciting adventures and get ready to document everything you will see, because each image and photograph takes you relive the best moments, find only in Liverpool this model that Canon has designed for you. Discover its special resolution, speed and shooting modes, as well as connectivity capacity and perfect resolution, just choose the best destination and take your Canon EOS M50 camera with you
Canon EOS M50 camera advantages
It is very light
Good value for money
Silent autofocus this is very good when you are recording
Side rotating screen
You can use adapters for lenses from other brands (you will see it later)
Excellent photography quality
Very fast to turn on
Good value for money
Full HD at 1080p has the best quality for HD video
The color rendering is super good, it maintains the colors well from the moment the image or video is captured which makes editing easy
The Processor it has is better than 80D has better ISO performance
Touch screen for quick and easy change functions
What lenses can you use for your Canon EOS M50 camera?
The camera has a canon 15 – 45mm lens which is a good option if you plan to go out to record on the street or record events, it is also perfect if you want to video blog or are a vlogger. It is a plastic lens so it is lightweight and is half the size of the 11-22mm lens.
Lens 22mm canon, this lens is very close to your face, it is good for low light if you are shooting in low light, it is recommended when you are doing portrait photography, event or product.
Canon 11-22mm lens, it is an open angle lens, but there is not much difference from 15 – 45mm in terms of image. The difference is that it is a heavier lens and it is not made of plastic, which makes it more "delicate" when using it.
Conclusions
Although this camera seems to have several "cons" most of them can be "solved" without any problem.
Everyone know that the battery can be a problem if you want to dedicate yourself to recording with the camera so you can buy 1 or 2 backup batteries to avoid any problem while you continue recording.
Another cons is that to use several Canon M50 lenses you need an adapter and the canon brand is usually "expensive", but the advantage is that you can use other options that is recommended here.
Although it is a camera that promises to have 4K, it seems that it is a bit "limited" since some functions are "disabled" and you cannot use them. But the HD recording is very good, the 1080px resolution can be used in events, in video filming or even for vlogs. In terms of HD video, the camera has a good quality and it will not disappoint you.
Related posts