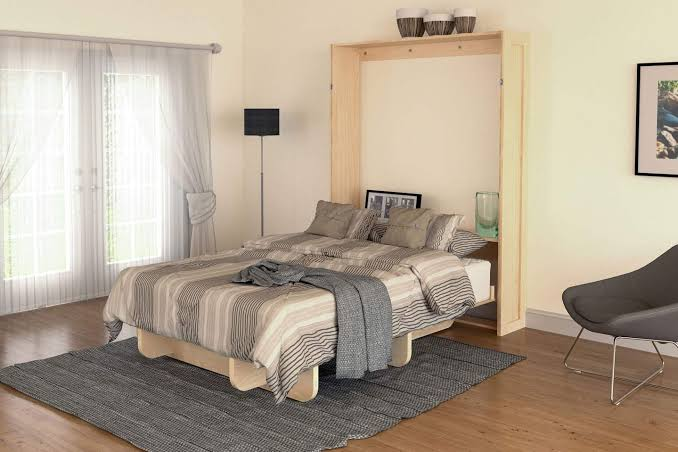 9 Best Space Saving Double Beds
Herman Walker, 3 years ago
4 min

read
1217
When it comes to the bedroom, not every one of us has the privilege of sleeping on a king-sized bed surrounded by royal decor. But what lies within our control is how we utilize the available space and make the bedroom decor more beautiful.The bed and storage play a vital role in setting up the look of your room. Most people make a common mistake by stuffing bulky furniture into their room with minimal space left for movement.
However, with today's increasing decor trend, there are a lot of multi-purpose options available in the market. You can replace those bulky storage cabinets and cupboards with a storage double bed. These types of beds save a lot of space that would otherwise be occupied by huge cupboards, desks, chairs, and beds. Here are a few space-saving double bed designs that you might want to consider:
Upholstered Platform Bed:
Platform queen size beds are always classy and give your room an aesthetic touch. What makes this design more interesting is the storage functionality underneath the bed. You can store all your bedding essentials within and save the extra storage space. Plus, now your room won't be a mess with scattered bedsheets and pillows here and there.
Sleek Murphy Bed:
Murphy beds are an elegant way to hide away your bed into the wall. When not in use, it can be folded to look like a wardrobe standing tall in one corner. You can store your pillows and bedsheets before closing the bed. Once you close the bed, you will have two compartments for storage on the outer side. While sleeping, all you need to do is open it up into a bed and put up your mattress.
Bookcase Bed:
For all the bedtime readers, you can now store your favorite books right above your head. This bed features a shelf at the headboard. This eliminates the need for a separate standalone bookshelf or cabinet.
Loft Bed with Storage:
Loft beds are ideal when you need a bed, desk, and storage. This bed features a seating area, desk, storage, and bed upstairs. You can sleep, work, store things right at the convenience of your hand without having to move out. Plus, it saves a lot of space in your room, letting you add other essential things to the decor. So, in case you have been wanting to shift that PS4 Pro into your room, now you can do it with enough space for it.
Bunk Bed:
Another favorite of kids and adults alike, this bed design is like a dream come true. With a top on top design, this bed stands tall in one side of the room by giving you enough space. It is the best solution for people sharing rooms with their siblings. It saves the space of two beds and also features a storage option.
Sofa cum bed:
An ingenious piece of furniture, sofa cum beds, are ideal space savers. You can pull out the bed from underneath the sofa to form a double bed. When not in use, you can put it back and convert it into a sofa. It can be placed in the room, along with another space-saving bed to be used for uninformed guests. This way, you can save yourself the awkward moment of having to compromise on your beauty sleep for guests.
Trundle Bed:
A bed within a bed concept, this design is perfect when you want to have an extra bed in case of guests. Trundle beds feature a bed that is hidden inside and can be pulled out only when required. This way, you save the space of an extra bed without having to lose out on the bed. These beds also feature a storage option.
Hydraulic Bed:
If you are looking for bed and storage options, then this one is for you. Hydraulic beds open up to give you a storage facility where you can store all the pillows, bedsheets, bed runners, mattress covers, and so on. Hydraulic beds are a perfect amalgamation of style and functionality. It adds a touch of classy look to your bedroom.
Ottoman Bed:
These beds feature a fold-out design that can be used as an ottoman during the day and a bed at night. It is ideal for smaller apartments as it is a major space saver. It can also be used as an extra guest bed, which would save you from compromising your personal bed.
Make your choice
Now that you have been given the options make sure you choose a double bed online that fits well with your requirements.
Related posts