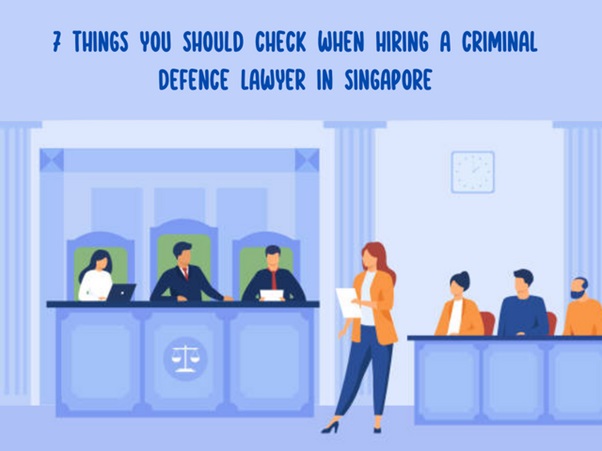 7 Things You Should Check When Hiring a Criminal Defence Lawyer in Singapore
Herman Walker, 6 months ago
5 min

read
228
When you encounter criminal charges, it is crucial to have a lawyer defend you in court. It doesn't matter whether you're guilty of the crime or not, it is your right to have a professional help and fight for you. Therefore, hiring a criminal defence lawyer in Singapore is necessary for any legal issues to proceed.
Depending on your circumstances, you may not have a lawyer to represent you, as it might be your first legal case. With that in mind, you should start looking for the best criminal lawyer to work with throughout the process.
However, searching for the right professional may not be easy. There are plenty of factors to consider before you conclude that they can free you from any criminal charges.
If you need help, here are seven things you should check when hiring a criminal defence lawyer in Singapore. Continue reading this article for more information.
7 Things You Should Check When Hiring a Criminal Defence Lawyer in Singapore
1. Experience
One of the first considerations you need to know when hiring a professional is to check their experience handling your situation. It doesn't matter whether you need the assistance of divorce, business, or defamation lawyers in Singapore. The same rule applies when you're looking for someone to help you with your criminal allegations.
Ensuring that your criminal defence lawyer could handle your case is crucial in determining the results of the charges against you. While new professionals can win cases, clients generally want some assurance. Fresh lawyers cannot give them enough, as they have no previous experience to prove their capabilities.
However, you also need to remember that even if you get the top criminal lawyer in Singapore, it doesn't guarantee that you'll receive satisfactory results, as other factors could affect the outcome.
2. Licence
Next, you need to check if the criminal defence lawyer you intend to hire has the licence to practise their profession. You are free to ask for their ID or credentials, and they'll be happy to show you. If they refuse or give out reasons, you might want to start questioning their legitimacy. You wouldn't want to hire someone who is still a student or someone who is attempting to scam you.
3. Price
Once you determine their experience and credentials, the next step is to check their price. Remember that you should have this conversation with your criminal defence lawyer before hiring them.
Although private lawyers have differences in their prices, you need to learn what could cause an increase in your total bill. Generally, these are some of the factors that could affect their price:
Experience
Kind of charges
The complexity of the case
Length of the case
Witnesses
However, if you lack the funds to pay for a private criminal defence lawyer, the court will provide one for you. Therefore, you shouldn't worry about having no professional to fight for your case.
4. Public vs. Private Lawyers
As mentioned above, there are public and private criminal defence lawyers. If you cannot pay for a private professional, the court will provide one for you. However, you might be wondering if one is better than the other. Generally speaking, private lawyers aren't necessarily better than public ones. It all lies in investigating their background to determine if they have the capabilities to handle your case.
Unfortunately, there is one key difference between them. While a public criminal defence lawyer will have more experience in various cases, they generally won't have the same level of expertise that a private professional has, especially when the latter specialises in a specific area.
5. Reputation
It doesn't matter whether you choose to hire a private or public criminal defence lawyer. You still need to investigate their reputation. Some methods you can use include reading testimonials from their previous clients, asking their colleagues, and requiring them to provide you with references.
Remember that you will be working with them for several weeks or months. In some cases, it might even last for several years, depending on the severity of the charges. Therefore, you must hire a reputable criminal defence lawyer.
6. Availability
After finding a reputable criminal defence lawyer, you should check if their availability coincides with yours. As much as possible, you want them to be available for consultations whenever the need arises.
While you might find it hard to find a professional who is available whenever you need them, you should understand that they most likely handle plenty of other cases. Therefore, you shouldn't be quick to dismiss a potential criminal defence lawyer if they cannot set a meeting at your earliest convenience.
7. Personality
Even if you find a criminal defence lawyer who can schedule a consultation at your earliest convenience, ensure that they possess a pleasant personality. Otherwise, you cannot expect your professional relationship to work, which can affect the outcome of the charges against you.
Ideally, you want them to be welcoming and understanding of your case. It shouldn't matter whether you did the crime or not. It is their sworn duty to fight for anyone who needs help. On the other hand, you also want them to display the right amount of aggression during court hearings. Too much or little of it can affect the progress of your case. In a worst-case scenario, it can cause you to lose.
Conclusion
Similar to how you hire a divorce lawyer in Singapore, there are several factors you need to check when getting a professional to help with your criminal defence. These things aim to provide insight into their experience, credentials, reputation, and availability. Without knowledge regarding these aspects, you don't have the assurance that they could help win your case.
Therefore, always spend the time to investigate the background of a criminal defence lawyer before hiring them. It doesn't matter whether you're getting a private or public individual. The likelihood of your case ending with satisfactory results rests on their shoulders. Rushing your decision will cause several issues.
Aside from a criminal defence lawyer, Quahe Woo & Palmer also offers professionals who can help you with various issues concerning topics, such as the Women's Charter. Visit their website for more information.
Related posts