3 CSR Activities That Your Company in Singapore can Do 
Kim Renner, 6 months ago
2 min

read
92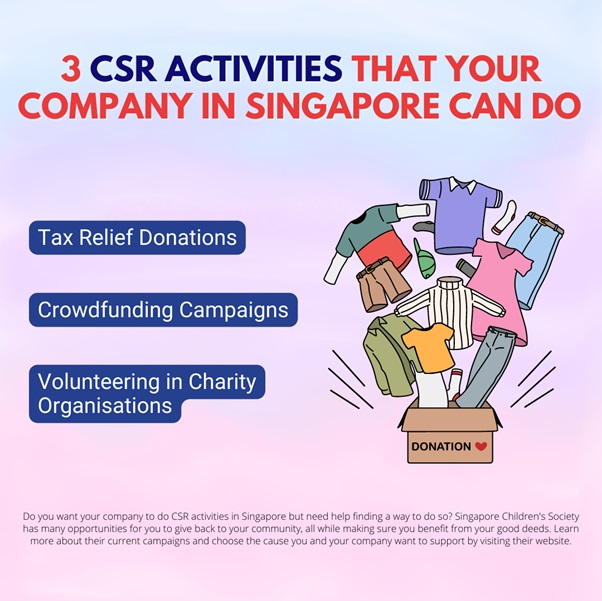 Corporate Social Responsibility or CSR tactics are a great way to give back to the community, especially if your corporation has a lot of influence and power to make a substantial difference. Participating in CSR activities in Singapore doesn't just benefit the communities you will be helping, but it'll also improve your company's reputation and increase your consumer base's trust. Plus, having the opportunity to do charitable acts can boost employee morale.
If you need help thinking of any ideas, here are a few CSR activities your company can do.
1. Tax Relief Donations
A tax relief donation in Singapore can benefit your local community and your company in one move. There are dozens of tax reduction campaigns available nationwide, all of which can save your company some money in the long run by lowering your taxes the next time you have to make a payment. This deduction can go up to 60% of your adjusted gross income. When looking for a campaign to help, remember to choose the one you and your employees care about the most. Some might focus on improving the lives of underprivileged children, while others focus on environmental changes.
2. Crowdfunding Campaigns
If no existing campaign strikes a chord within you, don't let it stop you from helping. Your company also has the option to create a crowdfunding campaign in Singapore based on the cause that you and your employees want to help. You don't have to set it up yourself; many non-profit organisations and societies are ready to help you set up your campaign if you approach them. From there, you can advertise your campaign on your social media websites, so your consumer can help your cause.
3. Volunteering in Charity Organisations
You can donate your efforts if you and your employees want to avoid making a monetary donation. You can find a charity organisation in Singapore you like the most and see if you can participate in any upcoming activities they have. Examples include cleaning up trash in a particular area, helping children with their education by tutoring or reading aloud, and many more.
Do you want your company to do CSR activities in Singapore but need help finding a way to do so? Singapore Children's Society has many opportunities for you to give back to your community, all while making sure you benefit from your good deeds. Learn more about their current campaigns and choose the cause you and your company want to support by visiting their website.
Related posts