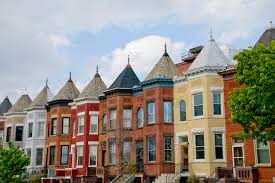 Why a Washington, D.C., Luxury property Investment is a Big Deal?
Nancy Lyles, 3 years ago
3 min

read
1194
The year 2020 hasn't been too kind to humanity and had adverse effects on businesses as well. The property market in Washington DC was no exception. When the COVID-19 pandemic hit the world earlier this year, everything went to an abrupt halt and that exactly was the case with the Washington, D.C. property market. However, things have recovered since then and the prospects for the future are looking good too.
Now, if you want to find out why it's a big deal to invest in a luxury property in Washington DC, let's find out.
It's High Time For An Investment
With prices not peaking already, it's high time that you make an investment in the luxury properties in Washington DC and reap rewards later. The rent prices have gone up in recent years and you can expect them to grow even bigger for luxury properties. And, when things get back to normal, the property market is expected to see a boom yet again. So, an investment at this point in time is certainly going to reap great benefits in the future whether you plan to sell the property or rent it out.
More People Are Interested In Luxury Housing
Recent surveys of the Washington DC property market have revealed one major trend i.e. more and more people now want to settle in luxury homes whether they buy it or go for a rental home. Washington DC has also topped the lists for luxury home closings in recent times. So, with the greater demand for luxury homes, the revenues are expected to go skyrocketing as well. You can capitalize on this trend by investing in luxury properties in the best DC neighborhoods.
Washington DC Isn't Just a "Government Town" Anymore
Another major factor that makes luxury property investment in DC a real big deal is the city's changing lifestyle. Despite the fact that many still consider DC as the US governmental heart, there is much more to explore about it. In recent years, the city has seen a large number of restaurants popping up around Washington DC, and there have been lots of other stuff to explore like arts & spaces, live music entertainment, etc.
Industrial developments have also been made in the city with an increasing number of companies from various fields setting up their operations in the Capital. This has increased the job prospects and a large number of people have come flocking into Washington DC to see career growth.
Continuous Growth Lies Ahead For The Luxury Property Washington DC Market
According to the real estate experts, the demand for luxury property in Washington DC is still expected to grow continually in the years to come. With more and more suburbanites returning to DC as well as young professionals coming after the tech opportunities here, the luxury property owners are never going to be starved for demand in foreseeable future.
Ready to make an investment now? Get in touch with The DC Team – the most trusted realtors in town. They'll surely have a perfect match for your specific needs.
Related posts