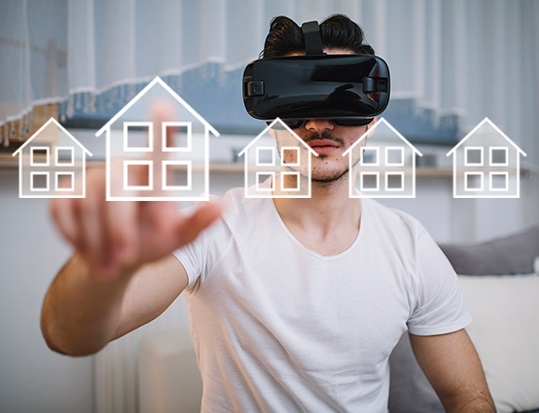 The Power Of Virtual Visit In The Real Estate Sector
Herman Walker, 4 years ago
2 min

read
1095
At a time when all economic sectors are impacted by the digital transformation, the real estate sector was not going to be left out. With increasingly fierce competition, real estate agencies must use technology to get rid of others.
The virtual visit allows us to attract more clients and discover in a different way, the management of your agency. It is a service that may seem somewhat expensive but effective to convince the most reluctant customers. 
The Advantages Of The Virtual Tour
Whether it is a property for rent or for sale, the purpose of the virtual tour is to show the real estate in its splendor. With this tour, customers will be able to visit the property in its entirety from their sofa. You can add all kinds of effects; sound background, auditory description, interactive plan, hotspots (which allow easy movement between rooms). 
A great advantage that virtual visit offer is that it allows buyers to make their visit autonomously, which represents considerable time savings. It allows your audience to make their own opinion of the good for sale or for rent by concentrating on the details that interest them. During the dive, the client can take all the time he needs to appreciate the parquet, the type of windows, or the credentials of the kitchen.
Visit Several Houses Without Moving
VR avoids useless travel if your customers are not really interested in a property. No more having to organize several visits in order to show their different available goods. Simplify your organization with a single visit per client to visit several properties from your agency. 
Another advantage of virtual reality is that it allows real estate agencies to sell properties anywhere in the world, and therefore, to target a wider clientele. It facilitates access to goods located in a different region from that of the client; practical when the client intends to move. 
Prepare A Property For The Taste Of Your Customers
Thanks to virtual reality helmets, each room, each piece of furniture and each item can be modernized in a photo-realistic way. The real estate sector in Virtual Reality allows you to preview the decoration of a property. Customers can install their furniture with the help of a 3D scanner. 
The possibilities of Virtual Reality are practically endless since the possibilities of personalization are several: 
floors (varieties of tiles or parquet) 

walls (wallpaper or paint) 

furniture (sofa, low table, closet, etc.) 

decoration accessories (vases, plants, lamps, cushions, etc.).
Related posts