The 3 Primary TCM Treatments at Clinics in Singapore
Nancy Lyles, 6 months ago
2 min

read
110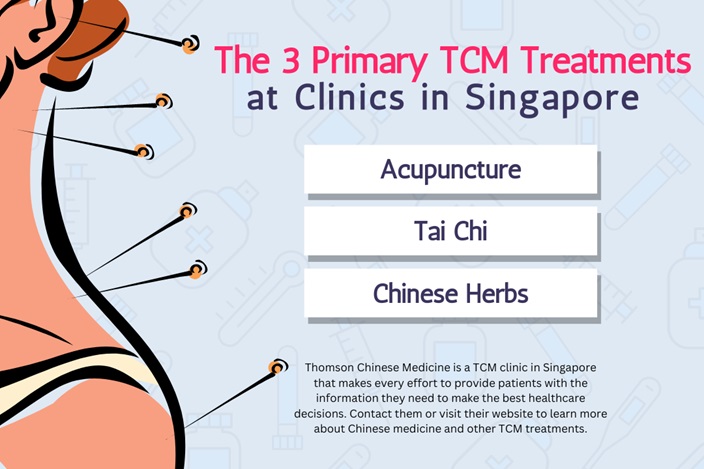 Traditional Chinese medicine employs various psychological and physical techniques and herbal medicines to treat health issues. Acupuncture and tai chi are two Psychological and physical treatments that may enhance the quality of life and specific pain problems. Hence, many patients also seek the help of TCM around Singapore.
Here is a closer look at the three main techniques TCM uses for treatments.
#1 Acupuncture
Acupuncture is a procedure which stimulates particular areas of the body using tiny needles. It promotes the production of the body's natural analgesics. Getting acupuncture from reputable Singapore practitioners may help relieve chronic pain, such as low back pain, neck discomfort and osteoarthritis/knee pain. It may also help lessen the frequency of tension headaches and avoid migraines. Moreover, some practitioners use acupuncture for fertility.
#2 Tai Chi
Tai Chi is an exercise that incorporates postures, gentle motions, mental focus, breathing, and relaxation. TCM practitioners all over Singapore encourage patients to practice Tai Chi to promote a balanced mind. It may enhance balance and stability in older individuals and those with Parkinson's disease and reduce pain from knee osteoarthritis. Tai Chi also helps people manage fibromyalgia and back pain, boost the quality of life and improve mood in patients with heart failure.
#3 Chinese Herbs
Many have studied Chinese herbal medicines for various medical concerns. It includes stroke, heart disease, mental disorders, and respiratory ailments like bronchitis and the common cold. Moreover, confinement herbs prove to be beneficial for mothers recovering from childbirth. Almost one in every five people uses Chinese herbal medications worldwide. However, most research was of poor quality. Hence, they have yet to draw any definite conclusions regarding their effectiveness.
Acupuncture from legitimate Singapore practitioners has very few problems, but it can have dangerous side effects if not administered correctly. Furthermore, Tai chi and qigong appear to be risk-free exercises. However, it can come with mild aches and pains. Hence, before beginning any fitness regimen, pregnant women should consult with their healthcare specialists.
Ensure to talk to your doctors about utilising TCM. Never use it to substitute or postpone obtaining conventional therapy. Moreover, inquire about the training and experience of the TCM practitioner. Inform your doctors about any alternative or integrative health techniques you employ. Supply them with a complete picture of how you manage your health to aid in the coordination and safety of your care. Thomson Chinese Medicine is a TCM clinic in Singapore that makes every effort to provide patients with the information they need to make the best healthcare decisions. Contact them or visit their website to learn more about Chinese medicine and other TCM treatments.
Related posts