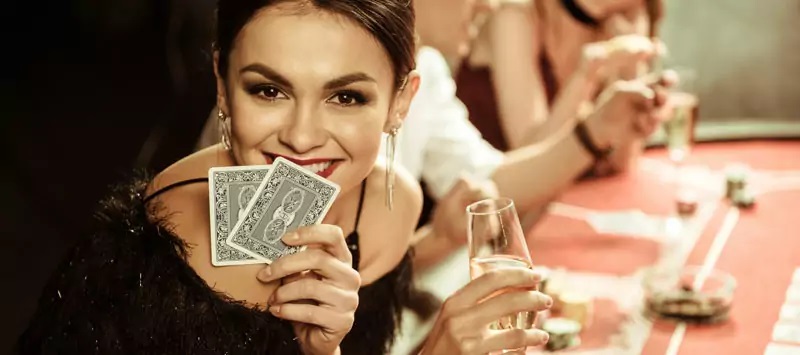 Pennsylvania Baccarat and Parx Casino New Baccarat Games
admin, 3 years ago
5 min

read
1168
Have you been going to the local casino regularly? You are not alone. However, when in a casino, you should always choose the games that give you better odds for success. Currently, baccarat might be the best game any casino will offer. Now, you might ask, why is baccarat better than other games such as roulette, craps, or blackjack?
There are many reasons people are choosing Pennsylvania Baccarat over the other casino games. People do not go to the casino to pass the time or to have fun alone. They are there to make money. Baccarat is a game designed for people of both small and big bankrolls. It is not a game developed for the "high rollers." Secondly, its rules are simple. They are fixed, and the dealers or players cannot influence them. If you are a serious gamer, you already know what that can mean when it comes to the outcomes of any game.
About Pennsylvania Baccarat
Baccarat might be the oldest game full of suspense and anxiety. It is popular in many parts of the globe, especially in Europe. As a player, you can choose to play the game in an online casino or a land-based casino. There are many variations of this game, such as punto banco, Baccarat Banque, and Baccarat Chemin. Players can make their choices when playing Baccarat Banque and Baccarat Chemin, but for punto banco, players have to move their cards according to the dealt cards.
The dealer handles most of the actions and makes most decisions. They observe the rules of the specific game to draw the cards, meaning that the players do not make any decisions. During a Pennsylvania Baccarat game round, the players can only select the position that they think will win the hand and decide on the amount to wager. The house has to bank all bets, collect and make payouts on all hands. After each player selects a position and places the bet, they cannot make any other decisions.
How to play the game
Each player has five different options to bet on. The options include Player hand, Banker hand, Tie hand, Player pair, and Banker pair. Players may bet on Player and Banker hand or Tie hand and Banker's hand at once.
Speaking of the card values, Aces have a value of 1, the value of face value cards ranges 2 and 9. The picture cards and 10s have a count of zero. In each game, four cards have to be dealt. The first card and the third one go to the player's hand while the second and the fourth cards go to the Banker's hand.
After the players get cards, their points appear on the screen below the hand. If any of the hands has 8-9 points, it is taken to be a "Natural." At that point, no more cards are dealt. The Player or Banker with a total close to 9 determines the winning hand.
When the totals are the same, the dealer declares a "Tie." Players may get third cards if the Banker or Player has a total of 8 or 9. If the Player's total is 5 or lower, the Player stands to force the Banker to draw a card with a 5 or less value.
Free to play Baccarat games vs. real money baccarat games
Pennsylvania Baccarat games are available as free to play games and real money baccarat games. The free option is an excellent choice for people who would want to test their playing skills first. However, nothing will beat the thrill of winning money when playing online baccarat. Here are the benefits both real money and free to play baccarat games offer.
Free to play online baccarat
Risk-free
Available to play at your spare time
No need to join loyalty programs
Players use the same software used for real-cash baccarat games.
Real money online baccarat
No need to drive to the land-based casinos
Play baccarat for both high and low stakes
Win real cash and spend it on other games
Players are eligible for real money bonuses during signup
Shuffle systems and random number generators are audited
Live dealer baccarat games vs. software-based baccarat games
One of the significant benefits of live dealer baccarat games relates to dealer interactions. You can chat with the dealer while still playing. That is different from playing the software-based game, where you cannot interact with the dealer. Moreover, you can see the chats of other players, something that is hard in software-based and land-based baccarat games.
Why playing baccarat games online is better than playing them in the land-based casinos
Let us start with Parx Casino or a land-based casino. Anyone will agree that gambling at a land-based is a great experience. The casino offers tasty drinks, flashy lights, and smiling waiters. You will meet many people and chat with them. Unfortunately, you will have to travel many miles to get to a land-based casino, and you will have only a few games to try.
On the other hand, online casinos such as Parx Casino are available both day and night. They are also convenient. You will never drive many miles to get to your preferable casino. With the advancement of tablets and smartphones, you can play mobile slots comfortably at mobile casinos at any time. There is no need to find a casino near you.
Conclusion
Pennsylvania Baccarat is growing popular at online casinos due to its uniqueness. In the past, you could only play it at the local land-based casinos, but with the advancement of technology, today, you only need to login to an online casino and play a free or real money baccarat game. Baccarat games have beautiful soundtracks, amazing graphics, and simple layouts.
Related posts